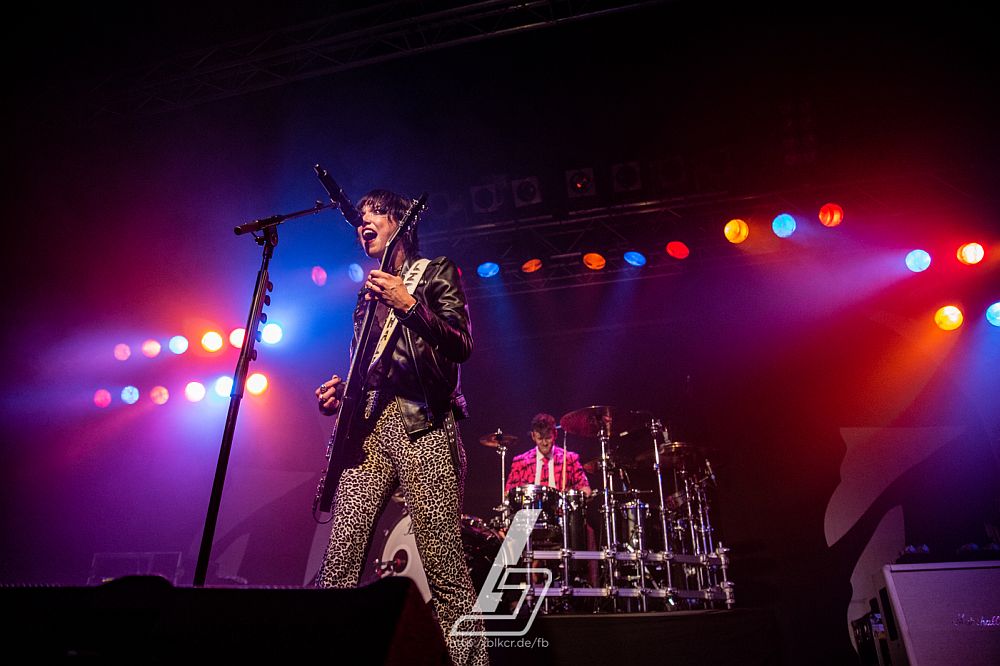 Live Music Hall, Cologne, Germany
15th October 2018
Halestorm - "Vicious" European Tour 2018 - Special guests: Devilskin

American Hard Rock band HALESTORM came to play a gig in the sold-out Live Music Hall this fall, and they brought in strong support in from New Zealand, DEVILSKIN.
Devilskin
Special guest DEVILSKIN were up first up on the roster. DEVILSKIN are a four-piece Hard Rock band from Hamilton, New Zealand. Since their start in 2010, they have released two albums, 'We Rise' in 2014 and 'Be Like The River' in 2016. https://www.facebook.com/DevilskinNZ / www.devilskin.co.nz.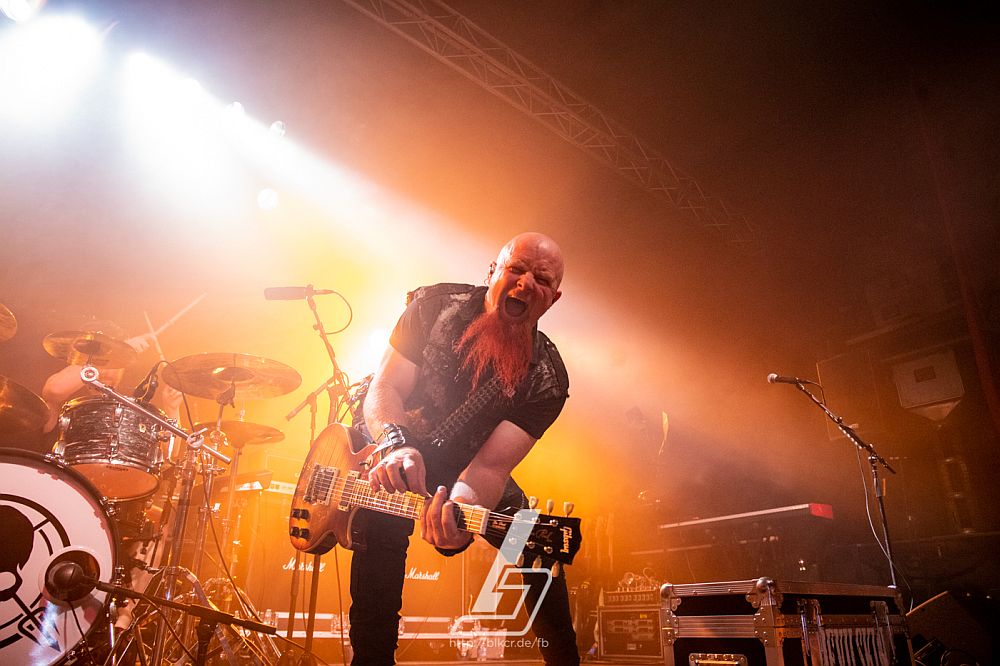 Music & Performance

At 8pm, the four members of DEVILSKIN went on-stage. Their music style and the band instrumentation were very compatible with HALESTORM: Front woman Jennie Skulander developed a great stage presence and impressed with enormous vocal flexibility, as she went from clean singing to ferocious growling in a heartbeat. Her two bandmates Tony Vincent (on guitar) and Paul Martin (on bass) supported her occasionally on vocals, while shredding away on their axes and wielding their trademark pink chin beards, which made them look like the twins they were not. Also, drummer Nic Martin, who carries the burden of having to play in the same band with his father Paul, despite his relatively young age displayed great talent and passion during DEVILSKIN's intensive live show.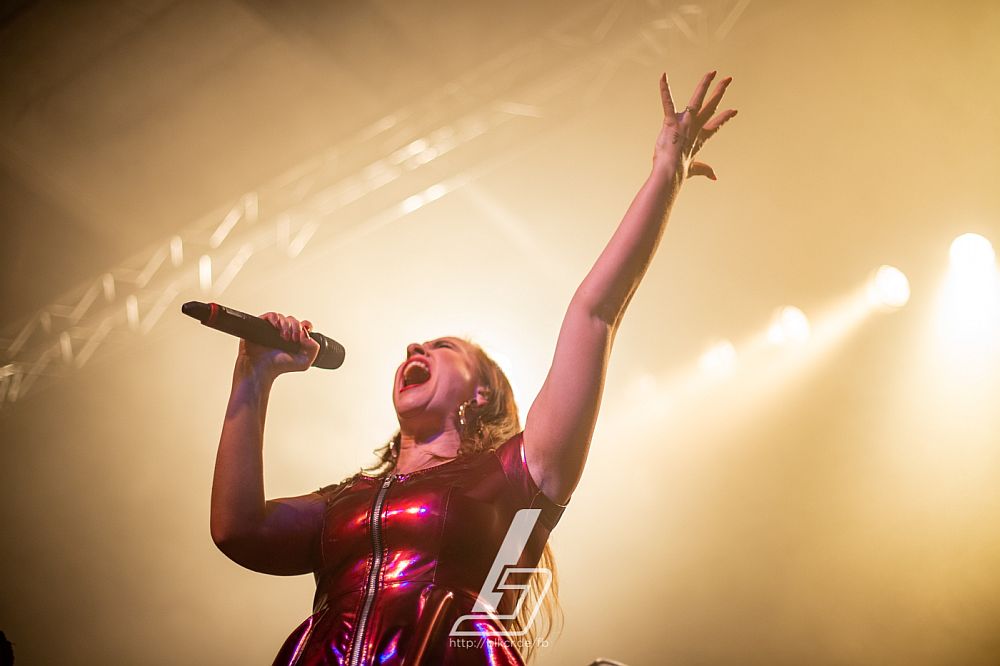 DEVILSKIN's set lasted a full hour, which was absolutely deserved and a welcome addition to an evening dedicated to Rock'n'Roll.
Setlist

01. Pray
02. Elvis Presley Circle Pit
03. All Fall Down
04. Mountains
05. Start A Revolution
06. Animal
07. Barracuda (Heart cover)
08. Never See The Light
09. Vessel
10. Until You Bleed
11. Endo
12. Voices
Rating

Music: 8
Performance: 7
Sound: 7
Light: 6
Total: 7 / 10
Halestorm

Hard Rock comes in many forms. One of the bands dedicated to smashing the stereotype that Hard Rock somehow has to be a "male" genre is HALESTORM from Red Lion, Pennsylvania. Since their inception back in 1997, HALESTORM and front singer Elizabeth "Lzzy" Hale have been exceeding expectations. The band's self-titled debut album in 2009 landed them two top 10 singles in the U.S. billboard charts. Relentless touring (the band sometimes played up to 250 gigs per year) put the band firmly onto the map of every Rock music lover, and extensive airplay especially in the U.S. helped them establish a growing fan base. This summer saw the release of the band's fourth studio album, 'Vicious', which the band calls its hardest so far. To find out more about the band, go to www.halestormrocks.com or https://www.facebook.com/halestormrocks.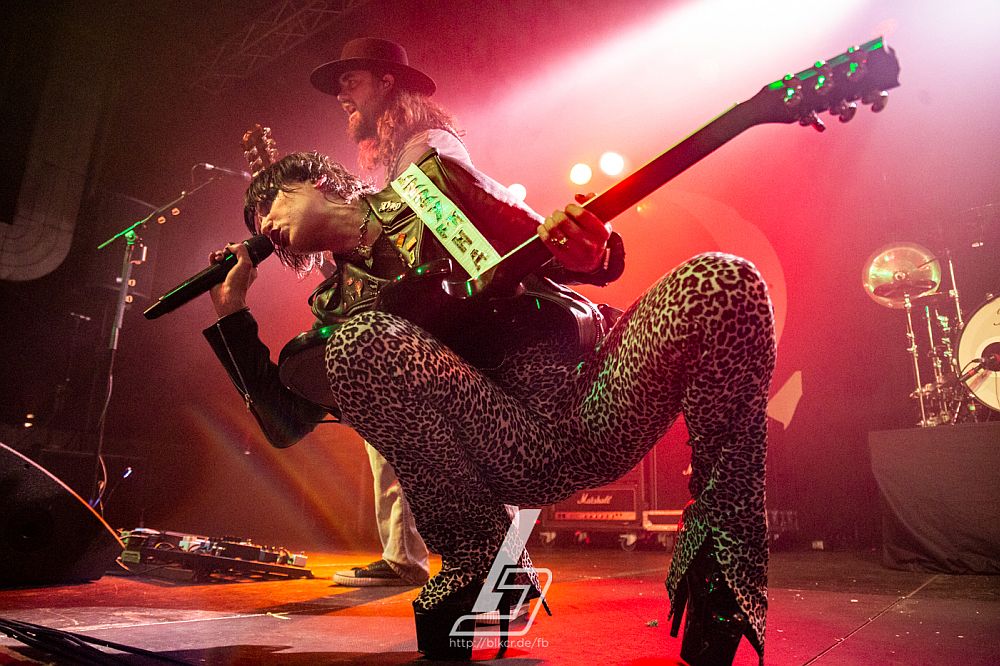 Music & Performance
During the change-over of a good 30 minutes you could feel the anticipation levels of the audience build up. It all erupted into frenzy, when the four members of HALESTORM went onstage and started their set with their neck-breaking hit single 'Skulls' from their newest album 'Vicious'. Vocalist "Lzzy" Hale commanded the attention of the audience from the first moment and delivered an impressive performance on her sleek custom gold-black Gibson Explorer guitar, all while singing in her trademark voice with just the right amount of hoarseness. But the rest of HALESTORM also brought their A-game to the venue. Watching Lzzy's little brother Arejay on drums alone brought enough entertainment for the night. He rarely sat still on his drum stool. Instead he continuously kept swirling his drum sticks around, sometimes sending a few of them inadvertently flying from the pod, played standing up and got rid of parts of his hilarious pink suit, or spit a drumstick out of his mouth and caught it mid-beat like a kid with severe ADS.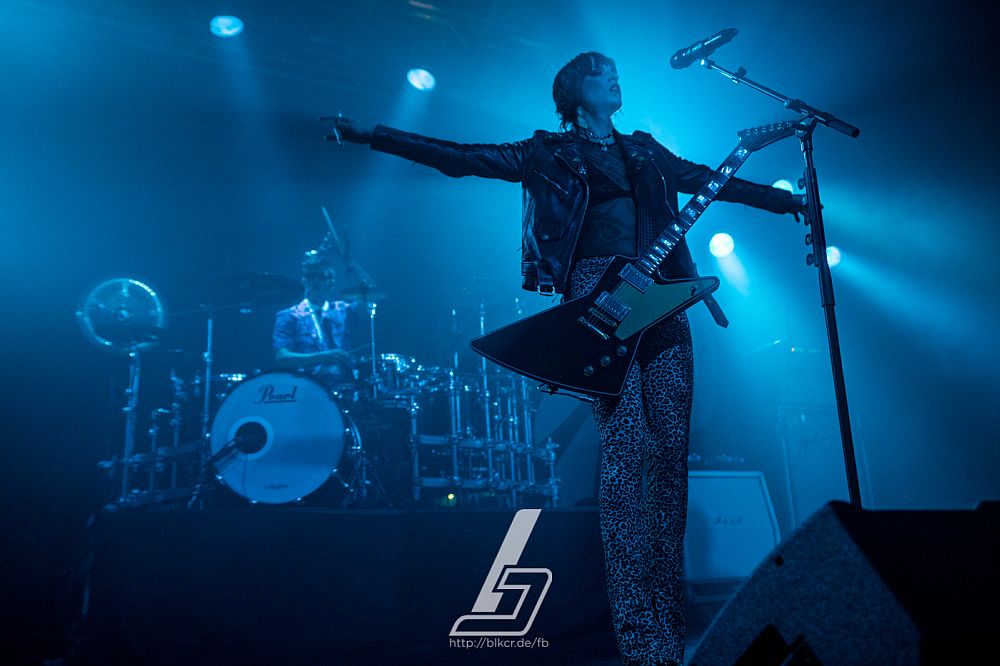 The set as a whole was a really balanced blend of tracks old and new from 'Mz Hyde' and 'Love Bites' to 'Do not Disturb' and 'Vicious'. During 'The Silence' Lzzy showed her softer side, as she delivered an impressive, goose bump-invoking vocal performance, merely accompanied by an acoustic guitar, played by guitarist Joe Hottinger. Towards the end of the main part of the set, it was Arejay's turn to shine during a five-minute drum solo. What some see as a moment to head for the beer stand, in this instance was something to cherish. Arejay not only at one point pulled DEVILSKIN's drummer Nic into the performance, who joined him on the same drum set, but he also created a hilarious moment when he pulled out two giant-sized sticks, which he impressively put to good use - seemingly defying the law of physics. After the fan favourite 'Freak Like Me', HALESTORM left the stage after an hour of playtime and far too early for most people in the audience.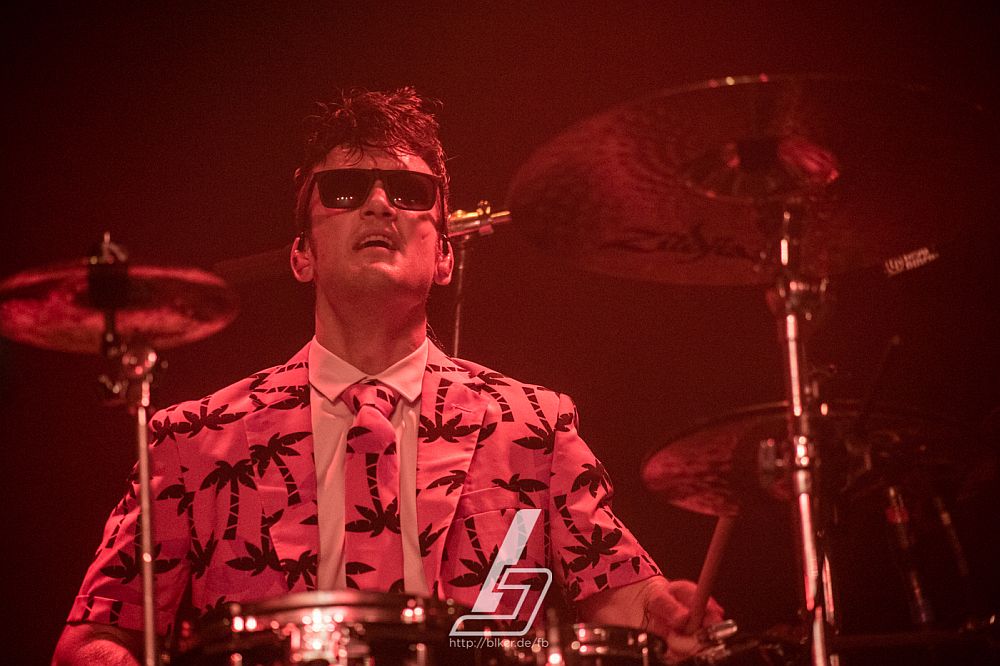 Fortunately, the band returned for a three-song encore, during which the band dished out the hymn 'I miss the Misery'. Bidding one final farewell with their unorthodox, celebratory ballad, 'Here's To Us', HALESTORM left the stage, after doing shots with their special guest and road crew, having played a set of almost 90 minutes.
Setlist

01. Skulls
02. Mayhem
03. Love Bites (So Do I)
04. Mz. Hyde
05. Killing Ourselves to Live
06. Do Not Disturb (I Get Off vocal intro)
07. Amen (ext. outro)
08. The Silence
09. It's Not You
10. I Am the Fire
11. Vicious
12. Drum Solo
13. Freak Like Me
---
14. Black Vultures
15. I Miss the Misery (ext. outro)
16. Here's to Us
Rating

Music: 8
Performance: 8
Sound: 8
Light: 7
Total: 7.8 / 10
All Pictures by Thomas Eger