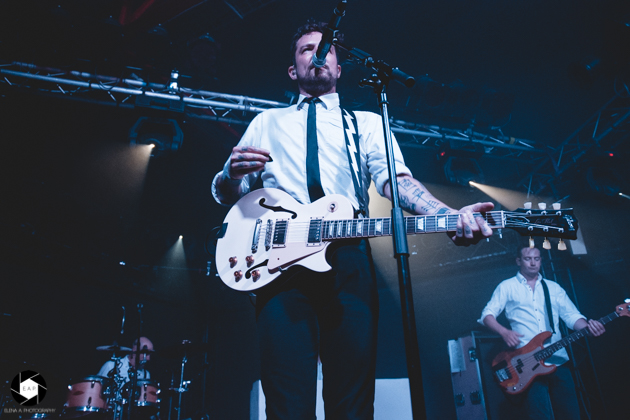 Den Atelier, Luxembourg City, Luxembourg
21st October 2018
Frank Turner & The Sleeping Souls, PUP, Xylaroo

A sold-out concert was waiting for us on Sunday in Den Atelier. FRANK TURNER was a guest and brought two support acts along with his band THE SLEEPING SOULS. The return of the 36-year-old from Hampshire to the 'Bourg with his seventh studio album, 'Be More Kind', was fabulous.
Xylaroo

They are two sisters, Coco and Holly Chant. They live in London, have higher education (psychology and anthropology), were transported in their youth between Europe and Asia and have family ties and origins close to Papua New Guinea. In other words, the duo that makes up the XYLAROO group would be all the rage in a Benetton ad or one of its trendy magazines that promote diversity and international cosmopolitanism.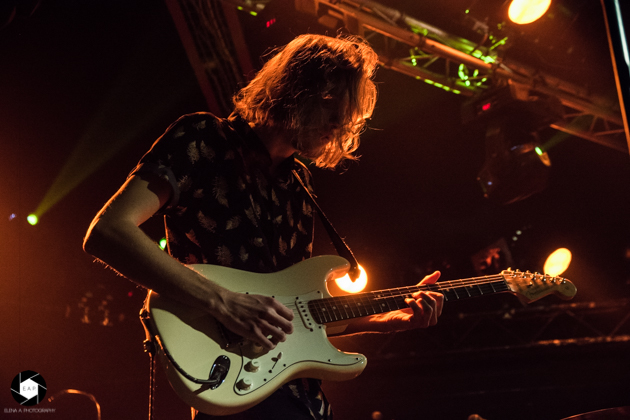 Music & Performance

There are already a few people at the A, when XYLAROO started a bit earlier than scheduled. Starting with their song 'Sunshine', it was clear that these two girls have just about everything to please. Sense of rhythm, seduction, rock energy. It is a mix of the sensuality of JONES and the sparkling FIRST AID KIT. The voices are warm and the guitar was vibrating. As the rhythmic is solid and swaying, XYLAROO clearly invites you to dance and to travel to another world. One of the sisters sings, while the other plays mostly acoustic guitar, bringing a modern and outdated style to this kind of world folk 2.0. What we hear above all, of course, is the extreme complicity of two performers and the emotion they convey both in their covers and in their own compositions. XYLAROO's songs are about everything and nothing: racism and love, women today and what keeps them occupied.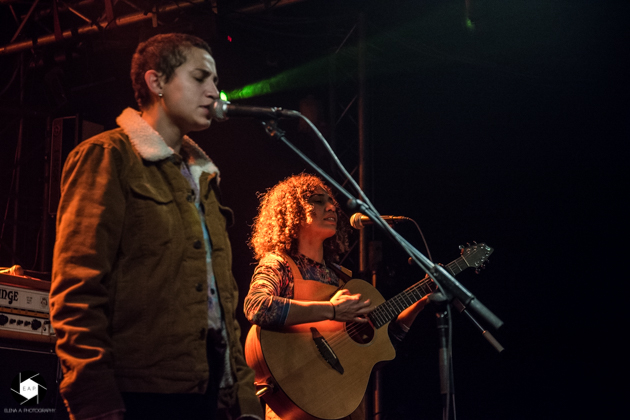 Setlist

01. Sunshine
02. Wild Woman
03. Under the Bridge (Red Hot Chili Peppers Cover)
04. On My Way
05. Stranger Than Love
06. Tack a Lackin'
Rating

Music 7
Performance 6
Light 6
Sound 7
Total 6.5 /10
PUP

PUP (abbreviation for Pathetic Use of Potential) is a Canadian punk rock band formed in Toronto, Ontario in 2013, originally under the name TOPANGA. PUP's self-titled debut album was released on October 8, 2013 on Royal Mountain Records. In December 2013, PUP signed with SideOneDummy Records and re-released their debut album in the United States on April 8, 2014. The group was in the studio in late 2015 recording their second album, 'The Dream Is Over', which was released on May 27, 2016 through SideOneDummy.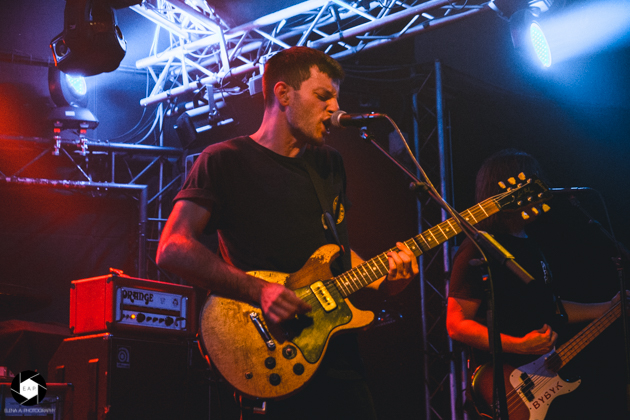 Music & Performance

Second band of the night. More people are there. Great, let's start! PUP came on stage and the audience was curious. Some of them already knew the band and instantly began screaming. Starting with 'My Life Is Over and I Couldn't Be Happier', they instantly made clear that they had no intentions of slowing down at all. It was also clear to see that the band loved doing what they did. Like it is usual in the punk scene, PUP, sarcastically paints a big message of saying fuck the doubters. From the cynical screams on 'If This Tour Doesn't Kill You, I Will' to the turbulent, buzzy guitars and frenetic pace of 'DVP', frontman Stefan Babcock and his mates say goodbye to the crowd, which is now already using up their last energy at FRANK TURNER.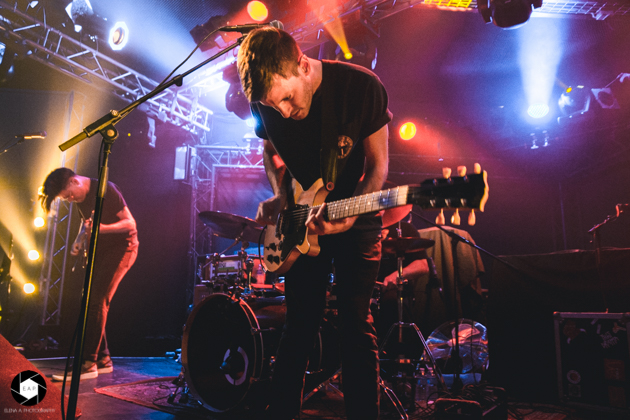 Setlist

01. My Life Is Over and I Couldn't Be Happier
02. Guilt Trip
03. Dark Days
04. Sleep in the Heat
05. Kids
06. Reservoir
07. Familiar Patterns
08. If This Tour Doesn't Kill You, I Will
09. DVP
Rating

Music 8
Performance 8
Sound 7
Light 7
Total 7.5 / 10
Frank Turner & The Sleeping Souls

Francis Edward "Frank" Turner (born 28 December 1981) is an English folk singer-songwriter from Meonstoke, Hampshire. He began his career as the vocalist of post-Hardcore band MILLION DEAD, then embarked upon a primarily acoustic-based solo career following the band's split in 2005. In the studio and during live performances, Turner is accompanied by his backing band, THE SLEEPING SOULS, which consists of Ben Lloyd (guitar, mandolin), Tarrant Anderson (bass), Matt Nasir (piano, mandolin) and Nigel Powell (drums). To date, Turner has released seven solo albums, three rarities compilation albums, one split album and five EPs. Turner's seventh studio album, 'Be More Kind', was released on 4th May 2018.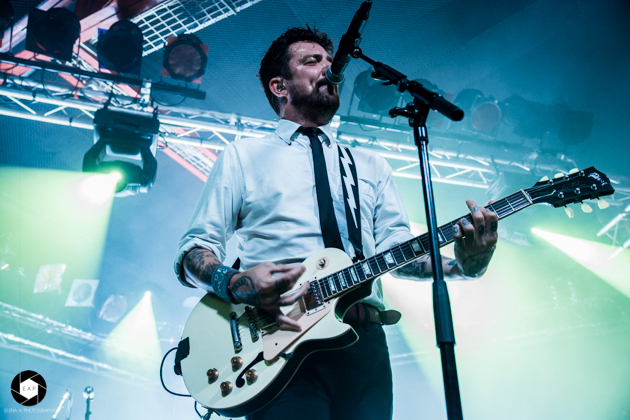 Music & Performance

"Welcome to show number 2255." With great jumps Frank Turner came on stage and started his set with the song 'Blackout' from the current album, 'Be More Kind'. And one hit after the other followed. After the first three songs, Frank's shirt was already soaking wet and the temperature in the A also rose. The former punk band frontman also knows how to establish a relationship with his audience. Greetings, closeness to the audience up to touch, constant invitation to clap along, sing along, kneel, only to bounce around afterwards. One man, one evening, two rules: Be nice! Take care of each other! Sing along.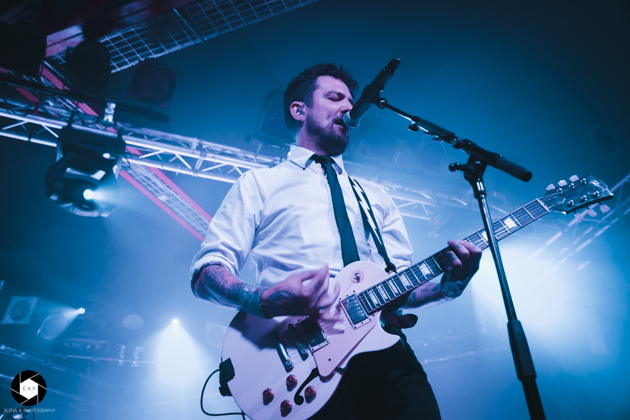 From classics like 'Recovery' and 'Photosynthesis' to new songs like 'Blackout' and '1933' he leaves nothing to be desired and inspires the audience in the usual way. Of course, there were also quieter parts where you could recover. Among them was the piece 'Be More Kind' from the last album of the same name which led to a very nice moment in the A. FRANK TURNER played an energetic show of the finest quality for almost two hours. But not only FRANK TURNER and his band THE SLEEPING SOULS enjoyed this evening. It is rare to see so many radiant, happy and contented faces after a concert as was the case this Sunday in the studio.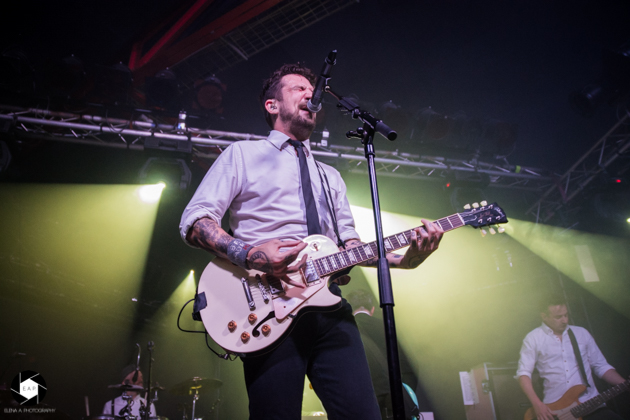 Setlist

01. Blackout
02. 1933
03. Get Better
04. Recovery
05. Little Changes
06. The Next Storm
07. Be More Kind
08. Demons
09. The Way I Tend to Be
10. Going Nowhere
11. If Ever I Stray
12. Try This at Home
13. Reasons Not to Be an Idiot
14. The Ballad of Me and My Friends
15. Rivers
16. Sailor's Boots
17. I Knew Prufrock Before He Got Famous
18. Out of Breath
19. Photosynthesis
20. Don't Worry
21. I Still Believe
22. Four Simple Words
23. Polaroid Picture
Rating

Music: 8
Performance: 9
Sound: 8
Light: 8
Total: 8.3 / 10
All Pictures by Elena Arens