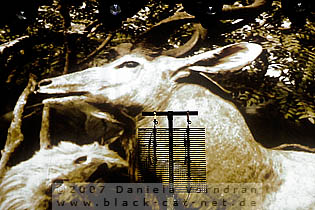 Palladium, Cologne, Germany
19th November 2007
Interpol & Blonde Redhead


With each and every album, New York-based Indie group INTERPOL gained more and more success, and within the last few years we saw them touring small clubs, then medium-sized venues, and with the third full-length release 'Our Love To Admire' they are finally play arenas like the 4,000 capacity Palladium in Cologne, Germany.
BLONDE REDHEAD

BLONDE REDHEAD is a rock trio comprised Kazu Makino and Italian twin brothers Simone and Amedeo Pace.
http://www.blonde-redhead.com/
/
http://www.myspace.com/blonderedhead
Music
The Italian brothers and Japanese singer Makino met in New York and formed BLONDE REDHEAD as early as 1993 in New York, together with Maki Takahashi who left the band soon after the release of the self-titled debut. The band, signed to the legendary underground label 4AD, always has been some kind of mystique and they never made a real commercial breakthrough. BLONDE REDHEAD's reputation has never really been built on media acclaim and remained a "cult" thing which is much appreciated by fellow musicians like SONIC YOUTH or FUGAZI. Their Alternative Rock has an ethereal quality with wide melodies, an impact which is heightened by the female vocals of Kazu Makino. The band also performs in multiple languages including English, Japanese, Italian, and French.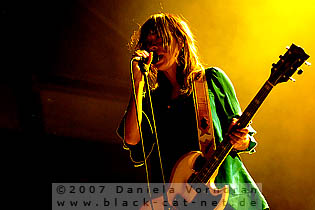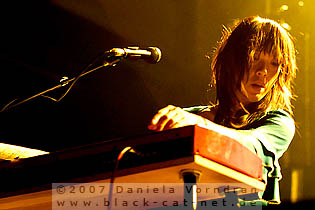 Performance
Noisy, dissonant guitars, manic and ecstatic Pop tunes, high-pitched vocals and quiet, experimental parts - you get all the trade marks of BLONDE REDHEAD in an overdose when they perform live. It seems to be a crime to say a bad word about the show of a band which is so much praised by people "in-the-know" like BLONDE REDHEAD, but most of the audience didn't say anything as a good part of the crowd seemed to have no idea who this trio is. They are excellent, challenging, artsy and - I can't help it - not exactly my cup of tea, mostly due to the vocals of Makino, which is purely a matter of taste. I'm happy for the band that they get such an exposure to larger crowds by touring with fellow-New Yorkers INTERPOL, and I'm glad that most people in the crowd in the end enjoyed BLONDE REDHEAD's gig more than a certain critic. ;-) I just added BLONDE REDHEAD to the list of great bands I simply can't get into.
Rating
Music: 6
Performance: 7
Sound: 7
Light: 4
Total: 6.2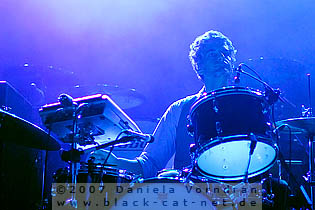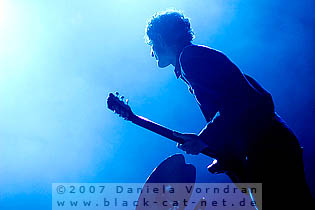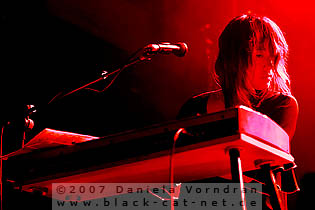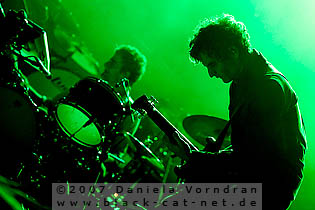 INTERPOL

Formed in 1998 in New York City, the members of INTERPOL are Paul Banks (vocals, guitar), Daniel Kessler (guitar, back vocals), Carlos D. (bass, keyboards) and Sam Fogarino (drums), who replaced initial drummer Greg Drudy who left before the release of the band's debut album.
http://www.interpolnyc.com/
/
http://www.myspace.com/interpol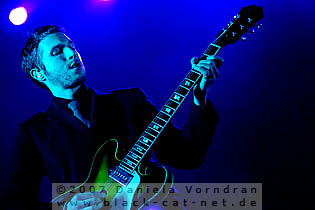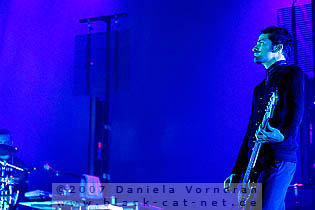 Music
INTERPOL are often described as the dignified heirs of 1970s/1980s post-punk legend JOY DIVISION. In fact their sound is reminiscent of this era and particular band, and their critically acclaimed debut 'Turn On the Bright Lights', one of NME's top ten albums of the year 2002, granted INTERPOL their breakthrough amidst the post-punk/new wave revival of the new millennium. The New York four-piece are indeed the spiritual legacy of old legends, and they produce a kind of melancholic, introverted Indie Rock of a truly timeless quality. What distinguishes INTERPOL from the plethora of young bands of the said revival in the early 2000s is actually credibility and substance.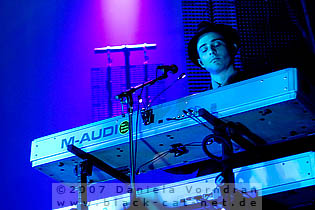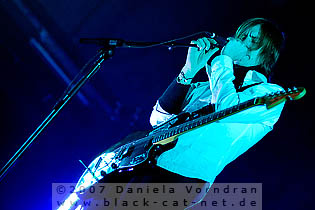 The band's second album, 'Antics' (2004), boosted the band's success thanks to a more accessible sound with big hooks, which resulted in three hit singles off the album. INTERPOL avoided to simply produce a second version of their debut and enhanced their sound, on the other hand redefinition is a not an issue for the band. INTERPOL do not radically alter their sound, they allow it to naturally evolve. With their third album 'Our Love to Admire', released in summer 2007, they stick to this principle although it also becomes clear that with the third effort there are fewer surprises than with its precursor 'Antics'. The third long-player is less impressive at first listen, as the sound is by now pretty familiar. Maybe INTERPOL should try at least one or two more experiments for their forth album, for which we hopefully don't have to wait for as long as for 'Our Love to Admire'.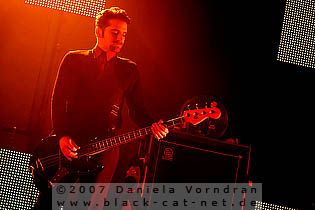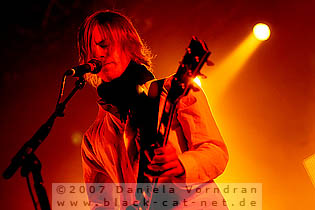 Performance
At some point during INTERPOL's gig at the Palladium in Cologne I said to a friend "I think the best way to enjoy Interpol's music is at home, at night, and with many candles all over the place. The second best is to see them live".... and I'm not sure if that's dismissive of their shows or a compliment for the intensity of their music! INTERPOL's current live show is visually pretty impressive, and the music is of course brilliant anyway. An enormous video screen as the backdrop of the stage, a couple of huge quadratic glow lights on pedestals and numerous laser lights - all in a perfect choreography that enhances the atmosphere of the songs in most consummate ways. I wonder if the mood and message could be better translated for them - probably not!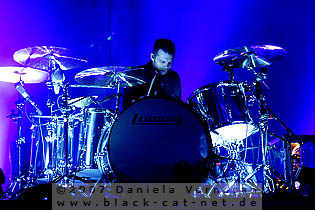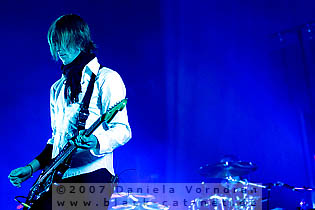 But it's also a fact that there's not much action on stage. Guitarist Danny Kessler is pretty much the only one in the band who really moves on stage. The others just stand there in this most beautiful light and perform - a somewhat very pure approach to do a show, and after all quite adequate for the kind of music INTERPOL plays. But it requires some attention to get carried away by the music and visuals, and in such a relatively big arena you might be unlucky to be in a place where people around you prefer to talk and babble throughout half of the show. ;-)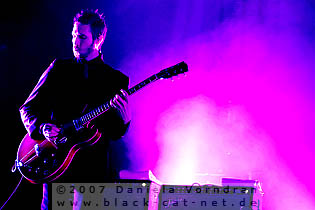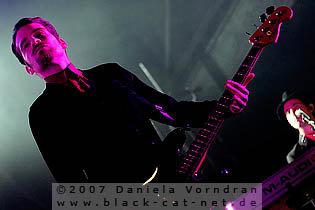 I have to admit that I prefer a little more action on stage anyway, and a little more interaction with the crowd. But I'm not complaining, I love the band and they surely know how to put on a great show! Even if they might be not the greatest entertainers, they are surely great artists. And their art is in the end entertaining as well - problem solved! *g*
Setlist
01. Pioneer to the fall
02. Say hello to the angels
03. Narc
04. C'mere
05. The scale
06. Mammoth
07. No I in threesome
08. Slow hands
09. Rest my chemistry
10. The lighthouse
11. Take you on a cruise
12. Evil
13. Heinrich maneuver
14. Not even jail
---
15. Leif Erikson
16. Obstacle 1
17. Stella was a diver and she was always down
Rating
Music: 9
Performance: 8
Sound: 7
Light: 9
Total: 8.4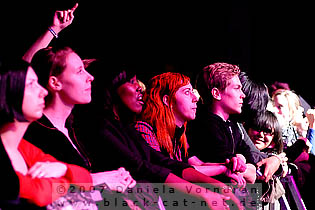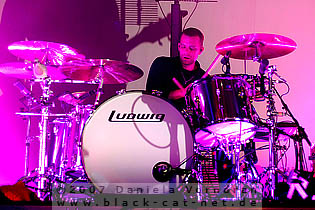 All pictures by Daniela Vorndran (
http://www.vorndranphotography.com/
/
http://www.black-cat-net.de/
/
www.myspace.com/vorndranphotography
)
{jos_sb_discuss:17}