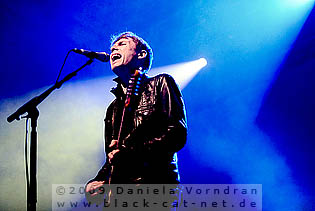 Palladium, Cologne, Germany
14th March 2009
Franz Ferdinand, Kissogram


Glasgow is the city for quality music. Just to mention a few bands like Simple Minds, Texas, Deacon Blue, GUN, Alex Harvey, Glasvegas, Amy MacDonald and as well FRANZ FERDINAND. All these artists and many more are coming from the largest city in Scotland and are making this life more worth with their wonderful music. These days FRANZ FERDINAND spread their Scottish charm over Germany and now it was my turn to see them for the first time. Better late than never and the Palladium in Cologne was sold out.



Kissogram


KISSOGRAM came out of nothing in the early summer of 2001. On the small label Blaou from Berlin they released 'If I Had Know This Before', which was the club hit of the season because of the smooth remix from Woody on the b-side. KISSOGRAM was founded in 1999 in Berlin. They belong next to bands such as Stereo Total and Jeans Team to the most important bands of the independent pop scene in Berlin. Their style is also partly New Wave and Disco but they are also using elements of Rock'n'Roll and blues. Their recent album 'Rubber and Meat' is a step further from their pure electronic style to a new and very own form of rock. The lyrics of this album are about escape, work and fame from the point of a simple, socially down person.
http://www.kissogram.de/
/
http://www.myspace.com/kissogram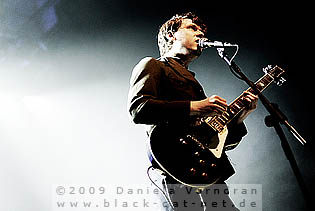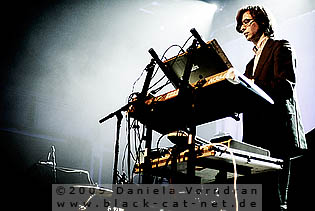 Music & Performance

The intro was absolutely electronic before guitars were used. What was following was an interesting mix of programmed stuff, real instruments and vocals. All songs were very danceable and brought the audience already in the right mood. The crowd enjoyed the sounds a lot. Songs like 'I'm the night before', 'Cool kids can't die', 'Lucy', 'The Deserter' and the title track of their recent album 'Rubber and Meat' were played. When I listened to their stuff on Myspace before the gig they reminded me at once of FRANZ FERDINAND and I thought this is a good choice for the support. But seeing them live and although it was fun to listen and enjoyable but after half an hour it was like every song sounded the same.
Rating

Music: 7
Performance: 7
Sound: 7
Light: 7
Total: 7 / 10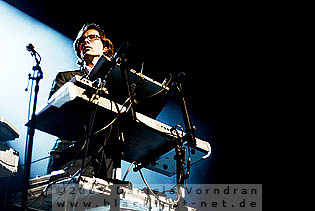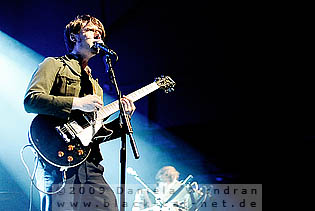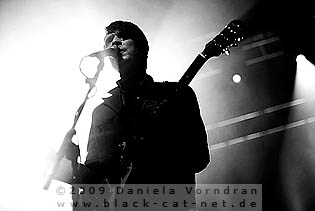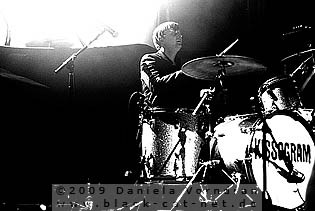 Franz Ferdinand

FRANZ FERDINAND is a Scottish rock band that formed in Glasgow, Scotland in 2002. Named after Archduke Franz Ferdinand of Austria, the band comprises Alex Kapranos (lead vocals and guitar), Bob Hardy (bass guitar), Nick McCarthy (rhythm guitar, keyboards and backing vocals), and Paul Thomson (drums, percussion and backing vocals). The band first experienced chart success when their second single 'Take Me Out' reached #3 in the UK Charts, followed by their debut album 'Franz Ferdinand' which debuted on the UK album chart at #3. The band went on to win the 2004 Mercury Music Prize and two BRIT Awards in 2005 for "Best British Group" and "Best British Rock Act". NME named FRANZ FERDINAND as their "Album of the Year". From the album, three top-ten singles were released, 'Take Me Out', 'The Dark of the Matinée' and 'This Fire'.
http://www.franzferdinand.co.uk/
/
http://www.myspace.com/franzferdinand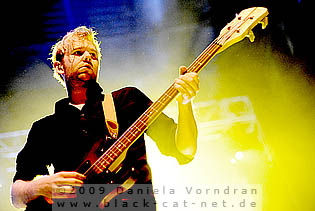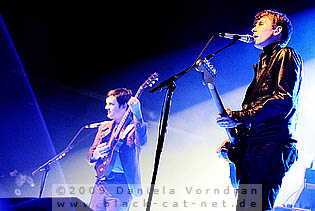 Music & Performance

The stage was in a deep red light when the intro started and with 'The Dark of the Matinée' we got a great song to begin with. Alex Kapranos welcomed everyone with 'Guten Abend' (Good evening). FRANZ FERDINAND have absolutely devoted fans, they were with the band from the first second and were singing with the guys every song. I couldn't believe that my good mood and favourite song was played already as second - it was 'Do You Want To'. With 'No You Girls' we saw the first projection on the video screen with big red lips. When it was time for 'Take me out' Alex said they will play this song for those people who were already at their first gig in Cologne about five years ago.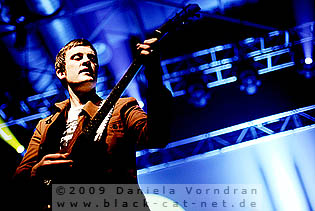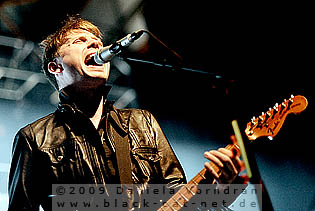 During '40 feet' is was just a big "Lalalalala..." choir in the Palladium. Everyone was singing with the band and after Alex invitation also by themselves. We could watch different colourful and strange videos on the screen and with playing 'Ulysses' the music video to the song was shown. After the break Alex asked "Noch eins?" which meant if we still like one more song. Thank god they played still four more. It was also happening that Alex was playing keyboard and the whole band - and I really mean the whole band was - playing drums and believe it or not it still sounded great. After about 1.5 hours all was over when you just felt like the party started. I have enjoyed the live show of FRANZ FERDINAND still much more than from CD and all I can say if you have the possibility to see them live just go and have a fantastic time because then: You're lucky, lucky! You're so lucky!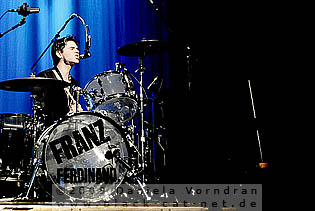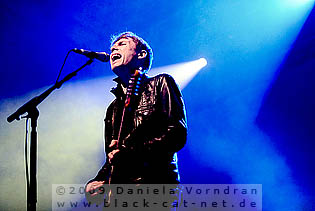 Setlist

01. The Dark of the Matinée
02. Do you want to
03. No you girls
04. Walk away
05. The fallen
06. Live alone
07. Take me out
08. Turn it on
09. 40'
10. Bite hard
11. Michael
12. Ulysses
---
13. What she came for
14. Outsiders
15. Lucid dreams
16. This fire
Rating

Music: 10
Performance: 9
Sound: 8
Light: 8
Total: 9 / 10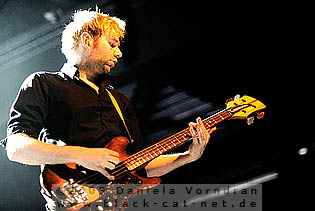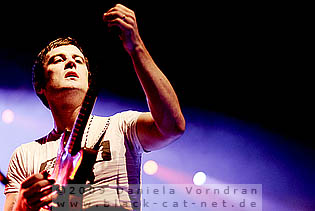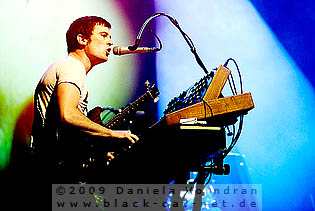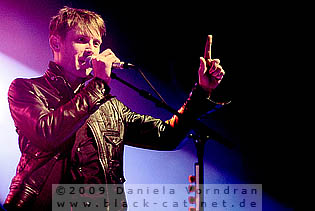 All pictures by Daniela Vorndran (
http://www.vorndranphotography.com/
/
http://www.black-cat-net.de/
/
www.myspace.com/vorndranphotography
)
{jos_sb_discuss:17}