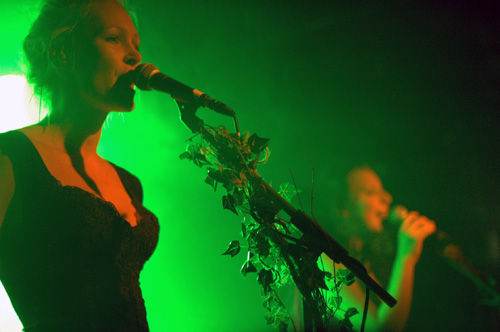 Ekko, Utrecht, The Netherlands
November 6th 2005
Faun and Dimensia

When I arrived at the Ekko there was quite a line waiting outside. I had not expected such an audience. The show was sold out! There was a wide variety of people standing in line, dressed in outfits ranging from gothic clothes to medieval cloaks to jeans. It was nice to see that Omnia (a Dutch neo-Celtic band) were there too to support their German friends.
Dimensia

The members of Dimensia met each other through the forum of the Elf Fantasy Shop. When discovering their mutual passion for music they decided to get together and see if they could create their own music. That year, 2004, they decided to play at the open stage of the Elf Fantasy Fair and thus their musical career was off to a start.
Music
They play a mixture of their own songs and traditional songs. Marije knows how to play her harp, it sounds beautiful. The violin and whistle playing of Lidewij however could do with some improvement; it always seems to be a bit out of tune. They perform many sweet songs, but they sound a bit metallic in the sound mix which is a pity.
Performance
Their stage performance is quite static, most of the time they just stand still. That is if you could see what was happening on stage, there was hardly any front light and the lamps which were on stage blinded the audience. In-between songs Gerard (guitar) tells the story of the songs. He even tells a story connecting all songs. This he does in such a fashion he seems to be talking to children who are at the age of 5. Very patronising.
Rating
Music 6
Performance 5
Sound 6
Light 4
Total 5 (5,3)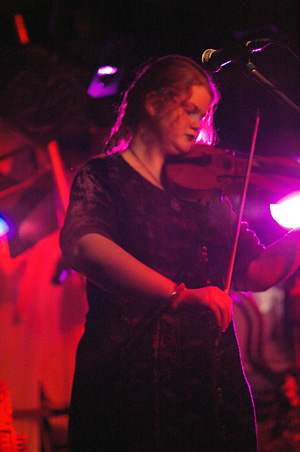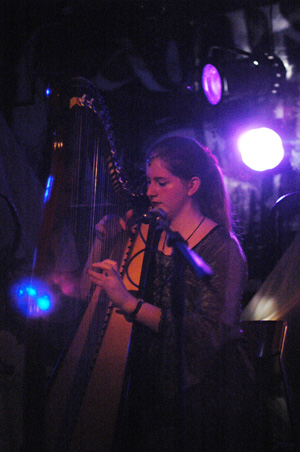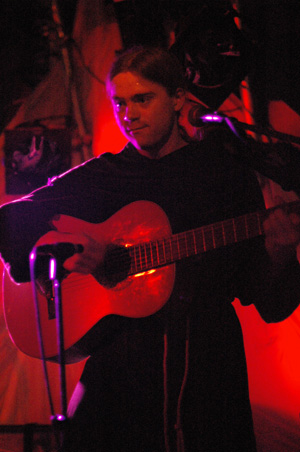 Faun

Finally they were back in town again to delight us with one of their shows! I had never even seen a Faun show before which didn't take place at a festival. Besides that it was good to experience the atmosphere during a true Faun concert, and it was great to see a room full of Faun fans enjoying the concert.
Music
The concert started with the song 'Punagra' from the album 'Licht' which set the tone for this concert, let's have a happy and fun Sunday afternoon together. The audience is very enthusiastic and they applaud to the first tunes of the song. Faun plays a mixture of their latest two albums 'Licht' and 'Renaissance'. They keep surprising me with how many instruments they each play, and they play them all very well. Each song has its own story, for instance Sirena (which text has it's origins in a Sephardic wedding song) tells the story of a woman who is about to get married and is now deluded by the Sirens of the sea to join them. On stage Fiona and Lisa are two sirens as well, their voices fit together perfectly. When they sing they each stand in a spotlight but when they're not the focus is on all of them, playing their instruments. The songs sometimes almost bring the audience in to a quiet and soothing trance while others wake them up and make it very hard to stand still.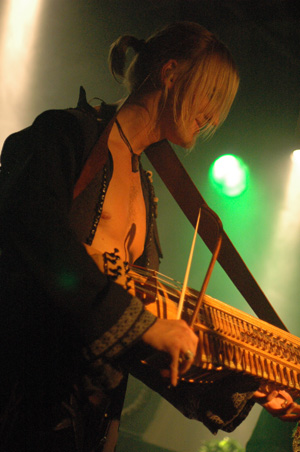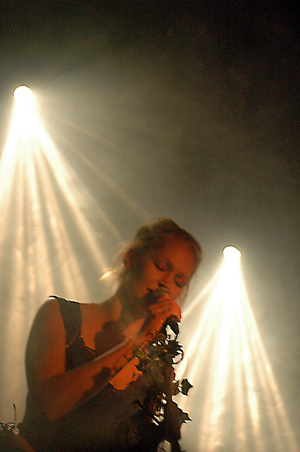 Performance
The light was part of the show. When Lisa started to sing the first tunes of 'Punagra' she was lit by what seemed like sunbeams, this gave a wonderful picture. During the show there was a warm and intimate atmosphere created by smoke and lights, though it was a bit dark so you could not always see everybody on stage. Especially Niel was hidden because he is standing behind his laptop at the back of the stage, which was a shame because it is always great to see him enjoying his own little electronical world. In between songs Oliver announced new songs, according to him they don't know what most songs are about but the sing them anyway (which is of course in contrast to the explanations for each song in the booklet of the new 'Renaissance' album). He had to make some technical remarks too, in German, which the audience did not understand of course but he always introduced them with a joke so they were happy to listen to them. When instruments had to be tuned this was because songs about love should sound perfect, this became a returning joke during the show. Faun seemed to be a bit tired, but they gave their all and treated us to a warm and intimate show on this Sunday afternoon. During 'Andro' it was time for the audience to take part in the show and dance an ancient row dance. This dance is familiar to many Faun fans and long rows of dancing people started making their way through the audience. The band was asked to return twice for an encore and during their final song the audience started to clap along to the beat. One by one each band member left the stage until the only sounds were Niels computer and the clapping of the audience. A wonderful and serene ending to a great show.
Rating
Music 8
Performance 7
Sound 7
Light 7
Total 7 (7,3)