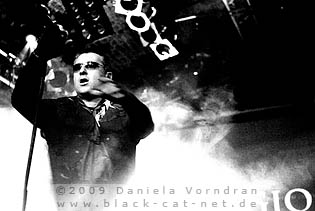 Matrix, Bochum, Germany
28th December 2009
Front 242, Faderhead, Parade Ground
Only a few days left until this year ends for good. But this year, the big bang has been antedated a few days, for FRONT 242 had decided to come to Bochum to unleash a firework of minimalist sequences and driving beats in a program also featuring their biggest hits.
Parade Ground
PARADE GROUND, the electronic project of Belgian brothers Pierre & Jean Marc Pauly started in 1983. Even so their discography is quite small and besides some 7" and 12" outputs they've only released one full-length album. After a dormant period of nearly 20 years, 'Rosary' the second album was finished in 2007, produced by FRONT 242 member Patrick Codenys.
http://www.parade-ground.net/
/
http://www.myspace.com/paradeground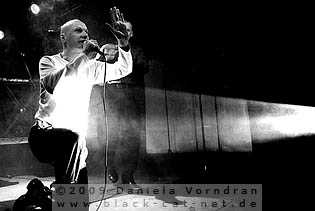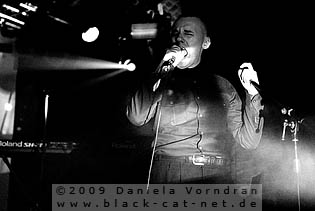 Music & Performance
I'm pretty sure that, even though there are bonds between the two brothers and this evening's headliner, people rarely heard of PARADE GROUND before, and should be getting a big surprise. PARADE GROUND's music isn't music in the actual sense of the word, at least not if you think of it in a conventional way. The structures of their tracks, though being rhythmic and minimalist straight most of the time, are steeped in a nexus of chaos, tearing screams, noise and somewhere inside even melody. Both brothers, who were performing their songs like in a state of trance with eerie mimics and gestures, delivered vocals in turns or at a time, while a slide-projector, held by a woman in the photographer's pit bathed them in spectral pictures. Vocals were nearly impossible to understand, but their music isn't about words anyway, but about the transport of feelings. Not sure which feelings they've roused in the audience who kept distance to the stage all the time. For me it was an intriguing, if admittedly weird, performance act.
Rating
Music: 7
Performance: 8
Sound: 7
Light: 6
Total: 7.2 / 10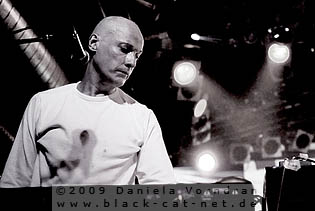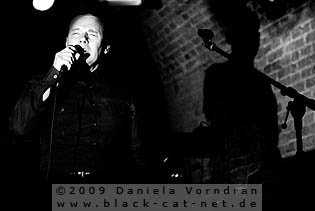 Faderhead
After FADERHEAD from Hamburg / Germany was making music for about 17 years, he finally released his debut album 'FH1' on the Accession Records label in 2006. His musical influences are spread widely - OASIS, MARILYN MANSON, ICE CUBE, SLAYER, THE PRODIGY, PET SHOP BOYS and many others - over different genres. According to his own statements, he did not grow up influenced by the typical electronic bands (i.e. DEPECHE MODE or KRAFTWERK) and had very few electronic influences. He just likes "synthesizers and fat drumbeats". The second album 'FH2' was released in April 2007. After FADERHEAD and his former record company Accession Records parted ways, it wasn't so sure if a new FADERHEAD album would ever see the light of day (according to his own words). But with a new label (L-Tracks) the new album, surprisingly titled 'FH3' was hitting store shelves on 10th October 2008. This time FADERHEAD live consisted of Sami (song writing, production, vocals, guitars), Joe & Daniel of SAM (synths, keys).
http://www.faderhead.com/
/
http://www.myspace.com/faderhead666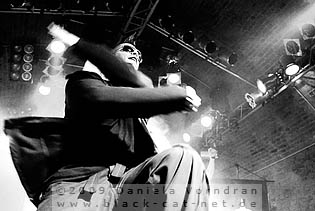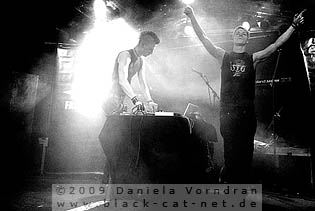 Music & Performance
Now to something less disturbing for the audience! Unlike PARADE GROUND, FADERHEAD's mission was to make people dance. At the start of his show with 'Electrosluts Extraordinaire', there's been a problem with the microphone as no vocals could be heard for a certain time. Luckily, before the song ended, the problem was fixed and everything went its normal way from there on. The bomb 'ZigZag Machinery' followed and then a new song, which maybe will find its place on the next album, had its live premier. 'Destroy, Improve, Rebuild' followed an extremely harsh and darker line than many of the previous material, and when FADERHEAD asked for the audience's opinion afterwards, he got thumbs up from all over the place.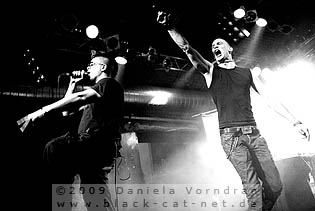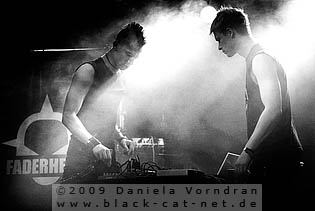 'Houston' and 'Hammer of the Gods' kept driving people into heavy dancing before 'Girly Show' calmed things down a bit. The club version of the balladry 'Horizon Born' from the new EP followed next. As much as I see the necessity for a club version in order to make people dance, I can't get anything out of it for me and prefer the original one. 'TZDV' closed the sweat-driving event on which FADERHEAD was once more supported by hyperactive Daniel & Joe of project SAM.
Setlist
01. Electrosluts Extraordinaire
02. ZigZag Machinery
03. Destroy, Improve, Rebuild (New Song)
04. Houston
05. Hammer of the Gods
06. Girly Show
07. Horizon Born (Club Edit)
08. Burning/Dancing
09. OH Scavenger
10. Dirtygrrrls/Dirtybois
11. TZDV
Rating
Music: 7
Performance: 8
Sound: 7
Light: 7
Total: 7.3 / 10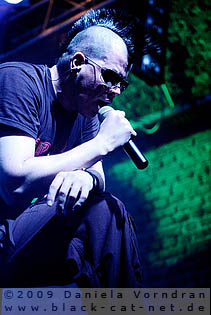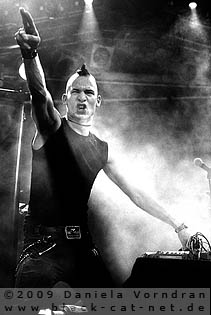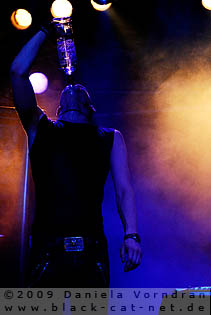 Front 242
Front 242 was initiated in 1981 by Daniel Bressanutti and Dirk Bergen, who wanted to create music and graphic design using emerging electronic tools and in the same year, the first single 'Principles' was released. In 1982, Patrick Codenys and lead singer Jean Luc de Meyer would complement and complete the line-up and in that constellation they recorded and released 'U-Men' and the debut 'Geography', both are named as being influential for the works of many electronic music artists. But it's not before the release of 'No Comment' in 1984 that they'd earn their place in the annals of electronic music history by laying the foundation stone for the Electronic Body Music, a term that came up first with this album.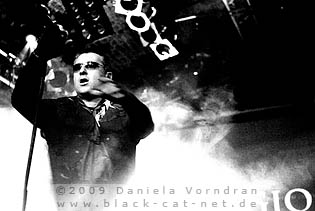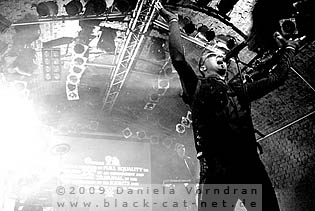 The single 'Headhunter' taken off the accompanying album 'Front by Front' in 1988 should become a widely popular track and now is an absolute classic. Following releases couldn't remotely relate to the past success and started the slow decay of the band, peaking in Jean-Luc De Meyer's departure in 1995. To the surprise of many, the band comes back together in 1997 but it still takes them another 6 years to release a new album with 'Pulse' which stylistically goes way back to their roots. 2008 marks the release of a live album called 'Moments'. FRONT 242 is Jean-Luc De Meyer (vocals), Daniel Bressanutti (keyboards, programming, live mixing), Patrick Codenys (keyboards, programming, samplers) and Richard "23" Jonckheere (percussion, vocals).
http://www.front242.com/
/
http://www.myspace.com/front242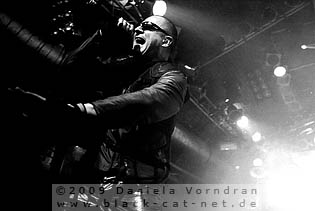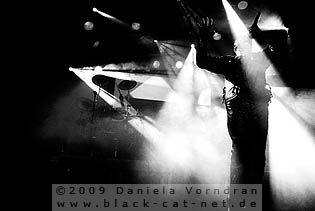 Music & Performance
This was the hour of fate; the moment the band everyone's waiting for entered the stage to the gloomy intro that was segueing into '98 (Shout it Loud)'. With absolutely no delay, many started forming a mosh pit amidst the others growing to even wilder dimensions later on. The live drums were crystal clear and made an even stronger fundament than the electronics alone did. 'Moldawia' picked up where the last one left off and drove the audience insane. The moves on stage were nothing less of a wild matter and Jean Luc De Meyer didn't remain alone with the vocal duties, frequently joined by his band mate. With 'Together', they strayed from piling up the beat salvoes for a while, replacing them with dim down-tempo darkness. With 'Circling Overland', it only would be raised minimally, but in intensity that track's hard to beat.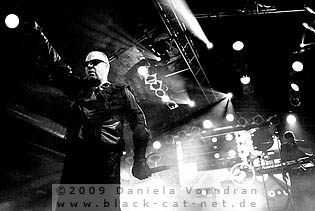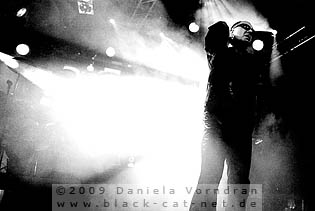 For that matter it's pretty similar to 'Triple X Girlfriend'. But what the crowd was really longing for was pushed to the end of the main set list: 'Im Rhythmus Bleiben' and 'Headhunter'. Two of the most legendary songs of this band and club evergreens to the present day, especially the former one unleashed amazing energies in front of the stage, seeing band and audience partying together to complete exhaustion. Well, not complete exhaustion, because they all needed some energy for the encore, consisting of 'Kampfbereit' and 'No Shuffle'. The fans had high hopes for this club show and FRONT 242 completely lived up to them in my opinion, maybe some missed 'Happiness' though.
Setlist
01. 98 (Shout it Loud)
02. Moldavia
03. Together
04. Circling Overland
05. Religion
06. Welcome to Paradise
07. Commando Mix
08. Triple X Girlfriend
09. Funkahdafi
10. Loud
11. Quite Unusual
12. Take One
13. Im Rhythmus Bleiben
14. Headhunter
---
15. Kampfbereit
16. No Shuffle
Rating
Music: 8
Performance: 8
Sound: 8
Light: 6
Total: 7.7 / 10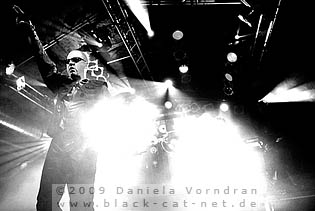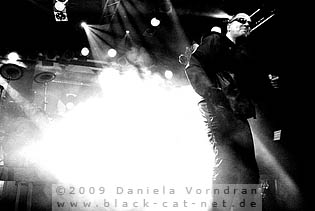 All pictures by Daniela Vorndran (
http://www.vorndranphotography.com/
/
http://www.black-cat-net.de/
/
www.myspace.com/vorndranphotography
)
{jos_sb_discuss:17}