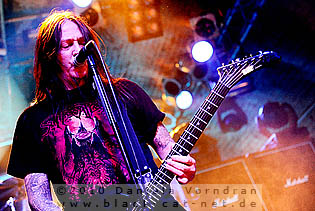 Matrix, Bochum, Germany
1st February 2010
Hypocrisy, Survivors Zero, Failed Perfection
A new album regularly also means that a tour is going to follow where the album's being extensively supported. Now that time has come for the newest HYPOCRISY record 'A Taste of Extreme Divinity' and the band promised their fans a more than proper piece of Death Metal, a matured programme reflecting their development.
Failed Perfection
FAILED PERFECTION came into existence in 2005. The band's been founded by two guys, who had just parted ways with their former bands. However, the assemblage of a stable line-up took them about 3 years. First gigs were going down around that time as well. That was just before another personnel change took place and the band concluded the year with a performance at Christmas Metal Meeting. Currently, the band is working on their debut album. FAILED PERFECTION is Chris (vocals), Marco (guitars), Schnitti (guitars), Tom (bass) and Andi (drums).
http://www.myspace.com/fpmetal
Music & Performance
Kicking off tonight's evening was the local support FAILED PERFECTION, a young band founded back in 2005 and with just one demo CD under their belt. But the guys are insanely working on their debut right now. Furthermore, they had a brand new guitar player on board by the name of Marco. He joined them about one month ago and already delivered his first written song for FAILED PERFECTION.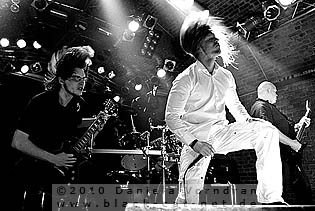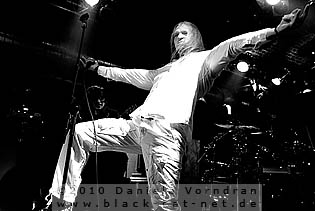 Musically, one gets the typical Swedish, Gothenburg-tinged melodic Death Metal in the vein of IN FLAMES and DARK TRANQUILITY with some nice samples in-between. Front man Chris is for sure an eye-turner, especially when he starts performing with nude torso but he's also capable of singing, delivering deep guttural growls. I just found that FAILED PERFECTION was a little bit over-ambitious. On the other hand, to play with a band such as HYPOCRISY might turn excitement up to the max. After 30 minutes, their time was over and the last track, initially meant to be an encore, was cut. Well-done show!
Setlist
01. Born Under A Demon Sky
02. Deciphering Reality
03. In Oblivion
04. Pilgrimage
05. New Horizons
06. Daymares
Rating
Music: 7
Performance: 7
Sound: 7
Light: 7
Total: 7 / 10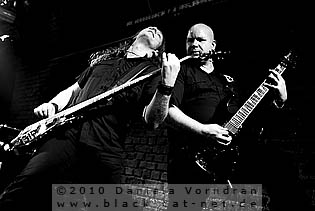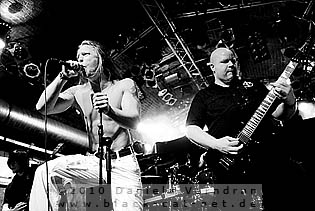 Survivors Zero
After years of mere working for other bands, producer Sami Jämsén decided it was time to start playing himself again and founded SURVIVORS ZERO. Being the sole member in its beginnings, the further progress of the initial ideas called for a real line-up. Many months later that task was completed and the band headed over to the studio to record the songs for the demo 'Extinction', unleashed some time in 2008. By the end of the same year, the band has secured a record deal already and works on the debut album 'CMXCIX' begin. The album was eventually released to the public in October 2009. SURVIVORS ZERO is Tommi Virranta (vocals), Sami Jämsén (lead guitar), Jani Luttinen (lead guitar), Tapio Wilska (bass) and Seppo Tarvainen (drums).
http://www.survivorszero.com/
/
http://www.myspace.com/survivorszero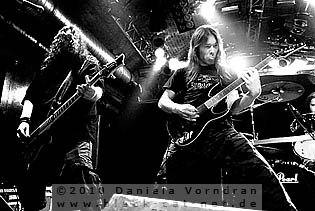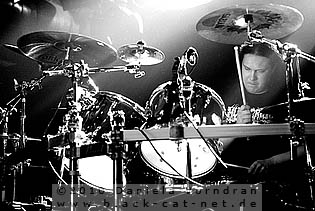 Music & Performance
As next act, SURVIVORS ZERO entered the stage and I didn't like them right from the start. Most of all, singer Tommi Virranta is to blame for that. He acted like a super-nacker, was aggressive and generally acted like a dumb-ass. His mate, 4-stringer Tapio had to qualify what was said by Tommi who got even more incited as the crowd's response was more than just reserved. Lights sucked too. Only drummer Seppo had my respect. He was sick for 2 days now but still gave 100% behind his drum kit, and SURVIVORS ZERO is far away from being slow. All songs came from the band's debut, entitled 'CMXCIX', except for 'People of the Lie', which is originally by KREATOR and was the only song where the club was heating up a little.
Setlist
01. Embrace the Inferno
02. Thorns of Rapture
03. Scavengers of Christ
04. Armageddon Cult
05. I Bury them Deeper
06. I'm the Gun
07. People of the Lie (Kreator Cover)
08. Reclaim My Heritage
Rating
Music: 6
Performance: 6
Sound: 5
Light: 4
Total: 5.6 / 10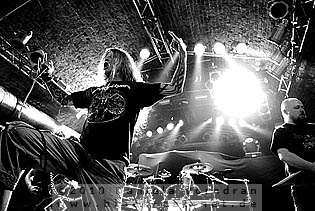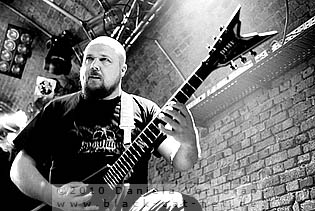 Hypocrisy
HYPOCRISY started in 1990 as the solo project of Peter Tägtgren, a multi-talent when it comes to music. The first album 'Penetralia', a for the most part classic Death Metal record, was released in 1992. The follow up 'Osculum Obscenum' came out just one year later and was an important step in the cultivation of the bands own, unique style which was subject to many changes within the following years. The album 'The Fourth Dimension' for instance enhanced their instrumental set with the dark atmospheres of a keyboard. If it wasn't for the immense popularity of HYPOCRISY by the time, Peter Tägtgren would have followed through with his decision to put the band to rest after the 1997 release 'The Final Chapter', and albums like 'Into The Abyss' (2000) or 'Catch 22' never would've seen the light of day. Following a four years period of silence, HYPOCRISY released their newest opus 'A Taste of Extreme Divinity' in October 2009. HYPOCRISY is Peter Tägtgren (vocals, guitar, synthesizer), Mikael Hedlund (bass), Reidar "Horgh" Horghagen (drums).
http://www.hypocrisy.tv/
/
http://www.myspace.com/hypocrisy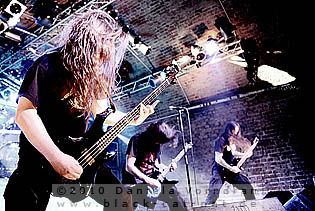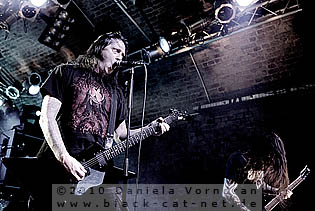 Music & Performance
Afterwards, it quickly became clear who the fans were here for tonight: HYPOCRISY! During the change-over, the Matrix got much more crowded and we heard many ah's and oh's already when the stage scenery got revealed. Horgh was enthroned above all others with metallic symbols on the right and left and grids below with lights, placed behind them. Mr. Peter Tägtgren shared the stage with bass player Mikael Hedlund, but who was the second guitarist? Ok, it was Tomas Elofsson of SANCTIFICATION. Dark atmospheric intro, some smoke, a fantastic sound and finally a great lightshow promised a breathtaking show. Then 'Valley Of The Damned' broke upon the fans followed by 'Hang Him High', another new song.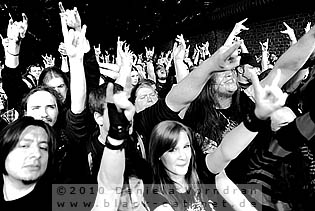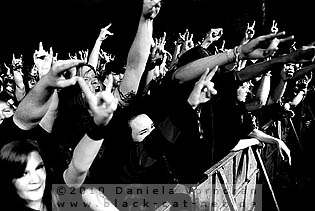 Already with song number 3, 'Fractures Millenium', the classics started. All my hairs were standing on end and I had goose bumps all over my body. Waaaah, how great was that? I don't know when I saw HYPOCRISY the last time; it must have been many years ago. I forgot how great this band can be, how great these old songs still are. Bloody hell! A splendid show! The band was in a good mood and Peter in top vocal shape. He screamed and growled as if there was no tomorrow. The crowd was going wild and sang along to every song, even to the melodies of 'Fractures Millennium' and 'Apocalypse'. HYPOCRISY went through their entire discography, from the brand new album to the debut 'Penetralia'. From one of my favourite HYPOCRISY albums 'The Final Chapter', they even played 3 songs. What a show! Another early highlight in 2010! Nothing more to say!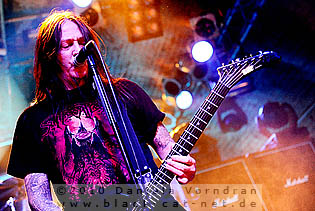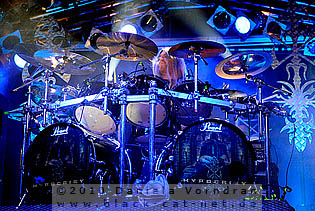 Setlist
01. Intro
02. Valley of the Damned
03. Hang Him High
04. Fractures Millenium
05. Adjusting the Sun
06. Eraser
07. Pleasure of Molestation / Oscolum Obcenum / Penetralia Medley
08. Apocalypse / 4th Dimension Medley
09. Killing Art
10. A Coming Race
11. Let the Knife Do the Talking
12. Weed out The Weak
13. Fire in the Sky
---
14. Intro
15. Roswell 666
16. Warpath
17. The Final Chapter
Rating
Music: 9
Performance: 9
Sound: 9
Light: 9
Total: 9 / 10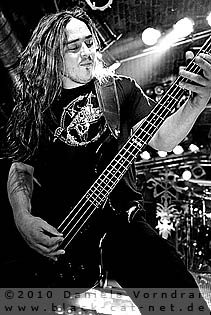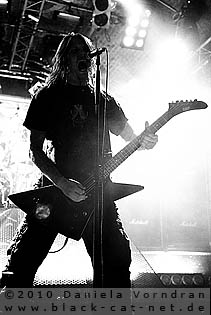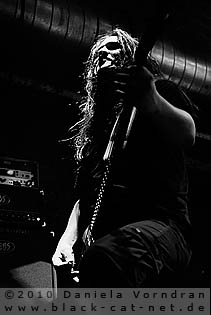 All pictures by Daniela Vorndran (
http://www.vorndranphotography.com/
/
http://www.black-cat-net.de/
/
www.myspace.com/vorndranphotography
)
{jos_sb_discuss:17}