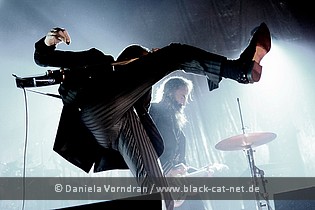 E-Werk, Cologne, Germany
15th October 2010
Grinderman, Anna Calvi

Dark clouds were hanging in the skies on this Friday that usually are made to bring your mood down, but ours was on a high for we were headed to Cologne this day to see a group of grand artists performing at the E-Werk that day: GRINDERMAN!



Anna Calvi

ANNA CALVI's been praised already far and wide for her music which is called "dark atmospheric romantic pop" firstly presented on the single 'Jezebel' released digitally and on vinyl on 11th October. It is meant as appetizer for her upcoming, yet untitled debut album. When on stage, the line-up is Anna Calvi (vocals, guitar, violin), Mally Harpaz (harmonium, bass pedal, percussion) and Daniel Maiden-Wood (drums, backing vocals). http://www.myspace.com/annacalvi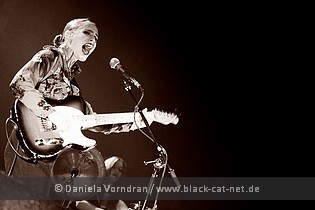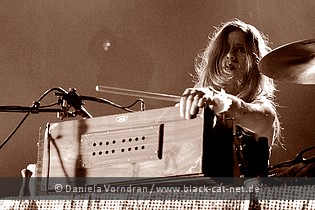 Music & Performance
You could not really be sure what to expect, even many of the other attending people didn't know the name ANNA CALVI. Yet, just as us, they would get to know her soon enough. But first she was entering the stage with her band, starting the set with a lengthy guitar intro showing very advanced skills on that instrument. Then, sometime later, the song really kicked off and a hesitant, brittle voice sounded that would give nothing away of any kind of strength hidden inside, coming to show on the following 'Jezebel', the first single from her upcoming debut album. A melodramatic song, a single driving crescendo with a Mexican influence und that mind-blowing voice, dominating everything and reminding of Siouxsie Sioux! As strong as it might have been within the songs, as shy it sounded when talking or announcing something. Maybe she's not feeling comfortable enough on stage yet when there's no music around. If so I think she's working on that. If there was music she was outshining everything else though.

Rating
Music: 7
Performance: 8
Sound: 8
Light: 7
Total: 7.5 / 10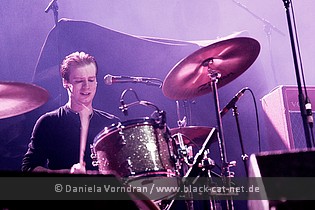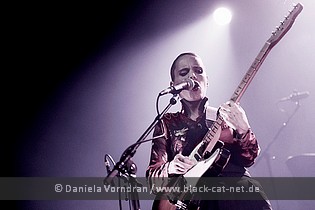 Grinderman

In 2006, Nick Cave and a few of his BAD SEEDS colleagues gave birth to GRINDERMAN stressing a harder and rougher genre of music that has often been compared to Cave's earlier works with THE BIRTHDAY PARTY. In 2007, the band would release the self-titled debut to euphoric critics. The second album 'Grindermna 2' just followed it up in September 2010. GRINDERMAN is Nick Cave, Warren Ellis, Martyn Casey and Jim Sclavunos. http://www.grinderman.com / http://www.myspace.com/grinderman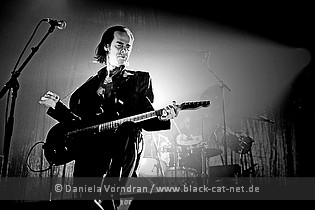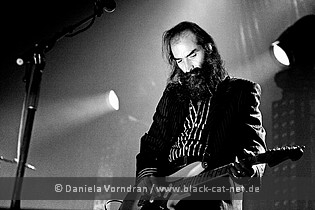 Music & Performance
Tense anticipation was in the air before the show of GRINDERMAN, breaking into rapturous enthusiasm when the lights finally dimmed and the band members entered the arena and especially when Nick Cave walked in to start 'Mickey Mouse And The Goodbye Man'. While that title might already seem strange, the lyrics followed that route and bear close resemblance to THE BIRTHDAY PARTY lines, involving odd stories. Anyway, Cave presented them as eccentric as only he can do it and instantly infected the audience by doing so. When the song was unexpectedly bursting then, you were astonished how agile and fast the action on stage was. We can be lucky if we're able to move half that fast when we reach the guys' age and they didn't fail to deliver that amount of energy on the following one as well. Wonder where the hell that is coming from. The announcement of 'Heathen Child' got rewarded with sheer exciting screams. Cave had put his guitar aside for the track.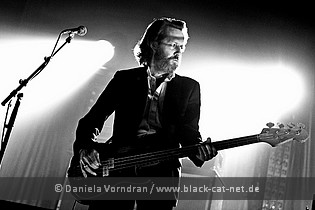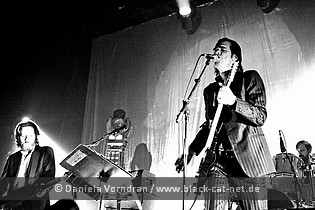 And the eccentric performance reached a new level on that track. While he was acting something like a priest on 'Evil', he would give a performance that was sheer madness on 'Kitchenette', and I'm not speaking figuratively here now. It's been mad. He was cracking up completely to the partly bluesy track, screaming as if to lunge at somebody within the next seconds or so and doing an equally dancing style. To get to such a level of performance it needs complete dedication to music, or a twisted mind. I'm completely certain it's the former one, but others might disagree with me on that. As one highlight of the set, also judging the reactions of the audience, the 'No Pussy Blues' can be seen, causing extensive dancing and while we were at it the next one was following right up with the 'Bellringer Blues' and ended the set under blusterous applause after hardly more than an hour. The crowd begged for more and needed to beg long before anyone appeared back on stage. But they were rewarded with a few blistering tunes to close the evening. A wicked performance which I also never expected to be that compelling!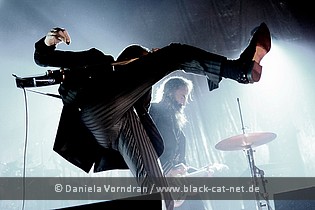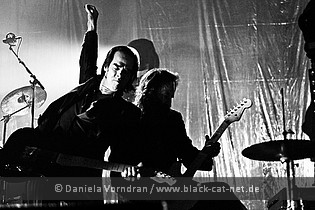 Setlist
01. Mickey Mouse And The Goodbye Man
02. Worm Tamer
03. Get It On
04. Heathen Child
05. Palaces Of Montezuma
06. Evil!
07. When My Baby Comes
08. What I Know
09. Honey Bee (Let's Fly To Mars)
10. Kitchenette
11. No Pussy Blues
12. Bellringer Blues
---
13. Man in the Moon
14. When My Love Comes Down
15. Love Bomb
16. Grinderman

Rating
Music: 9
Performance: 9
Sound: 8
Light: 8
Total: 8.7 / 10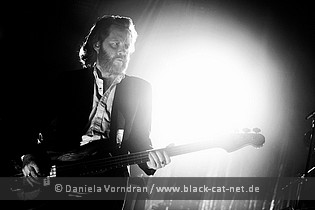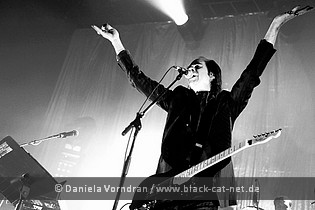 All pictures by Daniela Vorndran (http://www.vorndranphotography.com/ / http://www.black-cat-net.de/ / http://www.myspace.com/vorndranphotography)
{jos_sb_discuss:17}