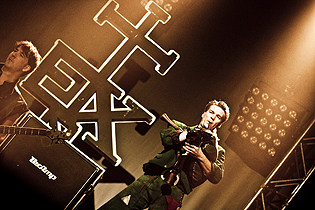 Stadthalle, Magdeburg, Germany
16th April 2011
Sterneneisen Tour 2011: In Extremo & Fiddler's Green

After not hearing from the concert agency for weeks, we went to the Stadthalle in Magdeburg early to see if anything had changed. After a short talk, we just had to wait about 2 hours and finally, we were in. A night of great music was now ahead and we couldn't wait for it to start. Fortunately, we didn't have to because FIDDLER'S GREEN started early.



Fiddler's Green

FIDDLER'S GREEN is a German band from Erlangen that plays independent Irish Speed-folk, formed in 1990. Their first concert under the name of FIDDLER'S GREEN was at the Newcomer-Festival in Erlangen in November 1990, where the band came second. The band has been signed to a major label, but chose to go back to being independent. The band has kept up the mix of traditional Irish or Scottish songs and self-written tracks, though the self-written tracks have progressively become less and less folky. Recent albums also see a clear influence from Gothic rock music. Having enjoyed growing success in and around Germany, the band reached 1,000 played concerts in 2004 (the only band member to play them all is bass player, Rainer Schulz), which was celebrated with a concert at Castle Hoheneck. This concert was filmed and released on two DVDs: 'Celebrate!' and 'Jubilate!'. The concert saw participation from former band members and other guest musicians. A live DVD Folk's not dead was released to celebrate the band's 20th anniversary in 2010. http://www.fiddlers.de / http://www.myspace.com/speedfolk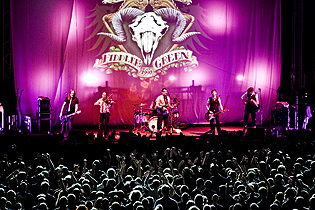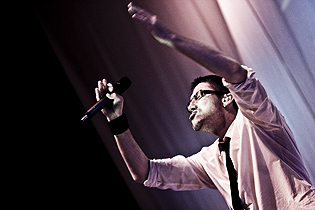 Music & Performance
FIDDLER'S GREEN is one of the bands that you just can't resist dancing to. The energy they bring on stage is just incredible. The sound started out a little rocky, the bass being a little too loud and strong, but after the first song, it was fixed and the music was great. With a wide range of their songs, the band managed to entertain everybody in the audience. The instruments really fit together and worked out pretty well. Considering the fact that the stage was rather small (the rest of the stage was covered by a big white curtain), it was surprising how everybody managed not to run into one another. However, this didn't affect the quality of the music at all. All in all, it was a great show of their best music and there was probably just a few people who were left flat by the music. I am really looking forward to seeing the band again. Great show, guys! Everybody who had the pleasure of seeing FIDDLER'S GREEN in action, will know how much fun they have on stage - and this fun clearly transports to the audience. Not only the energy of Ralf (vocals) but also the mood of the other band members is so powerful that you simply can't resist it. Everybody was jumping around, getting the fans going.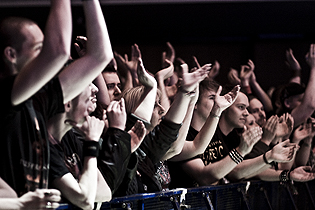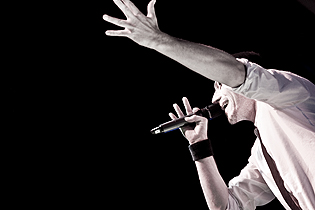 After some time, the lights went out and the fiddler entered the stage without being seen by anybody because only the bow of his violin was highlighted by led lights. Soon, 2 other members joined in and created this beautiful stage look of flames and glowing instruments. During the last song, 'Folk's not dead', the band created the so-called "wall of folk", which is a variety of the well-known "wall of death". The difference here is the way of running into another. When doing a wall of folk, people almost dance into another, not just run. So, it is a little softer but basically nothing new, still fun though. As a summary, you can say that FIDDLER'S GREEN had one of the best performances I have seen so far. Let's hope they keep up the good work but I'm sure they will.

Setlist
01. Life full of pain
02. Highland Road
03. Mrs. McGrath
04. Irish Air
05. Rose in the heather
06. Kick the bucket tunes
07. Rocky road to Dublin
08. The night Pat Murphy died
09. Folk's not dead

Rating
Music: 9
Performance: 10
Sound: 8
Light: 7
Total: 8.9 / 10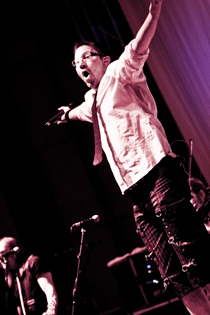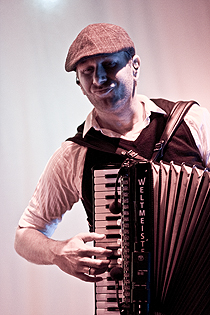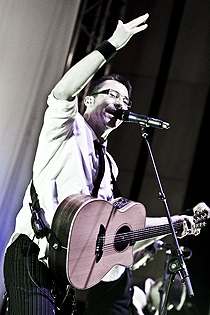 In Extremo

Actually, the German Medieval Rock band IN EXTREMO was a fusion of a nameless medieval music playing formation and a Rock band. Firstly, the two formations played separately, but in 1995 the front man "Das Letzte Einhorn" (aka Michael Robert Rhein) suggested the unifying name IN EXTREMO. Finally in 1997, one of the most popular German Alternative bands was born. The career was started with appearances at medieval markets and the first nameless album in 1996. Within some years, the band's style got harder by the usage of more guitars and drums. Nevertheless, the old-fashioned instruments such as bagpipe and shawm still played an important role. Thus, IN EXTREMO was able to attract not only the fans of medieval music, but also listeners of guitar-driven Hard Rock. Now, they released their new album 'Sterneneisen'. http://www.inextremo.de / http://www.myspace.com/officialinextremo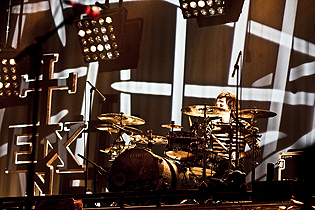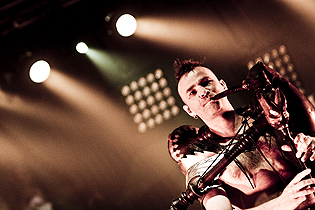 Music & Performance
Since the tour is called "Sterneneisen", just as the new album, it was probably foreseeable that mostly songs of the new album would be played and this basically was true but I think they managed to put out a good mixture of old and new stuff. With songs like 'Zigeunerskat', 'Viva la vida', 'Hol die Sterne' and, of course, 'Sterneneisen' they introduced everybody to the new album. However, at the same time, songs like 'Liam', 'Vollmond' and 'Erdbeermund' brought everybody back to the older albums which was a really nice experience. Despite the fact that Einhorn's voice was a little too quiet at the beginning (which changed during the last song however), there is nothing to really complain about the sound. Sure, sometimes the bass was a little too loud but nothing really groundbreaking if you ask me. I really enjoyed the mix of the songs and was happy they played more than just the songs from the new album (which I didn't actually expect but you never know).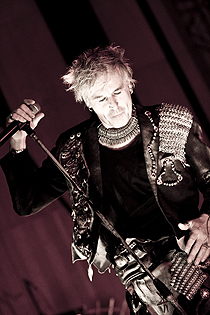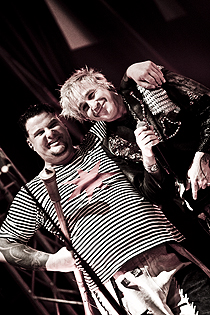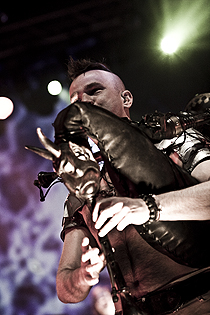 Well, what can I say? The stage was huge and had different levels as well as huge led lighting all over it. Additionally, the band had pyrotechnics in almost every single song. This was a little too much for me because I don't think that a band like IN EXTREMO needs that much to look good on stage. However, it was a nice eye catcher. Also, during the song 'Gold', huge amounts of gold glitter were sprayed into the air and came down over the first couple of rows. Sometimes, I thought I was at a RAMMSTEIN concert due to all the fire and stuff. All in all, it was really nice to see but maybe just a little too much. Besides all that, the band had a lot of energy they brought on stage and delivered to the fans as well. Of course, the members aren't the youngest guys but some of the young bands could really learn something from them. I have rarely seen such a powerful performance over the time of about 2 hours of concert, respect!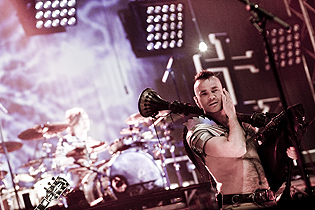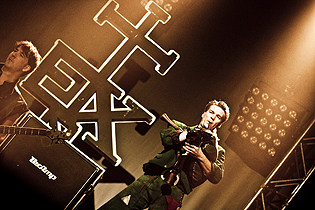 Setlist
01. Intro
02. Sterneneisen
03. Frei zu sein
04. Liam
05. Erdbeermund
06. Zigeunerskat
07. Vollmond
08. Unsichtbar
09. Herr Mannelig
10. Horizont
11. Zauberspruch
12. Siehst du das Licht
13. Stalker
14. In diesem Licht
15. Ave Maria (was on the list but wasn't played at the concert though)
16. Hol die Sterne
17. Spielmannsfluch
18. Küss mich
19. Viva la vida
20. Sängerkrieg
21. Auf's Leben
22. Gold
23. Rasend Herz
24. Omnia sol temperat

Rating
Music: 9
Performance: 10
Sound: 8
Light: 8
Total: 9 / 10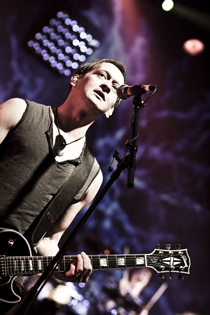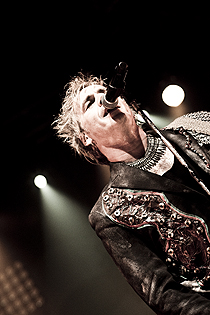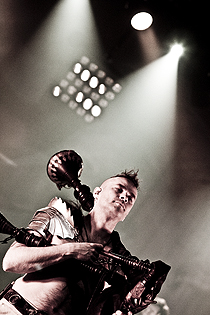 All pictures by Anne Kuhfuß