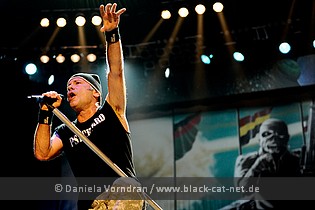 König-Pilsener-Arena, Oberhausen, Germany
29th May 2011
Iron Maiden, Rise To Remain

Six shows in Germany are part of the "Final Frontier Tour" and it is the first arena tour of the band since 2003. The tour began already in June 2010 and now it's time for the final part which will continue after Germany through whole Europe and will find its end in London in August 2011. Oberhausen was sold out -like all other German dates - and the atmosphere was simply amazing. So we joined a big rock party with all the horror and beasts which we like so much.



Rise To Remain

RISE TO REMAIN is the band of Bruce Dickinson's son Austin. They are a 5-piece London based Metalcore band. The band has made appearances at Download Festival, Sonisphere Festival and has extensively toured the UK. They have released three EP's, the majority of which have been "viral" releases via their MySpace. The band have been praised by magazines such as Metal Hammer and Kerrang!, with the former releasing a scaled-down version of their first nationwide-release EP 'Bridges Will Burn'. They have received radio play through the likes of BBC Radio One and Total Rock, as well as having their music videos regularly rotated on Scuzz and Kerrang! TV.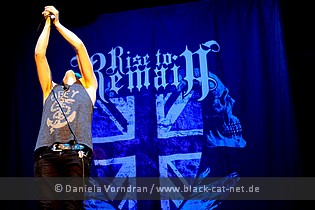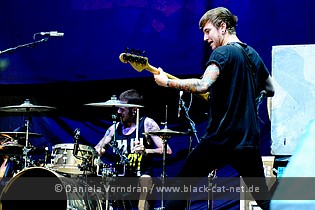 Most recently, the band was voted "Best New Band" at the Metal Hammer "Golden God Awards", an award decided by 400,000 votes across the globe, and the Kerrang! Award for "Best British Newcomer", and have completed the recording of their debut album with producer Colin Richardson, which is due out in 2011. On 16th March 2011, they signed their first recording contract with EMI records, which was accompanied by the launch of their website and a free single download entitled 'The Serpent'. www.myspace.com/risetoremain / http://www.facebook.com/risetoremain / own Website coming soon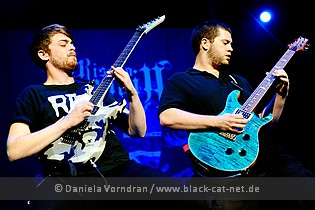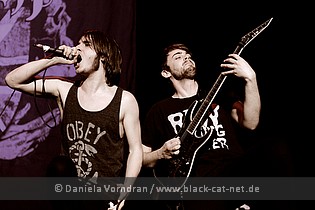 Music & Performance
So five minutes before eight, Austin Dickinson opened the evening for his dad's band. Austin mentioned that they have been to Oberhausen once before and it was as support for BULLET FOR MY VALENTINE already last December. Austin's band is louder and faster than IRON MAIDEN and it seemed the audience was too old for that new kind of metal. But I don't want to say that the people didn't like them, but for absolutely enthusiasm it was too quiet. The band performed with great energy, guitar riffs and from clean singing to a rough voice. I can't tell you the whole setlist but song's like 'This day is mine', 'Nothing left', 'Purify', 'Power through fear' and the EP title track 'Bridges will burn' were played. RISE TO REMAIN had 30 minutes to warm up the arena.

Rating
Music: 8
Performance: 8
Sound: 8
Light: 7
Total: 7.8 / 10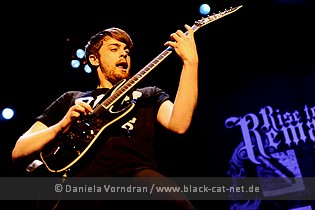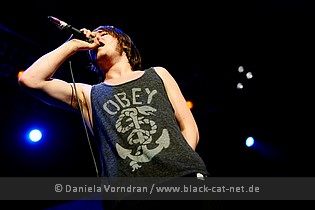 Iron Maiden

30 years, 80 million album sales, close to 2000 live performances, countless satisfied customers and now 15 studio albums of unerring quality and power: IRON MAIDEN have more than earned their proudly-held status as undisputed heavy metal champions of the world. Founded by bassist Steve Harris in the mid '70s, IRON MAIDEN were already firmly established as heavy metal's brightest hopes when they stormed the world with their third album (and first with vocalist Bruce Dickinson) 'The Number Of The Beast' in 1982. Unstoppable throughout the decade that followed, MAIDEN recorded and toured relentlessly with seven new studio albums and seven world tours in the '80s alone , cementing their reputation as the hardest-working band on the planet and further strengthening a unique identity and remarkable relationship with their fans. With the unmistakable figure of band mascot Eddie adorning every album cover, T-shirt and backdrop, IRON MAIDEN created a world of their own; one that welcomed fans from every culture, creed and social sphere with a guarantee of heartfelt conviction and unprecedented professionalism.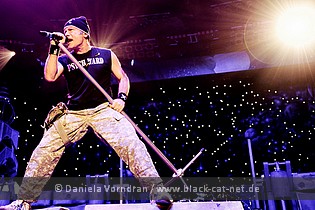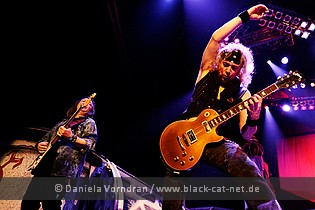 A five-piece band for the first 20 years of their career, in 1999 IRON MAIDEN became a six-piece, and established the ultimate IRON MAIDEN line-up of Bruce Dickinson on vocals, Steve Harris on bass, Nicko McBrain on drums and "the three amigos" - Adrian Smith, Dave Murray and Janick Gers - on guitar. This line-up has scaled breath-taking new heights and become increasingly fearless and boldly creative since the release of the 'Brave New World' album in 2000. With both 2003's diverse and ingenious 'Dance Of Death' album and its dark and daring follow-up, 2006's 'A Matter Of Life And Death', they dazzled fans and critics alike. With each successive tour, whether revisiting classic songs from their first few albums or playing 'A Matter Of Life And Death' in its entirety, MAIDEN accrued countless new admirers, momentum building all the while. Recent album 'The Final Frontier' was released in August 2010. www.ironmaiden.com / http://www.myspace.com/ironmaiden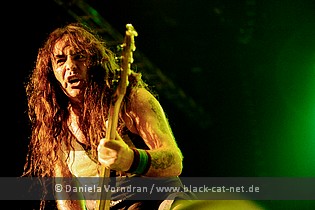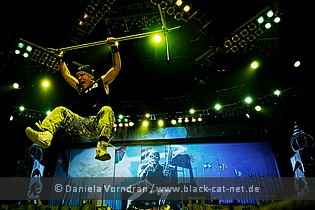 Music & Performance
As soon as the RISE TO REMAIN flag was down the audience was shouting for MAIDEN. Lights went out a few minutes past 9 pm and the intro with 'Satellite 15' started. The stage was dark just a sparkling star sky in the background and videos of the universe on the screens. Until he band entered the stage with the title track of the recent album and tour 'The Final Frontier'. With his "Scream for me Oberhausen" Bruce made everyone still more mad. The background pictures changed nearly with every song. For 'The Trooper', Bruce was wearing his uniform and waving the British flag. Very sentimental moment when Bruce talked about all the catastrophes around the world that happened in the last time and mentioned there are MAIDEN fans living as well. When you are listing to MAIDEN you are family, he said, even when your name is Lady Gaga and she would be real sexy. (Interesting to hear that Bruce seemed to be very sure that this lady is really female). So the next song was dedicated to all the MAIDEN fans. Wherever you live, if you are a Maiden fan - we are 'Blood Brothers'. We had to wait a while for the special MAIDEN member: Eddie! During 'The Evil That Men Do' he came on stage.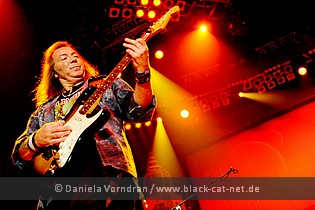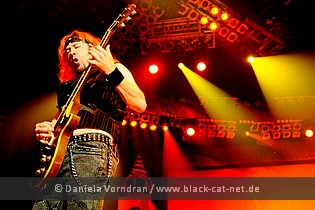 Bruce also proved a bit of his German: "Sprechen Sie Englisch? Alles klar Herr Kommissar." With every moment you could feel band and fans are one. Everyone was singing along and the absolutely highlight arrived with 'Fear Of The Dark'. There was just one big choir in the arena. One of these experiences which makes live concerts so fascinating. A real big green Eddie head and his hands were at the background of the stage with the last song of the main set 'Iron Maiden'. It's unbelievable how much power these guys still have on stage. Bruce is still jumping and running over the stage like someone wants to catch him. Janick Gers sometimes looked like he was doing his gymnastics exercises while he was playing guitar. This band has its certain own magic. Of course there couldn't be a gig without 'The Number Of The Beast', it was the first encore. The set was finished with 'Running Free' and so loud everyone was shouting unfortunately the guys haven't returned. Just left to say with their own words: Wherever you are IRON MAIDEN's gonna get you, no matter how far!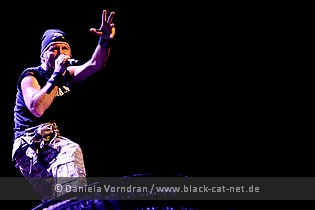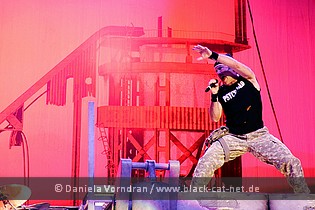 Setlist
00. Intro: Satellite 15
01.The Final Frontier
02.El Dorado
03.2 Minutes to Midnight
04.The Talisman
05.Coming Home
06.Dance of Death
07.The Trooper
08.The Wicker Man
09.Blood Brothers
10.When the Wild Wind Blows
11.The Evil That Men Do
12.Fear of the Dark
13.Iron Maiden
---
14.The Number of the Beast
15.Hallowed Be Thy Name
16.Running Free

Rating
Music: 10
Performance: 10
Sound: 9
Light: 10
Total: 9.8 / 10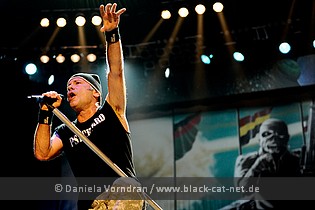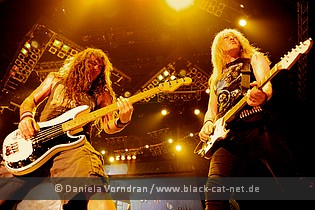 All pictures by Daniela Vorndran (http://www.vorndranphotography.com / http://www.black-cat-net.de/ / www.myspace.com/vorndranphotography / www.facebook.com/blackcatnet)