Page 1 of 2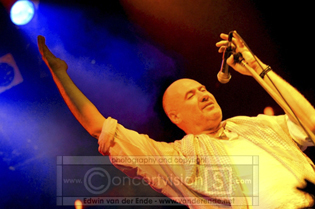 Lucky, Rijssen, the Netherlands
April 25th 2006
Fish and Anne Marie Helder

This was going to be a special night, not because it was the legendary Fish on stage with his return to childhood tour, but because this 2m tall man had turned 48 and celibrated his birthday together with a lot of fans in the nice and cozy venue in Rijssen. Those who were there found themselves lucky indeed.
Anne Marie Helder
Yes that last names sure sounds Dutch but the lovely lady on stage in English. Having been in various bands in the past Anne Marie has taken up her singer/songwriter passion and turned it in a nice bit of emotional music all captured on her 2004 EP 'The Contact'.
Music
The venue is filling up more and more when Anne Marie starts off with her show. Though totally different from Fish' music there is a resemblance. Both are passionate and like to express this in their singing. Anne Marie's music however is much softer and easy going. No heavy drums or raoring guitars, it's just a pretty lady with a huge acoustic guitar on stage. But she manages to capture the audience, her emotional way of singing does appeal to quite a part of the audience and her very powerful voice is impressive. Moving back from your mic for over 1m and still being heard in the mix is really impressive. Did she make any mistakes? Probably she did but to the people in the crowd this for sure didn't show. The sound in the venue was clear, both guiatar and vocals could be heard easily and didn't interfere with eachother. A very nice voice, an acoustic guitar and love for music, all in all a good support act to get in the mood for more emotion and passion.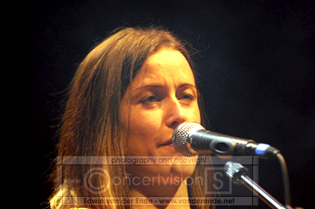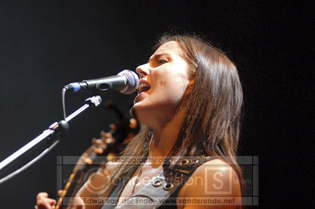 Performance
This is where things always get nasty for singer/songwriters. There you are, on stage, 1 mic and a big guitar around your neck. What on earth can you do to get your performance right? Well, it is right for the kind of music Anne Marie is playing. All you need to do is focus on the expressions on her face and forget everything else. Till she starts to address the audience of course, she turns out to be a very warm person as well as a good singer. Just some colour changing lights in the background and good front light make sure the audience doesn't have to miss out on any detail of her expressions of love, fear and anger. No explosive performance, no flashing lights or fireworks, just what was right for the music. Humbly and thankful she says goodbye to the crowd after mentioning her cd's on sale at the merchandise but there aren't enough for anyone. A fine artist, a pretty lady and a sense of humour, what more can you wish for from a support act? Right, nothing, well done!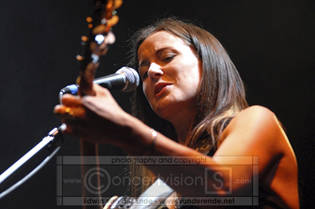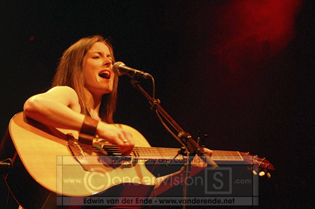 Rating
Music: 8
Performance: 8
Sound: 8
Light: 8
Total: 8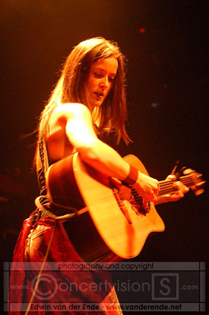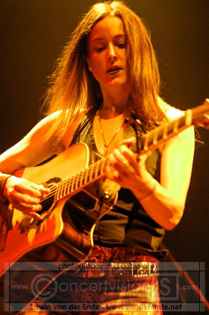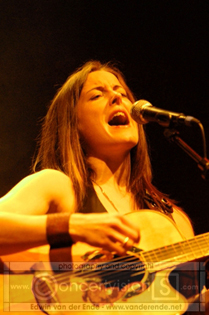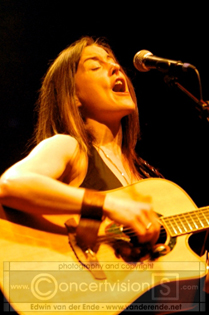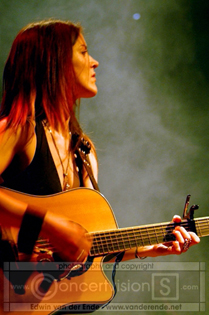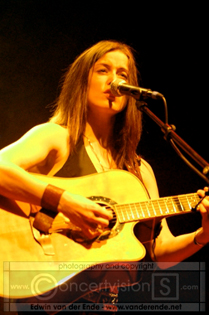 Fish
Where to start? All of you who actually need an introduction to this man and his music: shame on you! As former singer of Marillion Fish has mesmerized thousands of people back in the late 80's with his vocals and performance. Now quite some years later this 2m tall man is celebrating his 48th birthday with his Dutch fans, showing there is a lot of life after Marillion. Impressive solo work, acting and poetry, Fish is no grandpa (and will not be if his daughter keeps dating drummers), he's just 48!
Music

It's been a while since Fish was the singer of Marillion, during that very successful period they released one of the monumental albums: 'A Misplaced Childhood'. Following up on its 20th anniversary Fish has decided to perform the album live again in full. The first part of the set was filled with the solo work of Fish. People tend to forget this man has made over 10 solo albums by now compared to the 4 he did with Marillion. Fans of all Fish's work are treated with the strong solo work again and those who only knew his Marillion work would be surprised with the strong songs Fish presented to the audience. His solo work was strong, Fish' vocals were very good tonight, the band played like a machine with plenty of room for their small solos or seconds of fame. But of course what is most interesting is the vocals of Fish, the man has grown older, like we all do, and lost a bit of the highs. Did the concert suffer from that? Not at all! Fish is still a strong vocalist and proved so during the first part of the show. During the performance of the 'Misplaced Childhood' album Fish had to compete with a 20 year younger memory of himself inside people's heads.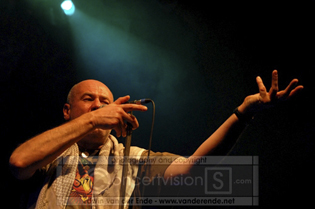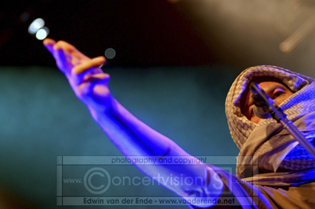 His emotions like anger, deception and fear come across strongly, his sometimes different melody lines gives this live performance something special. It sure shows Fish is still very much into music, his love to get his message across is all over his singing. With the company of some fine musicians like Frank Usher and Andy Trill (guitars), Tony Turrell (keys) and Steve Vantsis (bass) the memory of the childhood of 30 something fans became reality again. No this band is not Marillion, these are different musicians with their own touch to the music. Too bad people keep comparing the band and even Fish to the album of 20 years ago, judged on their work today it was great in it's own right. The sound was a bit full of base at the front of the stage but some fill-in speakers just on the stage floor made sure the overall sound was more than average if not to say rather ok. Fish is still able to grab your throat for 2 hours only to let go when he's done two encores and the infamous soccer chant 'We'll be coming down the road'.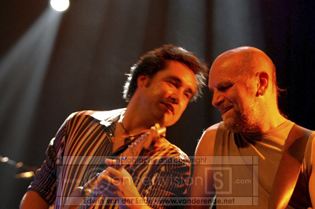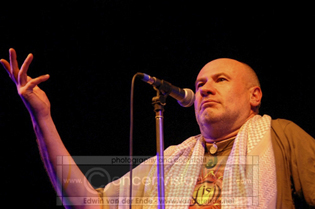 Performance
What was there earlier, the singer or the actor? Fish is full of drama on stage. Emphasizing almost every line of the lyrics with grimaces, gestures or poses. Standing 2m tall the charismatic singer towers well above the audience in the venue where just about everybody had a clear view on the stage. Fish was definitely enjoying himself on stage, his eyes sparkled, a smile on his face between the song and lots of kidding around with a pluche birthday cake hat. But at the same time his focus was primarily on the audience, it was clear Fish likes the smaller venues where he can reach out to the audience, look them in the eye and makes people feel this bit of attention is directed to them. There were a lot of long time fans in the audience and it seems his age has not affected his memory, during the entire show it is clear Fish recognises fans in the audience. During the first part of the show Fish is dressed in a grey shirt and his performance is mainly song based. In between songs he likes to tell stories to the audience. The people just seem hypnotized when they listen to this man with a strong Scottish accent, but when the music kicks in for the next song both audience and Fish go into music-mode, focussing on the essence of the song, the lyrics and emotion that comes with it. During the integral performance of 'Misplaced Childhood' Fish is like in a trance, he is almost reliving the entire period of his life that brought forth this magnificent album. Frustration, love, anger, despair, it's all there including him sitting at the drum stage with a bottle of whine, all withdrawn in the small world that was once his.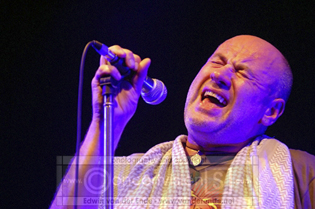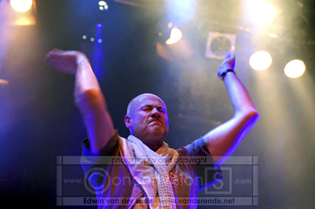 During the entire show he seems to have no problem getting the audience to do what he wants, like a true puppet master he can make the audience clap and sing along without having to ask for it like so many other artists do in a desperate attempt to equal the really charismatic performers like Fish. Then the encores, Fish has changed clothes again and is now wearing orange wooden shoe like 'magic slippers'. Fish is having a great time making people believe they just make him dance all over the stage. Rallying up with his (bass)guitarists he even has this dance in store for the audience. The lights during the show were very good, changing at the right moment, giving the right colours to match the music's atmosphere. Together with enough front light for show the dramatic expressions this light sure added to the show's total picture. After the last serious notes of 'Misplaced Childhood' faded away all the audience got was a powerful and birthday party for Fish. Everybody seemed to be enjoying themselves and a thankful Fish received the warm applause from the audience just before he left the stage to have the last 30mins of his birthday together with his girlfriend and friends.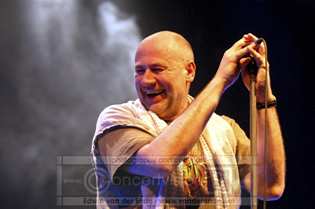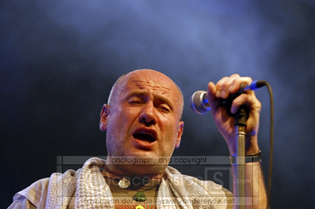 Setlist
01. Big Wedge
02. Moving Target
03. Brother 52
04. Raingods Dancing
05. Wake Up Call
06. Innocent Party
07. Long Cold Day
08. Credo
--- La Gazza Ladra (Rossini Overture)
09. Pseudo Silk Kimono
10. Kayleigh
11. Lavender
12. Bitter Suite
13. Heart of Lothian
14. Waterhole
15. Lords of the Backstage
16. Childhood's End
17. White feather
---
18. Incommuncado
19. Market Square Heroes
---
20. Fugazi
21. Lucky
---
22. We'll be coming down the road
Rating
Music: 9
Performance: 10
Sound: 8
Light: 9
Total: 9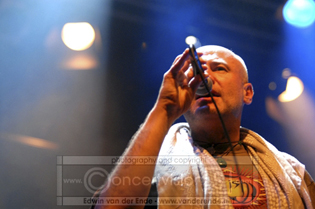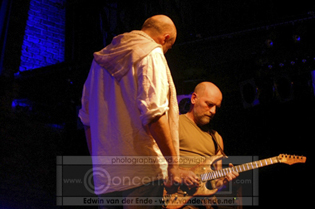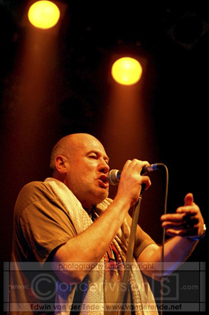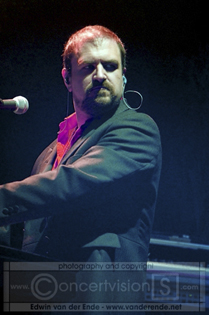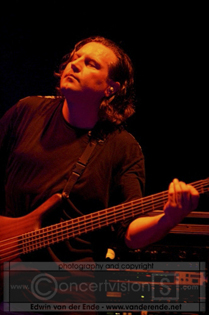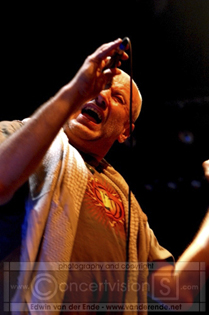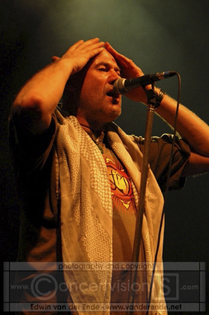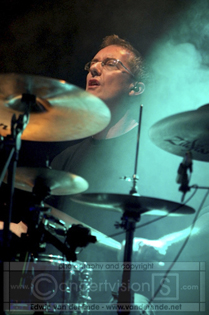 More photos on page 2
{jos_sb_discuss:17}