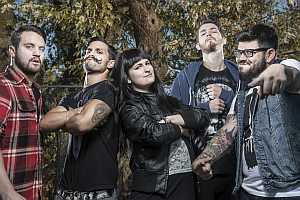 Interview with

Steven Bradley (Guitar / Programming) of IWRESTLEDABEARONCE

IWRESTLEDABEARONCE [IWABO] from the United States, founded back in 2007, combine various elements into their very own music. In 2013, their third studio record 'Late For Nothing' is released, following 'Ruining It For Everybody' and 'It's All Happening'. It is also the first album with vocalists Courtney replacing Krysta Cameron. The release for the album was reason enough for us to ask guitarist Steven Bradley a few questions…


Reflections of Darkness [RoD]: Hello and first – thanks a lot for answering these questions! You just released your third studio record 'Late For Nothing', which is also the first album with your new vocalist Courtney. What has changed since 'Ruining It For Everybody', with regard to her and generally?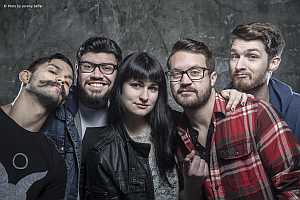 Steven: I'd say we're in a more positive headspace, which is awesome. Also, I love Courtney's vocals on the new album and couldn't be happier with how they fit the music.

RoD: How in general do you come up with new songs? Do you compose them or jam together?
Steven: We normally write and record a lot of stuff on tour on our laptops and start to piece ideas together. Then when we get home and begin the ACTUAL writing process for the album, I'll normally dig into things more and try to assemble "finished" songs out of our ideas and things we've worked on and/or jammed on.

RoD: When did you start writing the songs for 'Late For Nothing' and when did you enter the studio?
Steven: We always work on little ideas on tour, but we didn't REALLY start writing until January, and then we started tracking in March.

RoD: With whom did you produce/ record the album and why? What is important for you regarding sound and mixing of your music?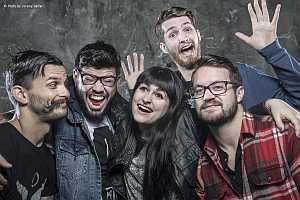 Steven: I engineered/ mixed/ mastered/ produced it at my house! I've recorded bands for a long time, and we know what we're going for at this point, so makes sense for me to just do it all. We don't want anybody else telling us what to do in any capacity.

RoD: You incorporate different styles into your music – has any band been particularly influencing for your current work?
Steven: Some of our older influences – Deftones, Glassjaw, Thrice, etc. Also I've been listening to a lot of weird electronic stuff, but this album probably has less electronics than normal… so who the hell knows!

RoD: Regarding the lyrics – what are your main topics or concepts?
Steven: Courtney wrote them all! But I know they have a lot to do with encouraging open-mindedness and speaking on some of the evil and morally bankrupt aspects of society. We aren't big fans of people telling others how to live their lives. Also relationship stuff, but not typical boy/ girl "you broke my heart" shit.

RoD: Is there a special story behind your artwork? And how important is visualization for you anyways?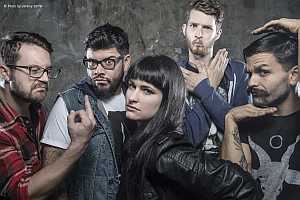 Steven: It fits in with the album title… and it's an excuse to finally put my dog Mildred on the album cover! We try to make sure our artwork is always interesting, but it's definitely an afterthought to the music.

RoD: What are your plans for the upcoming months, regarding promotion, videos etc?
Steven: We recently released a new INFOMERCIAL for the new album that I think is goddamn hilarious… our friends Beasley and Cory are evil geniuses. They just finished our new video as well which is going to premiere very soon! In that one, we are super heroes and save earth from an evil ass-faced alien. No big deal.

RoD: Will you also be playing shows in Europe in the near future?
Steven: We JUST got back from festivals there, but we definitely want to come back ASAP. Our recent shows were amazing, and definitely made us want to be back there as much as possible… Germany in particular.

RoD: Is there anything else you would like to tell our readers?
Steven: Nope! Thanks for reading and hope you dig the new album!

RoD: Thanks a lot for the interview!