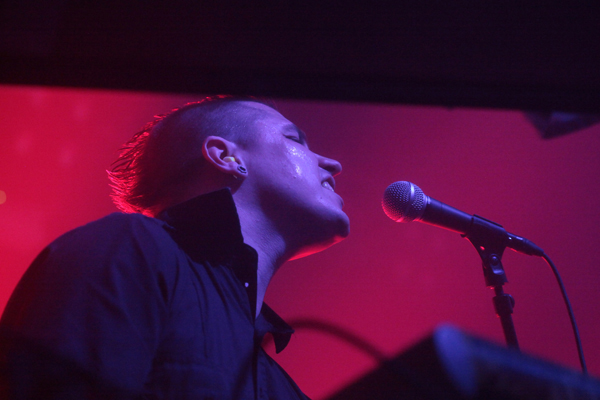 Interview with
Jeremy Inkel (keyboards, programming) from Front Line Assembly

After the show of FRONT LINE ASSEMBLY on M'era Luna Festival I have understand that me and my friends have too many questions to the band to leave them simply without answers. I was really happy that I got the possibility to make an interview with the band on their show in Frankfurt last August. I was as nervous before this interview as never before. It was sad for me that it was not possible to speak with Bill Leeb, but the interview with Jeremy Inkel was a really great time for me.
Reflections of Darkness [RoD]
: Most of your album covers are Dave Mc Kean designs. It looks like a long-time relationship. How did you get in contact with him? Are you into graphic novels or just a fan of his art?
Jeremy
:
Bill was working with him in 1994. I believe he has done a FEAR FACTORY cover, and I think Bill was impressed by it, so that's what happened as far as discovering him. I don't think he was necessarily like a fan of him beforehand until he saw the FEAR FACTORY cover. But Dave has been doing most of the covers since then, except 'Civilization' - it was done by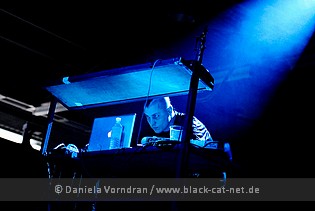 Carolyne Loeppky, as well as the DELERIUM covers, and the most recent cover was actually done by Troy Sobotka.
RoD
: How important is Craig Reely in terms of the band's output? Is he involved in the creative process? A secret band member?
Jeremy
:
Yeah, I'd say he's a secret band member. He's not involved in the writing process, that's usually just us. But I wouldn't go as far as to say that he's not the part of the creative process overall, like when he's mixing, he does bring creative edit to the table. So I'd say he's pretty important though.
RoD
: When you start writing, do you already know if it is a FLA track or is there a process in writing/ producing when to decide if it is maybe a DELERIUM or NOISE UNIT track or some other project you might not know yet?
Jeremy
:
Sometimes we have tracks that bounce around a bit, but generally, I think, if we are working on the FLA album, if there is really something that doesn't work we dare save it for the B-side or maybe it becomes a NOISE UNIT track. But there's been only one NOISE UNIT record for the last ten years, so it's not really like a lot of stuff ends up becoming a NOISE UNIT thing. We are planning on writing a NOISE UNIT record next year, and I don't actually think there are any sketches from 'Echogenetic' that will be on it. We've actually got some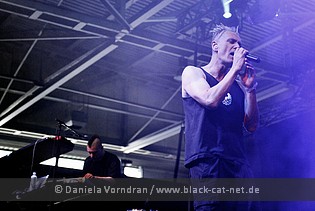 sounds from 'Echogenetic' we've made that we didn't finish or we may release later with the remix album, but I think over although it really comes down when we get close to mixing, and once we sort of get in that area, things become pretty black and white.
RoD
: There are some rumours about a SKINNY PUPPY / FRONT LINE tour. Any comments?
Jeremy
:
No comments.
RoD
: Is it true or not true?
Jeremy
:
Can't say. There's a lot of stuff that needs to handle, a lot of things need to follow into the right place. But it's possible.
RoD
: When you write music how do you know if it is an instrumental or vocal track?
Jeremy
:
Usually just about when we get to the point when we're getting to mix, usually Bill just listens stereo... and comes up with the idea…. Obviously, sometimes there are sounds that just scream, and the instrumental doesn't really need vocals. Like 'Prototype', actually – on our new album it's the only instrumental (except intro), and I actually wanted Bill to do the vocals too, but he really insisted on not doing vocals, he thought it really was good as it is. Bill makes that kind of decision, I think.

RoD
: And normally music comes first, and after that the lyrics?
Jeremy
:
Yes.
RoD
: FLA has a huge impact on the international so called EBM / Electro scene. Are there any new bands or projects in these or other genres you get inspired from? Despite maybe PORTION CONTROL of course.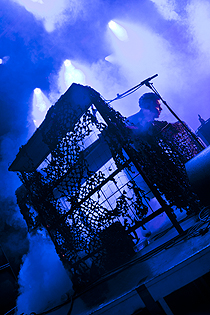 Jeremy
:
For all of the albums it will be a very long list. And for the last album, maybe: (...), NOISIA, NIGHT PARTY, THE PRODIGY and also AMON TOBIN. It's not really EBM, but we listen to the different stuff.
RoD
: The last album is really like FLA album, but it sounds more modern comparing to the other ones.
Jeremy
:
Yeah, that's what we wanted to do. We all got together in my house a year ago when I got back from tour and we had a long discussion about what we wanted to do. We have done 'AirMech' album year before, and we were so happy with the results and really inspired by it, because the last album that was whole instrumental and it was exciting for us. We just felt like... you know, no disrespect to Gothic/ EBM/ Industrial scene, we just really felt that if we did another record that just sounds like all the other stuff, it wouldn't be much plain, and we just wanted to do something different. You can see that our list of groups consists of not only industrial groups. And I think it still sounds like FLA album because Bill has a very specific vocals, and if your put his vocals on pretty much anything you're gonna get that feeling. After 26 years trying to find something different becomes a bit of a task. And despite the fact we put a lot of lifeblood into working on it, we were very refreshed. And I think there was a moment we felt like it just had no taste or anything, but I don't think we have ever felt like we were forcing ourselves, and we all learned a lot while doing this. I think if all I said will be a catalyst for the next record it will be nice.
RoD
: Which album in the FLA history is your favourite and why?
Jeremy
:
When I was in high school I was a big FLA fan and actually all stuff of Chris Petersen was for me quintessential, like 'Implode' and 'Re-Wind' remix double-disc. I used to listen it and get high with my friends when my parents weren't home. So when I joined the band I sort of got that in mind like a bit of that energy. Still Petersen's stuff like 'Dead Planet' is really important for me. And Jared was a big fan of 'Millenium'.
RoD
: Do you prefer soft- or hardware synths, because on 'Echogenetic' you made a specific equipment list…
Jeremy
:
Yeah, that's interesting. I've got quite a lot of hardware, Jared and Craig started with a lot of hardware and my friend Sasha too. Preciously we all had been doing a lot of more software stuff, maybe some years ago we got most hardware, but I was still using a lot of software. And we just decided, though it wasn't a rule, but we were so excited of getting into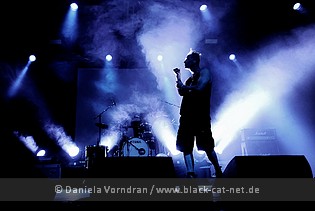 analogue again (or even for the first time for some of us), trying to get outside the box, you know. Because you can always go back inside the box, but there's clearly a lot of stuff you can get out of hardware you just can't get out of software. There ain't nothing like a real thing, you know. The world sucks of that Coca-Cola, right?
RoD
: Do you like computer games? Can you tell about 'AirMech' project?
Jeremy
:
I don't think any of us are heavy gamers, maybe Sasha's a bit heavy gamer. But we all love video games, we all think they're great. 'AirMech' was interesting. They're fans of a band, they had a sort of this vision, and originally they wanted to hire somebody to do music like FLA, and then they decided – why not just trying to contact the band and see if it's possible. So I remember there were a few phone calls, it all happened very quickly: Bill called me and Jared and told us about what's going on, and then about a week later we were discussing this potential soundtrack. And then literally like a month later we started going into production, so it was all pretty exciting. And I think we were really excited to do the instrumental record which is nice because it's taste of pressure half a little bit. We're still sure what we wanted to do was like a real new album.
RoD
: I'm curious; did you play this game as your pilots?
Jeremy
:
Oh, I played a bit, but not very much, because I don't really play a lot of games. When I get home I usually work on music, that's my video games.
RoD
: I was really excited with pilots that were made from you.
Jeremy
:
Yeah, we all were very excited to be in video game, I wasn't expecting that to happen.
RoD
: Please a few words for your fans in Ukraine. Do you want to visit our country?
Jeremy
:
We would love to play in the Ukraine; we've never got any offers though. So my message to the fans is: find us a promoter!
Written by Nataly Dzevana, Phlegpallium, Daria Szegeda (Ukrainian Gothic Portal). The Russian version of the article is available
here
.