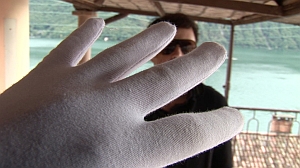 Interview with
Janosch Moldau (vocals) from Janosch Moldau


As you may know almost a couple of weeks ago SOLAR FAKE and JANOSCH MOLDAU played their shows in Russia. We managed to talk to Sven right before the concert in St. Petersburg and now impressed by the performance of JANOSCH MOLDAU and trying "strike while the iron is hot" we asked Janosch himself some questions about his music, art and some other things. Well, everything is below, just read and enjoy!
Reflections of Darkness (RoD):
So JANOSCH MOLDAU has recently played two shows in Russia as a special guest within SOLAR FAKE's tour, in Moscow and St. Petersburg. What are your impressions about our audience and the concerts in general? Did you manage to walk around the cities and see something?
Janosch:
Yes it all turned out to be a really great thing for us. I felt very comfortable with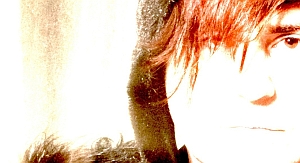 both of the shows. We also got some limited time for sightseeing. I like Russia, I guess Hendrik too:-) But the most important thing to us is our new Russian fan-base now. We are deeply moved. Really!


RoD:
Are you nervous before the gig and if so what helps you to calm down and play a great show?
Janosch:
Yes of course a bit... I pray right before every show - before I go onstage. I pray that God will help me to sing my songs in an honest and simple way - straight from my heart and that I will be able to move many other hearts with it.


RoD:
You had been working as a sound designer for some time before starting your own project. Could you please tell us a bit about that period of your life? And a few words about the band's early years? Was it just your solo project or you started to play with Hendrik right away?
Janosch:
Yes a few years back I started as a sound designer and did all kinds of studio work for other bands. It did not feel too good with this work. I've never felt that I'm talented enough to help other artists to develop their own musical style. I'm a musician and I always felt that I deadly needed other people to help me to develop my own ideas. That's exactly the point where Hendrik joins and often helps me to become a professional:-) We started to work together since my first single 'On My Own' was released in 2004. We filmed all my music video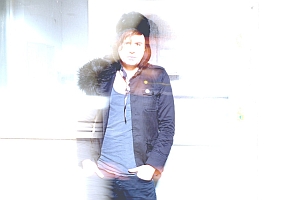 clips together and Hendrik is also responsible for the whole stage and visuals design. In general Hendrik takes care of my image. Furthermore he is my manager and keyboarder onstage...
RoD:
Do you remember your very first live performance?
Janosch:
Yes I played my first show in 2006 at Stereo Wonderland in Cologne, Germany. I was very nervous but it all went fine in front of 35 very nice people!


RoD:
When did you realize that you wanted to be a musician? And do you have a musical education?
Janosch:
I've always wanted to be a musician, I guess since my early childhood.I learned a bit to play the piano, the violin (which was a disaster!), the drums and so on... It was more the kind of "learning by doing". I'm not a perfectly trained musician. It's more an emotional work. My whole work is an emotional process - a journey. I always try to travel with a firm and deeply rooted heart. I guess it's all about the simple biblical message "not to deny humility in your life" - Going down on my knees before God is a human act of accepting my own limits and faults and washes away the tears and pain - in the end it helps us to behave better. It helps us to change every day in a positive way. There is so much hope... if we open our hearts to it.


RoD:
Your musical carrier is quite long and rather successful, but are there any episodes you would like to change?
Janosch:
You know sometimes I think , why did I always had to carry this burden (!) over the years - with my mystical and religious image as a musician - especially in Germany! But you know, it's not an image or style - it's me. I can't change it. It would not be honest.


RoD:
Are there any bands that influenced you? Or maybe you find inspiration in something else like art, nature, whatever?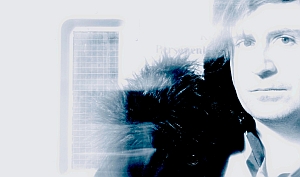 Janosch:
My songs are deeply rooted in roman catholic rites (going down on my knees to pray...) and belief. In my opinion it's essential to read the whole Bible - in order to understand the secrets of love, passion and pain in this world. It's all about being humble and thankful. As I said before...it's something extremely positive...


RoD:
You have your own fashion line, inspired also by soviet-era, so could you please tell a bit more about?
Janosch:
Two years ago we decided to release a fashion line that is linked in a certain way to the outfits I already had worn onstage as a musician. I listened a lot to punk music and of course also to some soviet punk mix-tapes... I really loved these mix-tapes and I do adore tapered military cuts in fashion in general. I guess this is it!


RoD:
Do you express yourself through creativity in other spheres, not connected with music?
Janosch:
Music and Fashion... They are deeply linked...


RoD:
Now you are working on a new album which is supposed to be "totally monastic and sacral"? So how is the process of recording going? And when could we expect the new creation to come out?
Janosch:
The new and 4th studio album will be out in 2015 but there's no exact release date scheduled yet. I wrote all my new songs in winter at Lake Lugano in a little Italian albergo (Italian for "hotel"). It was a very special and quite lonesome atmosphere during the process of songwriting... The album will be now co-produced by the Vienna based well-known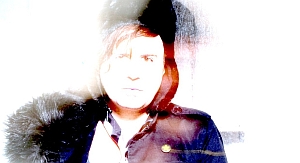 electronic mastermind and producer Gerhard Potuznik. I can only say that I do have a very good feeling with this upcoming new album. It feels so good! We will have to perfectly shape this record now!


RoD:
All your lyrics are in English. Have you ever thought about writing something in German for example?
Janosch:
NO! I'm not so German. I'm not Rammstein.


RoD:
You are recording the album, playing a lot of live shows – quite a busy life, so how do you prefer to spend your free time if you have any?
Janosch:
I meet with my friends and loved ones and I try not (!) to meet any musicians during these free times... I love to create music but it's indeed a very hard work and costs me tons of energy...


RoD:
Does success means something to you? Do you want to play for a big audience, gather stadiums for example? And what do you prefer, to be rich or famous?
Janosch:
Maybe. Yeah why not? I think it's good to be successful. The point is to stay humble and thankful... This won't be too easy I guess...
RoD:
Your videos are very peculiar, well, like everything about your band, so could you please say a few words about them? Maybe it's a question mostly to Hendrik who directed all the stuff. Where did you get the ideas for your videos? Did you try to convey any message with them and with your songs in general?
Janosch:
Yes this question should go to Hendrik :-) Anyway I will try to answer your question in the sense of both of us. Normally music videos look kind of "high-end" and tell some silly stories. That's why we decided not to go with this expensive and superficial trend. My music clips are vulnerable like my music is vulnerable... I would go further and say "I'm vulnerable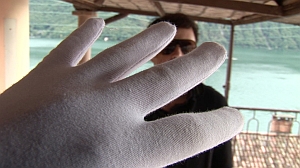 as a musician" I want my weaknesses to come out - into the light - it's a rite and confession. I'm not perfect at all. Same with my videos and art design - it's not perfect at all- but there is a lot of beauty in it... Weakness, passion and trying to live in the name of love - is beauty... trying to be perfect and not reaching it - is beauty, hope and forgiveness- the only way out from being selfish and self-destructive...


RoD:
The feedback from the audience is important for you?
Janosch:
Yes... when I write songs I'm alone. When we go out onstage to present them - feedback is important- of course!


RoD:
Finally, and traditionally, please tell something to our readers and maybe your future fans.
Janosch:
The only wish we both have at the moment is to come back to Russia as soon as possible... Please pray that the work on the new album will go fine... Thank you very much!