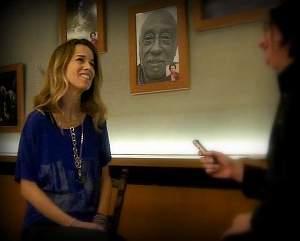 Interview with
Heather Nova (singer / singwriter)

Heather Nova, the Bermudian singer/songwriter and poet, enjoyed mainstream success in the 90s with hits like "Walk This World", "Island", etc. During her 20 years career, she never really indulged in the star system, preferring to lead a peaceful life with her husband and her son. Nevertheless, after 8 studio albums, she managed to keep and even develop a very faithful fan base, especially in Europe. She's currently touring with an acoustic concerts, revisiting songs from her whole catalogue. We caught up with her in Leuven, Belgium on February 25th.
Reflections of Darkness [RoD]
:Thank you very much for this interview. We are here in Leuven, in Belgium, where you're going to play tonight. How would you describe this tour: is it acoustic or semi-acoustic?
Heather
:
It's an acoustic tour. Basically, it's an intimate setting, there's just the two of us on stage (Editor's note: Heather Nova and Arnulf Lindner). But rather than being just an acoustic thing, we like to mix it up and keep it quite fresh. We have a few electronic things going on and we switch between different instruments. It's really about stripping back the songs, so it's very raw. For this show, I also have a visual element, which I'm quite excited about. I've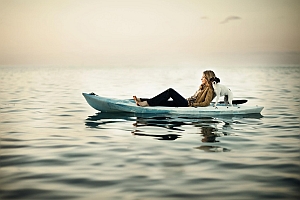 taken the paintings of an Italian artist, whom I've known for a long time. He does beautiful paintings inspired by microbiology, so by cells, neurones and DNA. I've always felt this strong connection between my music and his work because we're both inspired by nature, but in very different ways. So, we have big projections of his work on stage...
RoD
: What's his name?
Heather
:
Alberto Di Fabio. I think it's something different, hopefully something for all the senses, for the audience. Beautiful visuals combined with the music.
RoD
: You're promoting your new album, '300 Days At Sea', right now?
Heather
:
No, I'm not really promoting an album. Sometimes you should be able just to tour without trying to sell something. So, I'm playing a selection of all my work from over the past 20 years, including the most recent record.
RoD
: This record was a sort of coming back to the origins, of the 90s?
Heather
:
Yeah, I kind of wanted to go back to that feeling I had production-wise, in my first albums, 'Oyster' and 'Siren' and I used some of the same team to make the record. So, the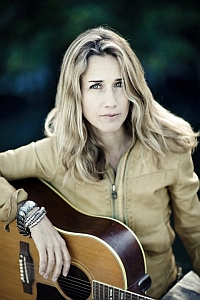 record itself is a full-on rock/pop album. So for this tour, we're stripping back songs from all my catalogue into acoustic versions.
RoD
: The album was to show maybe that the circle is complete.
Heather
:
It's not complete, my Goodness, I'm keeping going (laughs)
RoD
: It's one phase of the circle...
Heather
:
Yeah, it's one circle. I'm into a new circle now.
RoD
: And what is the next circle going to be like?
Heather
:
Well, I don't know yet. I've written a lot of songs. I haven't recorded them yet, so... I haven't decided on the production but it will be something fresh this time, something different.
RoD
: And you're focussing on Europe, usually?
Heather
:
I really started doing that even since my son was born ten years ago. Because I no longer wanted to tour all over the world all this time because I wanted to spend more time at home.
RoD
: So you're touring with him now...
Heather
:
I always tour with him, yeah. Because I think it's a great education for him to see the world and meet different people. Where we live, it's beautiful, but there's no museums, not a lot of culture, so each time we go to Europe, we got to see a lot of that, it's great.
RoD
: So you're not sailing with him like your father did with you... It's another kind of voyage, of travelling...
Heather
:
Yeah, the tour bus thing yeah. He's good at that now...
RoD
: Did his birth change a lot of things for you, also in terms of inspiration?
Heather
:
Yeah, I think when anybody has a child, it can fully shift one's perspective, priorities and everything. So, yes, he changed everything for me.
RoD
: And the environmental issues?
Heather
:
Everything becomes more poignant, more important, when you have a child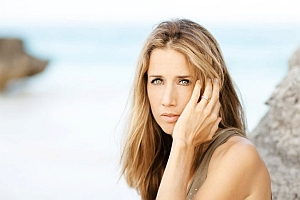 because you think beyond your own life. You think more into the future. That's the big shift that happens, yeah. Every decision that we make has a consequence. It continues on for years and years...
RoD
: A lot of your songs talk about it?
Heather
:
Well I wrote one song called 'Save A Little Piece of Tomorrow'. I don't like to write songs about issues too much because it starts to become too preachy or political, but...
RoD
: Too heavy...
Heather
:
Yeah, exactly, that was more from an emotional perspective: I was actually thinking about my little boy, growing up in this place, maybe one day it would be under water because of global warming. It hit me very strong that image and that thought, so I just wrote a song about the image of coming back to your home and having to look through the water at it. So, that was 'Save A Little Piece of Tomorrow...'
RoD
: Is it something you feel strongly because you live on an island?
Heather
:
Yeah, because we live about that high above the sea level!
RoD
: Have you felt an evolution, there, in terms of climate change?
Heather
:
Yeah, you notice this all over the world with these crazy storms, different temperatures. I've made small changes, you know, that's all you can do. Our house is completely solar powered.
RoD
: Yeah, I read that. And you got a studio there.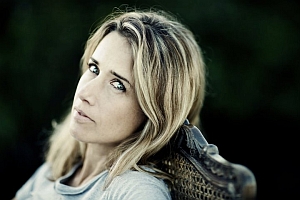 Heather
:
Yeah.
RoD
: It's a nice freedom...
Heather
:
Yeah, it's a good feeling.
RoD
: Are there artists that you feel close to? I wouldn't say that you're inspired by, but would you say: folk singers?
Heather
:
Not folk singers, just songwriters really, anyone who're writing their own songs from their experience and from their heart.
RoD
: Joni Mitchell, her first period?
Heather
:
Well, of course, when I was very young. Yeah, Joni Mitchell was an inspiration. There have been a lot over the years, you know...
RoD
: I also think about Leonard Cohen sometimes...
Heather
:
I love Leonard Cohen, yeah.
RoD
: And typically Bruce Springsteen and...
Heather
:
I nearly caught up Suzanne Vega when we were playing in Hamburg at the same time. We were tweeting each other trying to get together. We couldn't do it but.. She was an inspiration early on too... And then Patti Smith... She's touring as well right now. We're all out there doing our thing (laughs)...
RoD
: OK. Thank you very much, Heather and good luck for your tour and for your career.
Watch the complete video interview here:
http://www.youtube.com/watch?v=qytSFyz6Bs0
Next concerts
07.03.2014 - Stadttheater - Konstanz - DE
09.03.2014 - Kofmehl - Solothurn - CH
10.03.2014 - Volkstheater - München - DE
12.03.2014 - Nordportal - Baden - CH
13.03.2014 - Kammgarn - Schaffhausen - CH
14.03.2014 - Schüür - Luzern
15.03.2014 - Mühle Huniken - Rubigen / Bern - CH
17.03.2014 - Union Chapel - London - UK
http://www.heathernova.com/