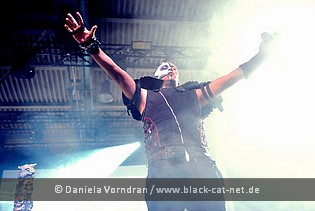 Interview with
Erk Aicrag from Hocico

Winter is coming to an end, less and less time remains before the start of a new festival season. Today we could chat with the singer of HOCICO, one of the headliners of Dark Munich Festival 2015.
Reflections of Darkness [RoD]
: 2014 was a very busy year for HOCICO. You were on tour in the US, Mexico, South America and all over Europe. Can you name one or two special moments?
Erk
:
Oh, it was a very important year of my life. Things that moved me? I remember playing in Peru two weeks ago. I was very surprised by a humble attitude of the people there, how they were treating us. They saw us like Gods, but I don't know if I'm right. I felt like I could use this power and tell them to do this or that. No, no (laughs), I felt really good there!
RoD
: Are fans in Latin America different from ones in Europe?
Erk
:
Some yes but not all. What I can tell is that people there are wilder. That love they have for you is very wild. Sometimes it's good, sometimes not (laughs). I like it when people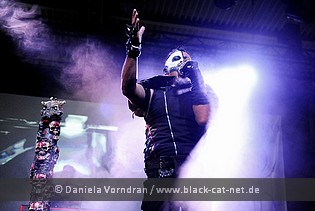 come to greet us at the airport. That's always cool. I like it, I like it. When we toured the US after five years (we toured there in 2002 and 2009) it was very nice to come back. To see the fans again and to see we're not dead yet. People are still waiting for us to go on tour there. That's also a nice experience.
RoD
: What are your plans for 2015, what festivals, tours, concerts are confirmed?
Erk
:
For HOCICO we're planning a tour throughout Europe. We are not playing many festivals, more smaller venues and clubs. The smaller the better. We like it the most. The more we played at larger festivals the more we saw we preferred smaller clubs. HOCICO is designed for small venues. The whole experience feels better there.
RoD
: Like the one in Finland? (a sweat-inducing concert on August 2nd on a small party boat in Helsinki).
Erk
:
Yes, something like that! (laughs) As hot as possible, sweaty and dirty. That's the way we like it. Festivals and bigger shows are still good but the whole HOCICO concept can shine much brighter in smaller venues. So the big tour will start in March in Russia, then France and in Germany something like Out Of Line Weekender (Berlin) and the one on May 1st in Munich (DMF).
RoD
: Is there anything planned like a new HOCICO CD?
Erk
:
Yes, yes. We've been working on a new stuff. On tour we started with it to see where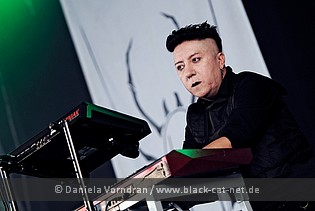 we wanted to go musically. It's very interesting. At the moment we have one song which is ready. The rest… We have 100 or 150 ideas, small parts which are good today and next week they are not good anymore. I hope in the following weeks we'll get together to work and plan how we're going to do it. We are planning to release a single before the tour around February and I hope we will release a new album maybe by September.
RoD
: You live in Germany and Racso in Mexico? How do you work together?
Erk
:
Via internet. Skype and Viber are very helpful tools. Of course, we meet at my studio when Racso comes to Germany or we meet at his place when I go to Mexico. But we realized that we were more efficient when we were apart from each other (laughs). Otherwise we would talk about all the other stuff all time, personal stuff or whatever and we would be less productive. So it's better that way.
RoD
: If you could choose one artist to work with, who would this be and why?
Erk
:
Pavarotti!
RoD
: And why?
Erk
:
Why not? (laughs). Let's keep it that way.
RoD
: How does your day usually start? Do you have any "good day" rituals?
Erk
:
Yes! I check my body. Legs, arms. Check if everything is still there. Then masturbate, toilet, breakfast. Nothing special.
RoD
: This year HOCICO brought onstage a group of Mexican mariachis. Who usually plans your shows? Do you do it yourself?
Erk
:
We are always open to new ideas. The Mariachi-idea actually came from a friend. First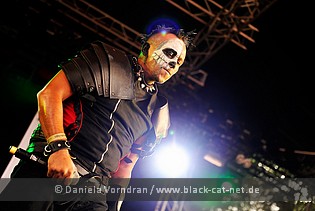 Racso was against it. He said: "No, that sucks. No, no, no." Then we started listening to Mariachi music and we said ok, let's try to adopt it to our shows. They could play some of our songs. Then we found these guys from Germany, great musicians. It wasn't easy to find the right people. Some said: " What? You want me to put make-up into my face? No way!" or "Do you want me to play a song from this diabolic band, no never!" It wasn't easy but we actually found the right people.
RoD
: In 2015 you will be play as headliner on Dark Munich Festival, what are you expecting from this show?
Erk
:
We want to raise hell in Munich for the first time! it is the first time we play in that city and that great festival!
Dark Munich Festival (30th April to 3rd May 2015):
http://d-m-f.me/
Written by Britta Pirkko & Daria Tessa (Ukrainian Gothic Portal). The Russian version of the article is available
HERE
!