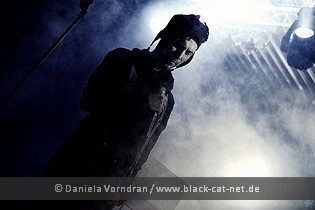 Interview with
Dennis Ostermann (music, production, lyrics) from In Strict Confidence

In the end of last year we have shortly talked with Dennis Ostermann about a new album, results of the year and future plans. And we want to share this with you.
Reflections of Darkness [RoD]
: Now you are presenting your vintage show to the public. How did you make a setlist for this show? How did you give a priority to one or another hit of yours? What feedback did you get from the audience to the vintage shows you had played already?
Dennis
:
The feedback was totally fantastic. For a long time we had a feeling that people would like to hear more our early songs performed live. But after so much time and so many albums we always try to play a kind of selected songs, old and new within our "normal" shows. With the Vintage show we have a chance to concentrate on really early songs. For the setlist we first of all try to select the classic hits which we played live 10-15 years ago.
RoD
: When does IN STRICT CONFIDENCE introduce a new full-length release?
Dennis
:
The album is ready! We are polishing it a bit. We just need a couple of remixes for the first selected singles and a suitable finale in the form of a video and an art work. Soon… Very soon…
RoD
: You are working very close with Annie Bertram, one of the results was the clip 'Seven Lives' from the album 'Holy'. Are you planning similar projects together in the future?
Dennis
:
I always keep in touch with Annie, so it's possible that we will co-work on this or that project. We are going to cooperate with her anyway.
RoD
. At December, 26 you have played in the Electronic Dance Art Festival together with such projects as GRENDEL, SHIV-R, THE SAINT PAUL and BETAMORPHOSE. Have you ever shared the stage with them? Do you follow their new releases?
Dennis
:
I remember that several months ago we played at a festival in London together with GRENDEL. So, yes.
RoD
: The end of the year is a good time to summarize all that happened this year. How was 2015 for you? What were the most important events and things that happened to you?
Dennis
:
2015 was a year full of worries in my personal circle and in the whole world. I think that 2016 may be a little bit more peaceful.
RoD
: And in the end a few words to our readers.
Dennis
:
Stay sexy.
Written by Viola Noir, Daria Tessa and Nataly Night (Ukrainian Gothic Portal). The Russian version of the article is available
http://gothic.com.ua/Interviews/3134.html
.