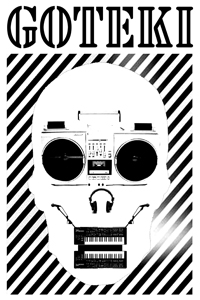 Interview with
Ross Tregenza of Goteki

Nostalgia is a powerful thing. The soundtrack of the turn of the millennium, lets face it, was dominated by EBM and Industrial music. It seemed though as time had finally caught up with the futuristic genres that traced themselves back to the late 70's, and a five year boom period saw bands such as Apoptygma Berzerk, Covenant, and a whole host of others crafting innovative releases.
At the centre of British electronic endeavours was GOTEKI led by front man and composer Ross Tregenza. For the six year period since the dissolving of Ross' previous effort, Sneaky Bat Machine, GOTEKI went all plastic ray guns blazing into the scene scoring great support slots with major acts, their songs featuring on computer game soundtracks, and gaining plenty of admiration along the way. Then suddenly in 2006 it ended. I'm sure things were actually not as peachy as all of that, but in this time of recession, the consequences of war, reduced human rights, and anti-piracy hitting the courts it's no wonder some of us feel like we're living in a cyberpunk world after the brief post-millennium boom. And who should come knocking once again but GOTEKI.
After the death of GOTEKI, Ross Tregenza seemed to be band hopping with various former members of Sneaky Bat Machine and GOTEKI for a while, even including the old songs in live performances under the Jetstream Warriors project. So it wasn't with too much surprise that in 2008 the resurrection of GOTEKI was formally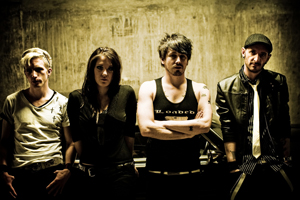 announced, with the album 'ROBOTS NINJAS PORNSTARS WARFARE: The Best of Goteki 2000-2008' released in January of 2009 and the 'Summer of Santa Muerte' released over four digital EPs the following Summer. The EPs 'Shoot Me Dead', 'Journey To Storyville', 'Atlantic Pacific' and 'Take Me To Your Lover' saw the band play with different aspects of their sound in a much more mature and dark way than that of which we're used to.
Reflections of Darkness (RoD)
: The line-up of the band has revolved a lot over the years - how did you come to the current group dynamic?
Ross Tregenza (Ross)
:
Well, before I reformed GOTEKI, I was working as a two-piece with Ali, but we never really liked doing gigs with just the two of us, the stage feels very empty, so we've re-enlisted Crash, who's always had great stage presence. We're currently looking for a backing singer too, as most of my new songs rely on at least two part harmonies, so the extra vox are very helpful.
RoD
: What was the reaction like to the 'Best of' compilation you released last year?
Ross
:
It was very positive, it served two purposes for me. I kind of wanted to draw a line under the material I've written so far, ready for the new era, and I also wanted an easy to access summary of the old GOTEKI stuff for new fans to get their teeth into. It's been great, as most of our fans are American, Russian and Japanese, so they've never had much chance to get our physical releases.
RoD
: In the 10 years since the release of the first Sneaky Bat Machine album, how do you feel the Industrial scene in the UK and Europe has developed?
Ross
:
I don't think it has really. There was a cool time around 2002-2003 with a lot of bands with great energy trying to push things forward ( Covenant, Apoptygma [Berzerk], Echo Image etc.) but I think it died on it's feet a few years later. Andy's doing a great job with Combichrist, but other than him, I don't remember the last time I heard a really decent industrial track. Sad but true.
RoD
: What bands would you consider to be the peers of GOTEKI these days?
Ross
:
I guess it'd be electro bands like Glass Diamond, Saar & Sky, The Deltia Fiasco, Dragonette, stuff like that. Although, of course we have more of an industrial edge to our stuff that takes us a little out of the pure electro-pop area. I guess people like IAMX & The White Rose Movement are maybe better reference points.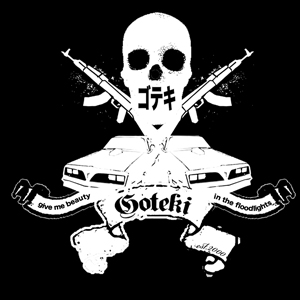 RoD
: What were the concepts at work behind the four new EPs?
Ross
:
Well, the EPs are all versions of track's that will feature on our next full album 'Santa Muerte' but as time went on, each of the EPs developed a nice little flavour of its own. There was an outlaw country vibe to 'Journey to Storyville', a cheeky glitchy thing with 'Shoot Me Dead', 'Atlantic Pacific' felt very new romantic and 'Take Me To Your Lover' reminded me a lot of the kind of CD singles you'd stumble upon in a record store in the late 90s. That elusive Skinny Puppy EP you'd been hunting ( before the Internet spoiled that fun! ).
RoD
: How have the new releases been received so far?
Ross
:
Very well, I'm pleased to say. The GOTEKI fan-base is a now a kind of 60 / 40 hybrid of old / new fans and I think the material is something that both groups can enjoy. You can hear the core GOTEKI sound clearly through the material, but I'm proud that it's not resting on it's laurels and sounding like some spineless rehash of our 2000 era work.

RoD
: Why did you choose to cover Johnny Cash's 'Folsom Prison Blues' and Kasabian's 'Lost Souls Forever'?
Ross
:
Same reason I do everything, 'cos I wanted to and I can! I grew up with Johnny Cash (not literally, that'd be weird) and I've always planned to cover his work. I'd be very surprised if I don't cover another of his songs at some point. Covering Kasabian was a little more spontaneous. I had a slot left on the 'Atlantic Pacific' EP and I really wanted to try and cover a poppy song that would lift the spirits of the EP a little. I woke up one day with LSF in my head, and thought "Fuck, that song's damn catchy and the chord progression is very understandable, bet I could have the bulk of that written by this evening" and it was, and I did! It was one of those rare and glorious songs that I managed to almost complete in a fourteen hour recording session. Nothing in the world is more satisfying!

RoD
: The new EPs have a darker and more mature sound, very different from the kitsch of earlier recordings - was this a conscious effort made when writing the new material or is it more to do with your growth as song writers and musicians?
Ross
: I guess I'm just older and (slightly) less of a bimbo! Before I restarted GOTEKI I was playing around with a very conceptual band called Lamorna (it was just Ali Star on bass and me on everything else). The core of Lamorna was the concept of bringing a very Gothic, very baroque narrative tone to the electro genre, which tends to generally be very flippant and vague with it's lyrical content. The juxtaposition was working well, so when I resurrected GOTEKI, I brought a lot of that ethos back into it. I'm really happy with the result so far.
RoD
: 'Shoot Me Dead', 'Nevada Dawn', 'Journey To Storyville' and 'Take Me To Your Lover' are some of the strongest tracks in the band's back catalogue to date - based on these where do you see the future sound of GOTEKI going?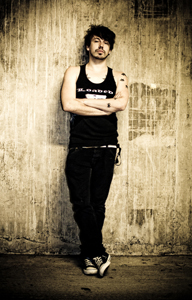 Ross
:
Those songs are very good examples of where we're going. I like the idea of telling more of a story lyrically, but keeping the poppy edge to our sound. No matter what form the next album takes, you can always expect that combo of heavy electro-industrial music with a catchy edge, and some kind of odd lyrical theme!

RoD
: When you left Wasp Factory Records to release your own material digitally did you have any idea that digital distribution would take off in the way it has in the past few years?
Ross
:
At the time, it was just the easiest and most sensible thing for us to do. I guess the domination of digital releases was always inevitable, but it's been a HUGE help for us. Like I said, our fans are very international, and getting a CD through to different countries is a real pain in the ass, so supplying our far flung fans with iTunes / Amazon etc as an option is awesome. Also, the process of getting a label to release something is fucking awful. It takes a minimum of six months to find someone, and another six after that before the CD is out. That means by the time the public are aware of our new record, it's a year old! With digital releases, I can finish a track and have it available to the public in a month and a half. Amazing!
RoD
: Your remix work has always been well received, are there any plans for any more remix collaborations or compilations in the future?
Ross
:
Hell yeah, I love remixing. Once Santa Muerte is finished, I'm gonna take some time to compile a collection of remixes we've done for people and make them available on iTunes. There are some that people won't have heard that I really like, so it'd be great to let people get hold of them. For some reason, I find it easier to do crazy stuff in remixes for other people, I guess there's an inherent freedom, and that's what I enjoy.

RoD
: Speaking of remixes, you've included several startlingly different mixes from a range artists on the new EPs - which do feel have been the most interesting and original takes on the songs?
Ross
:
Ah shit that's tricky! I think the craziest remix is clearly from Coloureds, a fucking awesome band from Oxford (I worked with Nick Brewer of Coloureds fame at Rebellion games - we were sound designers on Alien V Predator). Their remix is just... just terrifying! Check them out on Youtube, they're like nothing on earth. Other than that, the Vi Rez remix by my good friend Graeme Norgate. He's my Sound Design partner at Crytek UK, and we also worked together on music for the Timesplitters series. His Pendulum-esque (Pendulous?) remix of 'Take Me To Your Lover' was frickin' awesome. Kudos to Code 64 as well for turning it into a sweet EBM track. All the remixes were great though, I picked the remixers based on their strong personalities, and they all delivered.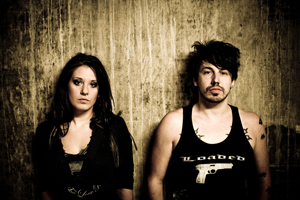 RoD
: You've worked on several different computer game soundtracks, and contributed songs to them as well - how different are the two approaches?
Ross
:
They couldn't be more disparate. Sound design for video games is all about a slow process of building up, testing, revising, planning... all incremental steps. My music writing is a lot more slap dash. I throw in crazy shit, cut huge chunks out, lose things, find things. Chaos! There are common elements though, they both prosper with a little brave experimentation and a "devil-may-care" attitude. I love doing both, and spend 90% of my life in front of Cubase because of that! My next video game release is Alien V Predator for Xbox & PS3 early 2010 (although Nick Brewer from Coloureds did the bulk of the work on that) and I'm currently working on Crysis 2. Can't remember if we've announced a release date for that, so I'd better not say one!
RoD
: Throughout your career you've played live with a variety of different bands - who has been your favourite so far?
Ross
:
Oh that's even harder to answer! Hmmm. Well for pure fun and frolics, good times and great guys, it has to be S.P.O.C.K. I fucking love those crazy starpilots! We've had a lot of good times with Apoptygma [Berzerk] too. Those guys are as much fun as you'd expect them to be! Other than that it's hard to say. With only a few exceptions (Valour of Christian Death and Spetsnaz are assholes), almost every band we've played with have been really cool people. There's almost nothing I enjoy more than gigging, from the journey to the venue, the performance, right through to the drunken mess it becomes at 5am at the after party!

RoD
: Where will GOTEKI be going off the back of these new releases?
Ross
:
Well in literal terms, hopefully North America and Russia! That's where the bulk of our fans are and it sucks that we've always struggled to reach them. We're coming guys! Our next project is the 'Santa Muerte' full album, which I'm working on right now. It's taken 5 times longer than I planned, but fuck it, there's no point rushing it and I'm so, so, SO proud of the way it's sounding. After it's release I'll undoubtedly release some digital EPs (I have some vague but exciting plans for some more cover versions, particularly Bowie & the Beatles) but 2010-2011 will mostly be spent getting the word out that we're back and armed with the darkest, chunkiest, craziest album ever. Watch out planet earth!

GOTEKI's 'Best of' album and 4 new Eps are available now on iTunes / Amazon / Napster / Play / 7Digital, and the new album 'Santa Muerte' is due out early Summer 2010.
{jos_sb_discuss:21}