Interview with
Vreth (vocals) of Finntroll

Never short of something interesting to offer. With the release of 'Nifelvind' this month to immense critical acclaim, FINTROLL seem to be claiming 2010 as their own. Since I had the chance to speak to lead singer Vreth earlier in the year, he piqued my interest in the band so I decided to find out a little more about the history of FINTROLL and what makes them tick.
Founded in Finland in early '97 by Teemu "Somnium" Raimoranta and vocalist Jan "Katla" Jämsen they were soon joined by an ensemble of metal headed musicians and produced about a year later their maiden Spinefarm label offering 'Monstrosities Of Midnight'. I asked Vreth how the band came to fuse metal, with Finnish hoedown music:
I really don't know, since I wasn't there at the inception of the band but I think it was just some drunken night that the guys decided that they wanted to do something a little different.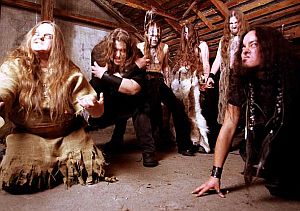 Different they certainly are. For anyone not familiar with them they're thunderously loud and energetic with lyrics sung primarily in Swedish since the founder members were all part of Finland's Swedish speaking minority. With such a diverse sound it should come as no surprise that their appeal is worldwide, and the band have just visited Israel this year, which seemed to excite Vreth:
We've had a chance to play Israel before but it's never come together because of costs, planes tickets you know, and logistics and so on, but we have a large number of fans there and it'll be really great I think.
Coupled with their up and coming tour in April of the USA and Canada, which promises no less than 23 dates in 24 days, they're going to be pretty busy keeping up with the huge wave of enthusiasm for their music that the US has shown during their 2007 and 2008 dates there. Their new album 'Nifelvind' released 19th February 2010 through Century Media is every inch as loud an exciting as it's predecessors and was allegedly created during drunken sauna sessions at various band member's homes, as well as a lot of hard studio work. I asked Vreth if this was a very different album to those that had gone before:
We have concentrated on getting a really good production this time and there are lots of guitars and acoustic instruments, violin for example, less keyboards and such. Also there are lots of world legends on this album, different myths.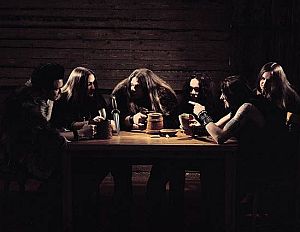 Coupled with the great music are the band's legendary album designs and graphics which are the responsibility of guitarist Skrymer. When asked about the stunning imagery and concepts Vreth has this to say:
Well we don't want to bring in outsiders to do anything really. We are totally focused on what we want and Skrymer knows exactly what's needed. He's not a trained artist but he draws and paints a lot and what he does is perfect for us.
They are clearly such a focused band and I wondered if it had always been so or if any of the band members had ever been into anything else professionally…
I think actually that I had my first musical experience when I was about six or so, that really was the first time I thought about a band.
So it's always been your vocation utterly? No-one in the band ever went off and became a lawyer first or anything? Vreth laughs…
No, no nothing like that...
So there you have it: Vreth... heavy metal Finnish folklore genius, achingly good lead singer of FINNTROLL and all around nice guy. For something truly innovative, different and sublimely screamingly cool check out their new album 'Nifelvind', available on Century Media now. For more info about the band including all tour dates:
http://www.finntroll.net/
/
http://www.myspace.com/officialfinntroll
{jos_sb_discuss:21}