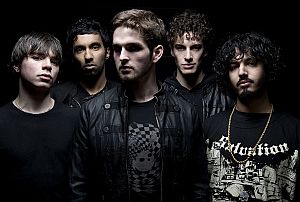 Interview with

Jurojin

JUROJIN is one of the more interesting, experimental bands emerging from UK in recent times. The quintet counts a classically trained Tabla player and jazz bassist, and together combine quite a unique brand of progressive metal and rock with oriental sound, creating an intricate and beautiful music. Reflections of Darkness took on an opportunity to ask JUROJIN members questions about their album 'The Living Measure Of Time', their music, experiences, inspirations and their plans for the future.


Reflections of Darkness (RoD): 'The Living Measure of Time' debut album has seen a timed release, did this give you more time and space to get used to reactions to your music since it was your first CD out there? Are/were the reaction surprising to you?
Nicolas Rizzi (guitar): The album was released in the UK and a couple of select territories before we put it out everywhere else mainly due to money constraints. We wanted to make sure we could afford decent promotion in all territories instead of simply doing a normal scale out with no awareness. You only get one chance to release an album, so making sure that one chance was done properly was a big concern. Having released it in the UK last summer, the time is right to finally get it out in the rest of the world! The reactions have not really been surprising. On this album we show a hint of what is to come and so a few criticisms have been with us not really knowing what sort of band we are but I do believe this will be very evident on future material. Overall though, we have been thrilled with all the amazing reviews and feedback we have received! It is very special to be able to have an album in the shops, I can't tell you enough!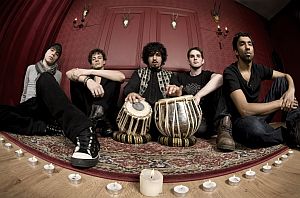 RoD: "Jurojin" is said to stand for a Japanese deity of longevity, your front cover has a Japanese motive, what was the reason behind your choices?
James Alper (vocals): When we were originally looking for a name, Nic and I felt that we wanted something that contained a lot of meaning in just one word. When we came across this name and the various meanings attached to it, we just felt it was the right name to go with. JUROJIN is also a deity of good fortune and we can all do with a bit of luck on our side. As far as the album cover, I'd love to come up with an elaborate story but Nic and I came across this picture by the very talented Zhang Jingna and were simply blown away. We immediately felt that we wanted it to be the cover for the album. It just seemed to capture in visual form what we were trying to capture in music.

RoD: I remember an interview with David Eugene Edwards, ex-front man of 16 Horsepower and why I mention it is that they were a band that had in common with yours the difficult categorising since they incorporated so many styles, he talked about the perplexed, sometimes even hostile reactions of different audiences when playing festivals. What was the reaction to your music when you played the Metal Hammer Festival in Katowice, were the fans more open the fact that your music reaches out beyond the trend they were used to?
Nicolas Rizzi: Overall the Polish fans were lovely. We did not really see any hostility or negative vibes whatsoever, it was quite the opposite which was amazing to see. We tend to structure our sets with a good balance of all elements of our music and I'd like to think that we have a little bit of something for everyone. If some people don't like our more Eastern-tinged sound then at least we have the heavy stuff for them but really, we appeal most to the open-minded. There is a world of incredible music out there outside of metal, and from every corner of the globe and really, music is the universal language, whatever genre you are into. At the end of the day though, music is highly subjective so one should never take criticism badly, especially not at gigs.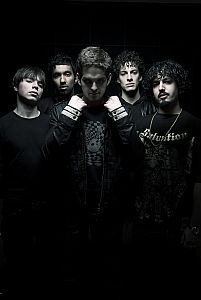 RoD: How was the experience different for you also from the angle of having played acoustic sets?
Nicolas Rizzi: We play 2-3 acoustic sets per year or so to showcase a whole other part of our song repertoire, but we are mainly a plugged-in, full on heavy band. It is in this format that we feel most comfortable, so playing Metal Hammer Festival was a very natural experience for us (albeit a surreal one, sharing the stage with KORN and OPETH amongst others!).

RoD: What was playing together with Anne Phoebe like for you?
Simran Ghalley (Tabla): Anna Phoebe is not only a very talented and spirited artist but she is also such a wonderful person. It is not just a pleasure to share the stage with her but also to spend time with her off stage as well. I have much respect for the practice and hard work she has done to get to where she is and also admire her respect for her art and her instrument. I personally feel that the creativity and spontaneity in her playing is similar to that found in Indian music and therefore inspires me to be more creative when performing with her. We all look forward to performing more with her in the future.

RoD: You cited a deep interest in Indian classical music even before Simran Ghalley joined you; can you introduce some of your major influences of this musical interest in detail that may not be as well known to your listeners?
Nicolas Rizzi: I briefly studied Classical Indian music at University and it changed my outlook on music in general and the lifestyle that goes with. The culture behind the music in India is something I encourage every musician to look into. Absolutely fascinating and an incredibly rich history can be found within it. John McLaughlin and his work with both Miles Davis but especially Shakti had a profound influence on me when I was first dabbling in that genre. I very quickly realised though, that delving into Classical Indian and even attempting to reach a decent level of performance is a lifelong journey of fanatical dedication, and I simply had to focus on my instrument, the guitar, as much as I could with the little free I had/ and continue to have. My major influences now in the genre are primarily the late Mian Shaukat Hussain Khan and Ustad Tari Khan. I have heard hundreds of performers both old and contemporary and to me no one has ever come close. I don't believe they are 100% human.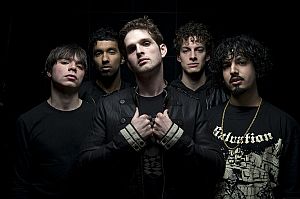 RoD: Since you have so many influences, differing experiences and music tastes in the band, can you please describe the decision process when composing?
Yves Fernandez (bass): Composing and writing usually start from either a vocal melody, rhythmic idea or guitar riff and chord patterns. Although we are from different musically backgrounds we try and make one sound, the JUROJIN sound. That means we all bring ideas with JUROJIN in mind, and this seems to create the right balance musically so it doesn't sound like there are so many different styles but an organic united sound. We don't sit there and purposely try to each have our own say and our own sections of songs…

RoD: I think your music lends itself visually, if you could chose a director for a video that would do your music justice with cinematic quality, who would it be? If you had enough funds, what would it look like? Or which film would you like to have made soundtrack for and why?
James Alper: Wow. That's a pretty tough question. There are so many great directors who do some great stuff with our music. I guess it'd probably have to be Hayao Miyazaki (Spirited Away, Princess Mononoke). I would love to see him bring the album to life with his dark, fairy tale style of animation. It'd be fascinating to see what he'd make of the music and lyrics.

RoD: There was a mention that regarding your lyrics Charles Bukowski and Andrew Motion are great influences. Can you explain which aspects of their poetry you find appealing and relevant to your music and why?
James Alper: As an influence for me as a lyricist they're paramount. Both of them capture the raw nature of the world in the most eloquent way. They access something primal without sacrificing the intellect and the elegance of language. That's what I try and aim for. Lyrics, poetry, music and art in general is a desperate need, a raging desire to express what's contained inside. To connect. To understand and to be understood. I'll leave it to Bukowski to say it better than I ever could..."Poetry is what happens when nothing else can"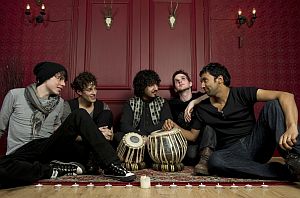 RoD: You are planning to bring a new album at the end of 2011; can you tell me about what are your plans for its sound, lyrical content and its main focus?
Simran Ghalley: The focus on the next album will be to apply the further refinement we have made to our sound as we have played more with each other live and in the studio. The chemistry between us musically has also greatly improved and this will hopefully be evident in the sound of the new album. We intend to get together all of the experiences that life has thrown at us, good and bad, and use them as fuel for the musical fire that burns within us when we write, record and perform. The writing process is always very fun together but also very informative about us individually. We are looking forward to it immensely.
James Alper: I wish I had something to say apart from... no idea. We tend to write in a very organic manner. I don't tend to approach the writing of lyrics with pre-conceived ideas. It's a combination of what might be on my mind (what I've recently read/seen etc) and what the music suggests. We'll just have to wait and see what the next album brings.

RoD: You also have extensive plans to tour, which countries are you planning to visit, what do you expect from the touring experience?
Nicolas Rizzi: We are really hoping to play Europe at the moment since our album is getting a lot of movement there and is coming out! We would love to hit most of mainland Europe and also hit some of Eastern Europe and going as far as Greece and Turkey. James our singer is half Turkish and I know he would love to play there. We expect nothing but great things out of the experience. We are a very close-knit family and touring is just such a great time for us, regardless of all bad aspects of it. We always look at the bright side of everything, or at least try to! Sharing these sorts of experiences in loads of countries none of us have ever visited would just be too good.

RoD: Is there anything else you'd like to mention to your listeners and fans?
Jurojin: Just a great big thank you for listening. The whole reason for doing this is to try and connect with people through music. To have an impact. If we can do that, if we can resonate with a fraction of the people who listen to us then we're happy. Then the songs have done their job. So, once again, cheers for taking the time to listen! Extra thanks goes to the fine folk of Reflections of Darkness for taking the time to really get to know us before submitting the questions, it is very humbling! Thank you!

RoD: Thank you very much for speaking about your band to Reflections of Darkness.