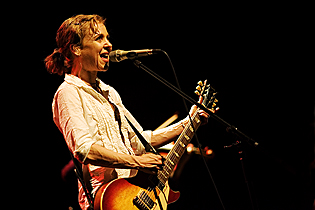 KRISTIN HERSH a singer/songwriter who has been in the business for quite a long time now and is probably first acquainted with her long-term band, the THROWING MUSES, who could celebrate some success in the early nineties and have not split up to the present day, though the members are at the moment all concentrating on their own projects. Hersh is currently involved with her new band - a Hardcore-Punk influenced project called 50 FOOT WAVE, and is also working on solo stuff.
Biography

(as found on
http://en.wikipedia.org/wiki/Kristin_Hersh
)
Background and musical beginnings
Born in Atlanta, she was raised in Newport, Rhode Island. Learning guitar at age nine from her father led her to start writing songs soon after. As a teenager, she formed Throwing Muses in the early 1980s with stepsister Tanya Donelly and other high school friends.
Hersh began singing and writing most of Throwing Muses' songs in changing tempos, with Donelly also singing and writing some of the songs. The group was signed by the British 4AD Records label after a few years, and also were signed to Sire/Reprise Records by the second album. They began touring around the U.S. and Europe while recording critically-acclaimed rock albums, with Hersh writing most of the songs.
Some interviews have described Hersh's early drive to perform as due to hearing sounds in her mind so that her songs began to "write themselves", becoming at times their own separate presences in her life, inner voices haunting her. She has stated that hearing these "pieces of songs" clanging together in her mind compelled her to take the pieces apart and craft songs from them. "If I don't turn ideas into songs", she has said, "they can get stuck in me and make me sick".
"That's the way a song is," she said in a 1995 interview with AOL's Critics' Choice electronic music magazine. "That's the way a song hits you right here, right here [she motions to the heart and gut] instead of in your brain because the words themselves are all real sweaty, color, action words, so they just go bangbangbang. They're not supposed to make you think and try to figure out some puzzle. People think that I'm trying to trick them, that I have some thing I could write down and I haven't done it and I've just given them a bunch of poetry instead. I find it to be the clearest way to talk. It's like the way little kids talk because they have no filler words and no overriding thoughts to color your impression of what's happening in a song."
1990s: band and solo work; emerging reputation; songwriting approach
Her Throwing Muses band project became a trio when Donelly left the group after 1991's The Real Ramona. In 1994, Hersh began an additional career on Sire/Reprise and 4AD as an acoustic solo performer, beginning with Hips and Makers, an album sparely arranged around her vocals, guitar, and a cellist, in contrast to the volatile, electric sound of her band work. Michael Stipe of R.E.M. made an appearance on this first solo album.
Hersh's solo songwriting style focuses some of the relationship subject matter on her family. While Hersh's work reflects her personal experience, she has said that she writes from a point of view outside of her personality so that her lyrics are not literally autobiographical. Stating that "songwriting is about shutting up instead of talking", Hersh has said that songs that appeal to her are those that "say things that I don't know yet and tell stories I may not have lived yet", as opposed to diary entries expressing feelings.
The New York Times pointed to Hersh's explorations of "rage, aggression and mental chaos" as evidence that there were at least a few female rock music artists by the early 1990s pushing against gender role boundaries to express "more than simply vulnerability or defiance" in their work.
Hersh, whose early publicity at times portrayed her as a tortured artist "channeling" her songs from her psyche, has mentioned that the "angry young woman" fascination of some writers in reviewing the work of female performers has at times led to cartoonish stereotypes, rather than three-dimensional portraits respecting their intelligence. By the mid-1990s, journalists acknowledged that the breadth of her "fierce, quirky, and imaginative" lyrical style included explorations of "emotional and physical love" combined with "elliptical puzzlement".
After receiving some airplay and major media coverage for Throwing Muses University album in 1995, Hersh moved to Rykodisc for her 1996 Throwing Muses album, Limbo, and her 1998 solo album, Strange Angels. Manager O'Connell created the ThrowingMusic label in 1996 for co-releasing certain Hersh-related projects, eventually including an ongoing download subscription service called Works in Progress for releases available only through the label's ThrowingMusic website.
Hersh is noted as a rock lyricist with an easy facility with words, even if she downplays their importance in a song. Playing with words as changeable, elastic things, as she often does, results in what writers have described as "elliptical" and "obscure" lyrics.
Sometimes her songs start out one way but end up differently as with "Hazing" in the album, "University," which begins ominously ["Strange time to be hazing me, breaking me . . . ."] but ends up romantically ["That's my cue, I'll spend another day dancing with you."]
Late 1990s: recording projects and songwriting inspirations
Her parents' Lookout Mountain heritage influenced her to record a solo album of Appalachian gothic folk songs in 1998 Murder, Misery and Then Goodnight. Performing traditional songs was a rare covers excursion for the prolific songwriter, although she was no stranger to these tunes, having heard some of them played by her father when she was a child. In fact on other solo releases, Hersh has cowritten with her father two songs, "Uncle June and Aunt Kiyoti" and "Houdini Blues", also recording a third that he wrote on his own, "Sinkhole".
Hersh and her family have moved every few years to live in a different locale. Her experiences in each location have sometimes influenced the emotional landscape of her songs. An example is how living for a period near Joshua Tree, California, impacted on some of the atmosphere and lyrical imagery of Sky Motel, a 1999 solo album on which she played most of the instruments. Time spent in the New Orleans area while recording Limbo in 1996 at Daniel Lanois's Kingsway Studio had similarly influenced songs like "Ruthie's Knocking", inspired by Ruthie the Duck Girl, an offbeat character well known to locals for her antics in the French Quarter.
Hersh has also said in an interview that she writes many of her songs as though "taking place in New Orleans or Rhode Island". She and her family additionally logged time in New Orleans when recording Throwing Muses' 1992 Firepile EPs, Throwing Muses' 1995 University album, and the Sky Motel solo album. University, Limbo, and Sky Motel were recorded by Grammy-winning engineer Trina Shoemaker, the latter album co-recorded by engineer Ethan Allen; Allen later worked on band tracks with Hersh in the 2000s. Hersh spent part of the 1990s in Portsmouth, Rhode Island, recording several solo albums and a few band tracks at Stable Sound studio with engineer Steve Rizzo.
In 1999, Hersh also participated in Throwing Muses drummer David Narcizo's Lakuna solo project album release, Castle of Crime.
The early 2000s: solo career, band reunions, and 50 Foot Wave
In 2001, she released the Sunny Border Blue solo album, on which she again played nearly all instruments. She has described this album as having even more intensity than her previous works, as she continued her pursuit of songwriting as being in part a way to transform "ugly feelings" into art.
Hersh's recorded and live performances in recent years have occasionally included appearances with like-minded alternative artists like Vic Chesnutt, Willard Grant Conspiracy, Grant Lee Phillips, and John Doe.
In 2003 she released The Grotto, an acoustic solo album of song sketches with personal lyrics set in Providence, Rhode Island, with Andrew Bird on violin and Howe Gelb on piano. On the same release date she also released a rhythmically complex, energetic self-titled album by her Throwing Muses group, the first release for the group since Limbo. Both were recorded at Rizzo's studio in Rhode Island.
Also in 2003, she formed a power rock trio called 50 Foot Wave, when longtime Throwing Muses drummer David Narcizo was unable to tour on a full-time basis due to other commitments. Her touring appearances and recording efforts in 2004 and 2005 centered around both 50 Foot Wave and her solo career.
In January 2007 Hersh released her first solo album in four years, entitled Learn to Sing Like a Star.
Photos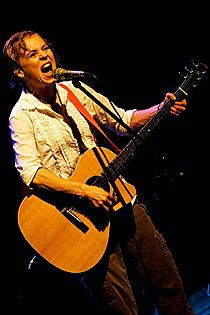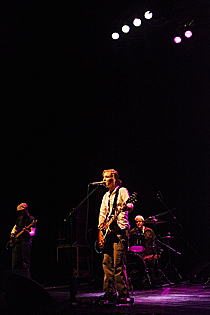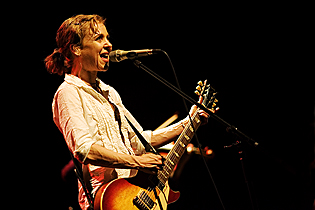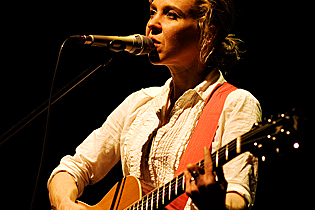 Pictures by Ruth Gräbeldinger
Discography

Solo releases:

Live at Maxwell's - 1992 - (limited release, live solo bonus disc included only in the first UK edition printing run of Throwing Muses' Red Heaven release on 4AD label)
Hips and Makers - 1994
Your Ghost (EP) - 1994
Strings (EP) - 1994
The Holy Single (EP) - 1995
Strange Angels - 1998
Like You (EP) - 1998
Murder, Misery and Then Goodnight - 1998
Sky Motel - 1999
Echo (EP) - 1999
A Cleaner Light (EP) - 2000
Sunny Border Blue - 2001
Live at Noe Valley Ministry - 2001
The Grotto - 2003
Instant Live: Boston, MA 1/28/05 - 2005
In Shock (EP) - 2007
Learn to Sing Like a Star - 2007
With Throwing Muses:

Throwing Muses EP, 1983
Stand Up EP, 1984 (self-released 7")
Doghouse Cassette, 1985 (self-distributed cassette)
Untitled, 1986
Chains Changed EP, 1987
The Fat Skier, 1987 (seven-song mini-album)
House Tornado, 1988
Hunkpapa, 1989
Dizzy EP, 1989
The Real Ramona, 1991 (number 26, UK albums chart)
Counting Backwards EP, 1991
Not Too Soon EP, 1991
Red Heaven, 1992 (number 13, UK albums chart)
Firepile (part one) EP, 1992
Firepile (part two) EP, 1992
The Curse (live), 1992
Bright Yellow Gun EP, 1994
University, 1995 (number 10, UK albums chart)
Limbo, 1996 (number 36, UK albums chart)
Shark EP, 1996
Ruthie's Knocking EP, 1996
Live to Tape EP, 1997 (limited promotional release: 750 copies)
Freeloader EP, 1997
In a Doghouse (2 CD compilation), 1998
Live in Providence, 2001
Throwing Muses, 2003
With 50 Foot Wave:

Live in Burbank (2004, ThrowingMusic, only ten copies made)
50 Foot Wave (2004, ThrowingMusic/4AD)
Live In Seattle (2004, ThrowingMusic, available only via band's website)
Golden Ocean (2005, ThrowingMusic/4AD)
Free Music! (2005, ThrowingMusic)