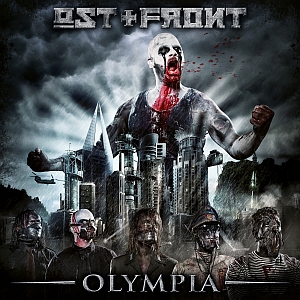 Artist: Ost+Front
Title: Olympia
Genre: Gothic / Industrial / Metal
Release Date: 24th January 2014
Label: Out of Line Music
Album Review

The year of 2014 for German industrial metal formation OST+FRONT has started with the release of their sophomore full-length album entitled 'Olympia'. Actually the cover of the album already allows us to get, that the band has a specific view in the questions of visual art and self-presentation, maybe typical for industrial metal but I can't say for sure. Nevertheless their music turns to be another story and among 13 tracks presented on the record which in general sound rather good, it's easy to find even those that suit your mood.
The opening piece at first sounds surprisingly cheerful and positive but when the vocals start everything is put into place and interesting elements appear. So 'Mensch' perfectly prepares a listener to what will go next. The vocalist's manner of singing or it's better to say pronouncing the lyrics is also rather peculiar and you just may like it or not, but when it comes for the chorus the voice is getting more powerful and expressive and this is true to the most of the songs from the album. In the beginning of 'Sonne, Mond und Sterne' you can hear a music box and the song itself is much quieter and rather melodic, that seems to be like a gulp of fresh air after two powerful tracks with the rigid guitars and stiff rhythm. But then the guitar return and there starts another sonic attack with the solid rhythm and the vocals piercing into your head.
As the album continues it's getting clearer that the musicians paid attention not only to the strength of the sound but also they tried to arrange each track in a more or less original way without losing the main idea of the whole record. And I have to admit that the ballads turned to be quite good, especially 'Feuer und Eisen'. Of course, it's not so catchy as could be but in general it's nice and nothing else to add. One more beautiful composition off 'Olympia' is 'Feuerwasser' and 'Kaltes Herz' deserves a special attention not just because it's the final song. It produces a fairly good impression thanks to its evenness and somewhat calmness when the heavy metal songs definitely prevail on the album.
All in all without analysing the lyrics the thing appeared to be vigorous enough and will please fans of the band, that were eager to listen to the new creation of OST+FRONT after the successful debut album. On the other hand if such kind of music can't be called as one of your preferences, it will be hardly possible to find something really great for you on the release.
Tracklist

01. Mensch – 3:56
02. Ost+Front 2014 – 3:40
03. Sonne, Mond und Sterne – 4:04
04. Liebeslied – 3:32
05. Freundschaft – 3:13
06. Feuer und Eisen – 4:19
07. Anders – 3:32
08. Goldmarie – 3:38
09. Perfekt – 3:17
10. Dein und mein – 4:41
11. Harte Welt – 3:08
12. Feuerwasser – 4:21
13. Kaltes Herz – 4:25
Line-up

Hermann Ostfront – Vocals
Gernhardt von Brüh – Guitar
Siegfried Helm – Guitar
Wilhelm Rotlauf – Bass Guitar
Eva Edelweiß – Keyboards
Fritz Knacker – Drums
Website

http://www.ostfront.tv
/
https://www.facebook.com/ostfrontberlin
Cover Picture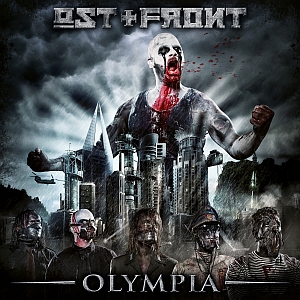 Rating

Music: 8
Sound: 8
Total: 8 / 10