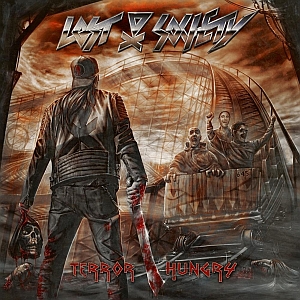 Artist: Lost Society
Title: Terror Hungry
Genre: Thrash Metal
Release Date: 4th April 2014
Label: Nuclear Blast Records
Album Review

LOST SOCIETY are a young Finnish Thrash Metal band, founded in 2010. Their debut, 'Fast Loud Death', was released in 2012 and with the most recent 'Terror Hungry', the quartet further develops their raw, fast and hard-line Thrash Metal. The intro 'Spurgatory' begins with the sound of a beer can being opened and soon veers towards the very energetic and straight-forward 'Game Over', which also includes a catchy and remarkable chorus. The band's style is fast and grooving Thrash Metal with technical and speed-influenced guitar work, alongside with harsh and still variable vocals. 'Attaxic' is a very drum-dominated track with even more groove, and throughout the next couple of songs it becomes very clear that LOST SOCIETY are not going to slow down or make any compromises regarding speed and heaviness.
Moreover, they also show technical skill and all songs on 'Terror Hungry' are of equal and good quality. However, there are only slight variations in songwriting and tempo – although some songs, like 'Tyrant Takeover', include slower parts, the overall mood is very brutal and straight-forward. Although this might exactly be the purpose of solid Thrash Metal, a little innovation never did anybody harm. Nevertheless, this album will surely get its deserved appreciation by fans of Old School styled and energetic Thrash Metal and it is surely good to see that young bands carry on their interpretation of the 80s into today's music scene.
Tracklist

01. Spurgatory
02. Game Over
03. Attaxic
04. Lethal Pleasure
05. Terror Hungry
06. Snowroad Blwout
07. Tyrant Takeover
08. Overdosed Brain
09. Thrashed Reality
10. F.F.E.
11. Brewtal Awakening
12. Mosh It Up
13. Wasted After Midnight
Line-up

Samy Elbanna – Vocals, Guitar
Arttu Lesonen – Guitar
Mirko Lehtinen – Bass
Ossi Paananen – Drums
Website

www.facebook.com/lostsocietyfinland
Cover Picture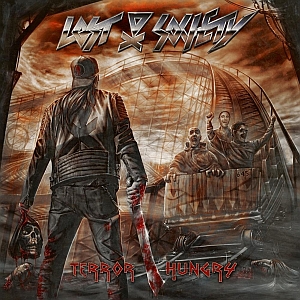 Rating

Music: 7
Sound: 8
Extras: -
Total: 7.5 / 10