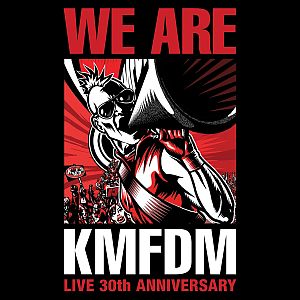 Artist: KMFDM
Title: We Are (Live 30th Anniversary)
Genre: Industrial Metal / Industrial Rock
Release Date: 9th September 2014
Label: Metropolis Records
Album Review

Twenty live songs to celebrate 30 years of KMFDM are coming out on an anniversary of a day that changed geopolitics into a new phase, one that we're currently in and which is upping up the ante, and is ever more complicated on top of it all. That seems to be beside a point but the band is keenly critical of the status quo, given away already by their title, supposed abbreviation from "no pity for the majority" in Konietzko's native German. We are coming to a paradox that the views they represent are becoming more mainstream, majority of people seem to think that they are being conspired against and lied to, politicians are not trusted by default and voted only in terms of lesser evil and war in any case is wrong, so there's a question if the rebel image can hold. After all, even with all that revolution is not happening. Does it matter? Politicised music or not, the sound is still a riot.
Indeed, KMFDM are a legend and so this live cut-through several sets of celebratory tours isn't something off the radar of many of its and genre's fans, who will also know that a new album 'Our Time Will Come' is following a month after, so if they are impatient this is just going to be a small Pavlov's offering. On the other hand is this short space a good idea? Are you likely to spend money on two releases by one of your favourite bands or opt out for two bands you like (unless indeed your budget is unlimited or perhaps the band doesn't mind being ripped off)? Regardless, though the album spans right over the last three quarters of KMFDM catalogue the last album 'Kunst' (2013) is heavily represented, a logical step but not the best one. It starts good with 'Sucks – Intro' and 'Kunst', but 'Amnesia' and 'Ave Maria' are a hindrance. They are weak songs that if included should have been spread out more – losing interest at the start of the album is a risky idea that had me nearly wishing to switch it off right there and then.
And I have to say that the interest from thereon picked up only slowly and didn't reach peaks much, the effect was that of constantly dissipating energy. Another problem is that the sequences show repetitive patterns too much – for a celebratory release it doesn't show them in their best light. Sound quality is great, the crown interaction unobtrusive. Enjoyable interim release but am still more expectant of the impending album.
Tracklist

01. Sucks – Intro
02. Kunst
03. Amnesia
04. Ave Maria
05. Light
06. Pussy Riot
07. I Heart You
08. Free Your Hate
09. Potz Blitz
10. Tohuvabohu
11. Son of a Gun
12. Rebels In Kontrol
13. Hau Ruck
14. Animal Out
15. Krank
16. A Drug Against A War
17. D.I.Y
18. Megalomania
19. Anarchy
20. WWIII
Line-up

Sascha Konietzko – vocals, synthesizers, programming, drum programming
Lucia Cifarelli – vocals, keyboards
Jules Hodgson – guitar, synths
Andy Selway – drums
Steve White – guitar, bass guitar, programming
Websites

http://www.kmfdm.net
/
https://www.facebook.com/officialkmfdm
Cover Picture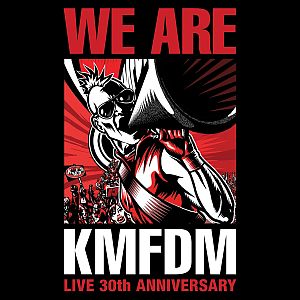 Rating

Music: 7
Sound: 7
Total: 7 / 10