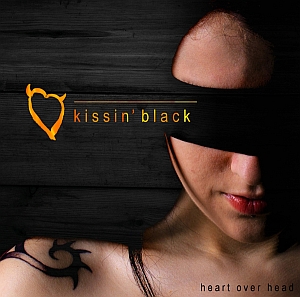 Artist: Kissin' Black
Title: Heart Over Head
Genre: Acoustic Rock
Release Date: 31st October 2014
Label: Motor/ H'art
Album Review

KISSIN' BLACK are a Swiss and Italian band, the many differences between the two countries evident in the contrasting nature of the music they play, and it's obvious a several-shades-of-everything approach is the bands aim. This can make for an uneasy journey as a kind of sonic schizophrenia takes hold of 'Heart Over Head', confusion as to just what the aim is here, and where it's all likely to lead.
The first four songs alone display a wildly different array of styles, which suit them in varying degrees. 'Blues Unpardonable', the title sounding like something Yoda might utter, is rather horrible bar-room rock, a bit bluesy, a bit sleazy, and very dull. Why open an album with this? 'Borderline' that follows it, is classic 70's ballad rock and in stark contrast. It's more subtle and accomplished. 'Ella-Marline' is big and emotive of chorus, but lacks any flow, with a weak verse and a sparse arrangement that doesn't help it. And then there's 'Marrakech' which is almost Goth in its structure, like something WAYNE HUSSEY might bang out in one of his acoustic gigs.
Elsewhere, there's the dark pop of 'Can't Stand It Anymore', doomed storytelling on 'Wild Child' and a throwaway dusty C&W on 'How It Ends'. Avoid the bizarre 'Sex Is A Drug', which is like a Psychobilly DIARY OF DREAMS and every bit as awful as that sounds. At least the title track returns to what KISSIN' BLACK are good at, recreating those echo-laden doom-ballads that DEEP PURPLE and DAVID COVERDALE knocked out in the 70's. But really, it's all rather bland. 'Heart Over Head' is inoffensive at best, showcasing musicians going through the motions. There's nothing particularly engaging about their style or the songs on offer, but as background music, if that's your thing, then this is fine.
Tracklist

01. Blues Unpardonable
02. Borderline
03. Ella-Marline
04. Marrakech
05. More Than Life
06. Can't Stand It Anymore
07. Recitation Blindfold
08. Wild Child
09. How It Ends 040707
10. Sex Is A Drug
11. Heart Over Head
12. Fiore
13. Goth Has No Name
14. Ella-Marline acoustic version
15. Heart Over Head acoustic version
16. How It Ends acoustic version
Line-up

G. Mastrogiacomo – Words & lies
S. Stomeo – Bass
R. Meyer – Six-string
Dr. Spiga – Beats
Website

https://www.facebook.com/kissingblack
/
http://www.kissingblack.ch/
Cover Picture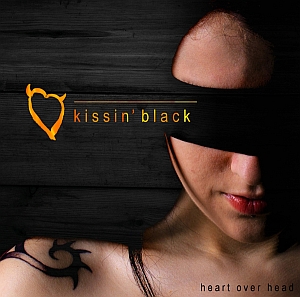 Rating

Music: 5
Sound: 7
Total: 6 / 10