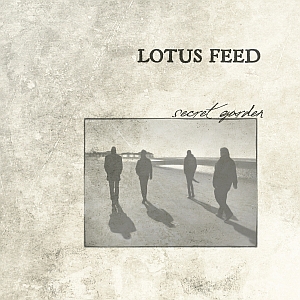 Artist: Lotus Feed
Title: Secret Garden
Genre: Post Punk / New Wave
Release Date: 2nd March 2015
Label: Manic Depression Records
Album Review

Two years have passed since LOTUS FEED released 'So Close... So Far' and it must have been good times for the Cologne-based quartet that followed. Critics who fell over themselves, shows that took them abroad, shows that made them share stages with names like THE CHAMELEONS or NEW MODEL ARMY and appearances on a range of well-known festival billings - yes, it could have been worse for some guys, who nailed the music on their welkin! (I myself not only liked the album a lot, but was also allowed to attend a few of their shows over the last two years, so I know what I'm talking about!) And I'm quite sure they (justifiably) enjoyed the stir the album had created. But how life goes, you reach a point then, when you know it has to be kept alive, the point you face your own expectations, the pressure to boost the level without becoming stiff and tied up in knots. But the guys seemed to have kicked this all away by dedicating their time to projects and side-jobs like their minimal electro-punk outfit Løwentsåhn Hølunder (whose debut you will find analysed here a few moons later) or bassist Lars Tellmann´s involvement in the 30th anniversary tour of THE FAIR SEX last year.
And no idea if it was this kind of musical romp what has worked as a creative trigger or just as a distraction for sharpening the focus, 'Secret Garden', as the follow-up is named, hit the earth in this year's March anyway and sorry for giving the game away even now, but people who liked 'So Close... So Far' will love that one, cause musically it's the albums logical consequence, a further step on the road taken. You don't need the stone of Rosetta to figure out the band's main influences, near and dear genres and favourite decades, because they juggle so fervently and masterly with them that it's musically and nostalgically a pure joy to browse the 10 songs, always aware of quotes, homages and skilled references. You pass the traces of the above mentioned CHAMELEONS and THE SOUND, taste audibly a pinch of JOY DIVISION and the early BANSHEES, face shades of KILLING JOKE and the off-leashed STRANGLERS... or to simplify it and put it in a nutshell with a quote of guitarist Marten:"All early 80ies Sheffield and Manchester stuff..."
And they really managed to capture this particular atmosphere, to weave that special mood in their carpet of sounds. You have the guitars, the overwhelming guitars, dressed in flanger and delay effects, in distortion and clarity, building copes and clouds, ruins and clefts. And you have the bass, relentless and bustling, which flows like a liquid through the structure, changing its shape from a leaden menace to a velvet perpendicular, from a wounded animal's shivering to the ruthlessness of a fuse. The drums are wearing the song's bridle with a stoical single-mindedness, straight and clocklike, pumping the prevailing low-saturation reliably through the sonic veins without to linger over details or similar dissipations of time. And then there are the vocals. You might say that Alexander Landsberg is not that unflawed and stainless singer, owning as timbre that mostly covers the surface like a crumbled coat of paint, rasping and grinding, but he puts so much energy and fervour in his voice that you easily realize it's sometimes not necessary to hit the right note but to do that with the heart. So these are the main ingredients of your Lotus Feed and despite the albums time-referenced patina and it's all-embracing undertone there's still enough enjoyable musical relieve and variety to trigger your attention.
There's the brilliant, ocean-like 'Out of Place', with its gentle guitars hitting the shores of melancholy and velvet gloom, hurting like a loss and shiny like the eyes of a lover at the same time. Or the breathless 'Sugar Ray', one of the atmospherically closest to the Mancunian pantheon that feels almost epileptic-like by its distorted attacks and septic convulsions. 'Kiss', one of my favourites, blurs the edges between classic Post Punk and melodic Guitar Wave with heart-embracing melodies and rattling sounds, a bit like a clash of the early and the late FURS. 'Supervision' harks back again to the time when Punk found a new artistic language and new ways of expression without to deny its roots and aggression. Punching and piercing. And as a last taster the eponymous track, a slow-growing storm that´s coming in from the sensorial horizons for erupting right above the listener's synapses with hailing guitars and thundering drums.
So let me repeat myself when saying that ' Secret Garden' is a great piece of work, filled with energy and atmosphere, with substance and heart's blood. It is reflecting and absorbing, a timbral reminiscence and a musical enjoyment in one breath... and last but not least it is handmade and fucking honest. Let's finish with a quote from the title-track, for it seems somehow essential: "an eye for an eye - a cry for a cry – an ocean view and a lover by my side - a valley of sunshine - stars up in the sky, water that whispers..." That's it. Here it is... all wrapped in a handful of brilliant songs.
Tracklist

01. Out of Place
02. Fix
03. Sugar Ray
04. Sleepless
05. Shiver
06. Kiss
07. House of Cards
08. Second Time
09. Supervision
10. Secret Garden
Line-up

Alex - Vocals
Doc Marten - Guitars
Lars - Bass
David - Drums
Website

http://lotusfeed.bandcamp.com/
Cover Picture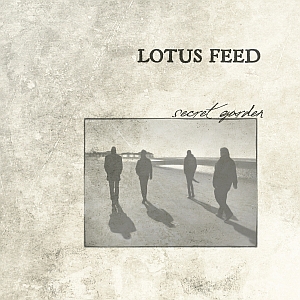 Rating

Music: 8
Sound: 8
Total: 8 / 10