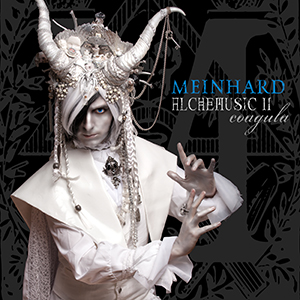 Artist: Meinhard
Title: Alchemusic II-Coagula
Genre: Darkwave
Release Date: 30th October 2015
Label: Out Of Line
Album Review

MEINHARD did a great job with his new album 'Alchemusic II - Coagula'. Let's support the enthusiasm of his label and name all the best parts of this work: The producer of the album is Chris Harms (LORD OF THE LOST), there are collaborations with the same Chris Harms and Chris Pohl (BLUTENGEL), beautiful artwork a-la David Bowie, and a soundtrack for a Tim Burton film. All together great commercial shot! The album sounds intensive, has great vibes. Powerful guitars and drums give a drive for the whole record. The fairy-tale context and elf-like vocals compliment the record with mystery and dreamy fog.
Now let's come back to reality for a moment and try to give a critical view to what's happening in the scene with the example of 'Alchemusic II - Coagula'. Listening to the album it is hard to escape the feeling you've been listening to it for decades. There is nothing on the record what SAMSAS TRAUM hasn't done on his best albums. Conceptual play-like album – check; featuring Chris Pohl – check; contrast of the hard music and light baroque melodies – check; MEINHARD has even the same vocal timbre. With all this MEINHARD misses deeply sick satyr and true dark feelings – which makes 'Alchemusic II - Coagula' sound like a joke. Don't forget, this is the second part, and it sounds exactly like the first one. To be fair let's not call MEINHARD a SAMSAS TRAUM's clone. There was a whole dark scene with such amazing acts as LACRIMOSA, ASP, L'AME IMMORTELLE, DIARY OF DREAMS and many others. So in MEINHARD you hear the echo of the whole generation.
Hard to believe these words are true, but this Dark Scene is so last century! This musical community seemed to come to its end several years ago. Yes, there are still massive festivals to unite thousands of people from all over the world, but if you pay attention to the line-ups – they are all the same and haven't been changing for years. So the best name for this phenomenon would be – inertia. Those bands which grew big and took the best of this genre keep going, because they are cult now. The others changed directions and keep trying something new. As for the new acts – they are good, but they will never be better than their predecessors. They are as cute as kids trying their parents' outfits. So if you are nostalgic and keep listen to German dark scene by inertia – you should really pay attention to 'Alchemusic II - Coagula', it is a good shot. But don't expect anything new here.
Tracklist

01. (Burning Hope)
02. Mein kaltes Herz
03. ALCHEMYSTERY
04. A melody that can't be found
05. All That Is Well Will End
06. This Misery
07. G.O.D.//D.E.M.O.N
08. Divine
09. Kinder der Sterne
10. ...don't get lost along the way
11. Formula
12. Sundown(moonrise)
13. The Vessel
Website

http://meinhardmusic.com/
/
https://www.facebook.com/meinhardmusic
Cover Picture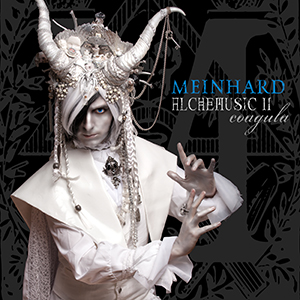 Rating

Music: 8
Sound: 6
Total: 7 / 10