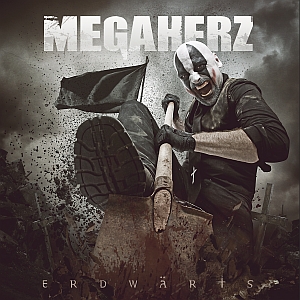 Artist: Megaherz
Title: Erdwärts
Genre: NDH
Release Date: 4th December 2015
Label: Napalm Records
Album Review

MEGAHERZ is a nice left over from wonderful NDH-feast, which will stay in our hearts and memories forever. Those musicians do what no iconic band from those times wants to do any more. To listen to MEGAHERZ is like to watch a stranger on the street, who reminds you on your ex-lover who you separated with a long time ago, but who still occupies your heart. It's feels like you can find all of those German bands from the 2000-s in one record. The themes of the MEGAHERZ's music are quite simple and kind of naive. The musicians still find it amusing to reach out for the one's "dark side" and discover their own and our fears. But are we still afraid of the "Black man"? Or an angry clown? It seems like the musicians are rather scared of themselves and try to defend with their masks, as if they didn't want people to recognize them in the supermarkets. It all looks like they've stuck in the past, while their audience actually grown up. It is not scary, it's embarrassing, guys!
So, no, you cannot scare us any more with Freddy Kruger or It. We passed over the fear of loneliness with Britney Spears in the early 2000-s. We are grown up people now, who learned to think rationally. Still 'Erdwärts' is a thrilling record. And while the song 'Wer hat Angst vor'm Schwarzen Mann' is rather ridiculous, there are tracks which are able to cause goose bumps. One of them is 'Einsam'. And even if it is another cheap call to basic fears of modern chicks, the composition, the tension and the male-female duet still brings a lot of joy, since it is a really great commercial shot. The other song is the breath-taking 'Glorreiche Zeiten', which is an outstand not only in this album, but in the modern scene in general. And since it is clear that there will be no Renaissance of the German dark scene, 'Glorreiche Zeiten' would be the best anthem for the funeral of this genre.
Tracklist

01. Wer hat Angst vorm Schwarzen Mann?
02. Ist das verrückt?
03. Glorreiche Zeiten
04. Einsam
05. Teufel
06. Jordan
Line-up

Alexander 'Lex' Wohnhaas – Vocals
Christian 'X-ti' Bystron – Guitars
Christoph Klinke – Guitars
Werner 'Wenz' Weninger – Bass
Jürgen 'Bam' Wiehler – Drums
Website

http://www.megaherz.de
/
https://www.facebook.com/OfficialMegaherz
Cover Picture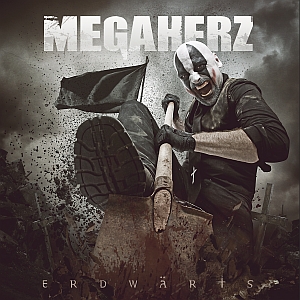 Rating

Music: 6
Sound: 8
Total: 7 / 10