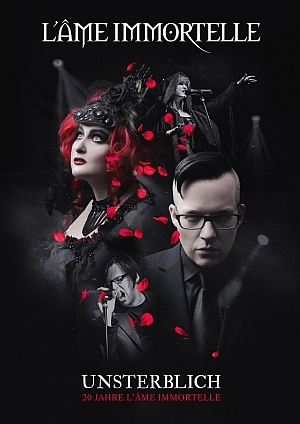 Artist: L'Âme Immortelle
Title: Unsterblich – 20 Jahre L'Âme Immortelle
Genre: Darkwave/ Industrial
Release Date: 26th February 2016
Label: Trisol Music Group
Album Review

L'ÂME IMMORTELLE is the unique band, and will always stay the only and the one. During the celebration of the 20th anniversary of "the red and the black" duo there is nothing left, but to sing the odes for them. Through all the years the band was on the top of the modern Dark Scene. Their music is the result of mixing contrasts: male and female, professional vocals and distorted noise, classical instruments and electronics, pain and love, friendship and betrayal, yearning for living and searching for oblivion. Although there were times when those "and's" became "versus'" and made the future of the band pretty unclear. The album 'Momente' released back in 2012 seemed to be a surprise not only for the fans but also for the musicians themselves. Both were talking about difficulties in communication and different goals which each of them had before them. But they found the time and force to create the beautiful and bright studio album. With fresh energy they just kept composing and two years later they released another album. Again as if the "phoenix from the ashes" L'ÂME IMMORTELLE came out into the light.
Twenty years after the two met at the French courses they now look back at their way and revisit their immortal hits. This is not just a simple best-off collection, all the songs have been re-recorded during the year before the release. 'Unsterblich' (German for "immortal") has such tracks as 'Judgement', 'Aus den Ruinen', 'Bitterkeit', '5 Jahre', 'Phoenix' and others.
"'Requiem' is the most important song in our repertoire,"
- wrote Thomas Rainer on the official Facebook page of the band.
"It deals with the omnipresent theme of the past. What happens when we are no longer there? What is left? Is there any other life or eternal void?"
Sonja still remembers the recording sessions of all the albums. Especially she loved to revisit the song 'Ich gab Dir alles'. According to Thomas, the new versions of the songs could surprise you with more rough sound and vocal variations.
The album appeared in two versions. The limited edition has double-CD (CD 'Gegenwart' & Bonus-CD 'Vergangenheit') and released in a book-format. 'Vergangenheit' contains the original songs re-mastered and three bonus-tracks. All in all there are 29 tracks on both CDs. The edition limited strictly to 2,000 copies worldwide.
Tracklist
CD1 (all re-recorded 2015)
01. Judgement
02. Gefallen
03. Aus den Ruinen
04. Tiefster Winter
05. Requiem
06. Bitterkeit
07. Changes
08. Ich gab Dir alles
09. Love is Lost
10. Stumme Schreie
11. 5 Jahre
12. Phoenix
13. Life Will Never Be the Same Again




CD2 (all re-mastered)
14. Judgement
15. Gefallen
16. Aus den Ruinen
17. Tiefster Winter
18. Requiem
19. Bitterkeit
20. Changes
21. Ich gab Dir alles
22. Love is Lost
23. Stumme Schreie
24. 5 Jahre
25. Phoenix
26. Life Will Never Be the Same Again
27. Wie Tränen im Regen (Electronic Version)
28. Eye of the Storm
29. Hold Me
Line-up

Sonja Kraushofer
Thomas Rainer
Website

http://www.lai-music.com
/
https://www.facebook.com/LAI.official
Cover Picture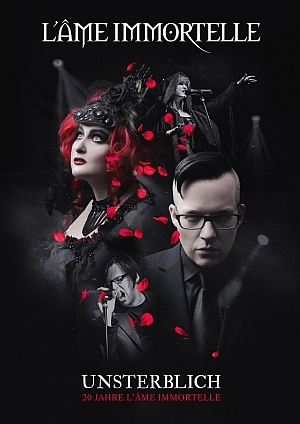 Rating

Music: 10
Sound: 10
Total: 10 / 10