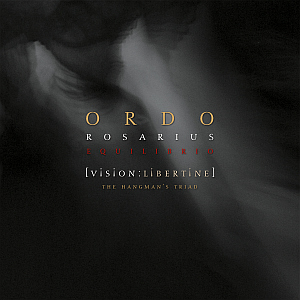 Artist: Ordo Rosarius Equilibrio
Title: Vision: Libertine - The Hangman's Triad
Genre: Apocalyptic Pop
Release Date: 29th April 2016
Label: Out of Line
Album Review

Just like some sexual practices are not for everyone, the listener should be prepared to what he/she's going to hear from this Swedish band. Every album is an invitation to a private sexy party, where your cum is an entry ticket and your weirdest fantasies are the most common small talk. Had you ever had a feeling that you should have felt guilty for some kind of dreams of thoughts, but you just didn't? If your answer is yes - you're welcome here.
ORDO ROSARIUS EQUILIBRIO is not only a musical journey to a cold but quite passionate place on Earth. This project provides also other sensual experiences. They tease your dirtiest imaginations; they suggest the filthiest thoughts of yours are as precious as an orgasm...orgasms. It's when you're watching a forbidden erotic film, and you just can't look away. All these feelings you get when listening to weird stories of Tomas wrapped in tribal percussions and sweetened by Rose-Marie's vocals. The world described in those songs is real, and it is just a question of acceptance of the listener.
The 'Vision: Libertine' was thought as an EP, but after three years of work it turn out as a double CD, as always with stunning artwork and smell of cum. It is not a big difference to the previous works, no surprises for die-hard fans. However, dark tribal songs sound more intensive as earlier thanks to percussion and other acoustic instruments. The apocalyptic anthems get louder. If you are just curious about ORDO ROSARIUS EQUILIBRIO - beware, once you're in, there is no escape. Be open to whatever new, don't struggle, and don't try to fight. It is very easy to give in, and impossible to get out.
Tracklist

CD1
01 . Eschatos And Hedone - The Killing Of Ataraxia
02. Post-Evangelical Pilgrimage (Thus Spoke Tomas)
03. Flesh 4 Flesh & Kingdom Comes
04. If Love Was A Crooked Cross And God Was A Girl
05. The Fire, The Fool And The Harlot (The Hangman's Triad)
06. The Name Of The Star Is Called: Wormwood
07. Holy Blood, Holy Union
CD2

01. The Misanthropic Polygamist (How Gods Dream)
02. Vision Libertine (The Magnificence Of Nihilism)
03. Venus In Nothing But Nylons And Pearls
04. The White Rose Of Dysphemism
05. Snow-White Were The Stains And Paraphilia Was Her Name
06. The Tribalism Of Tribadism (Evil Men Have No Songs)
07. Four Pretty Little Horses And The Four Last Things On Earth
Line-up

Tomas Pettersson (Vocals & Tyranny)
Rose-Marie Larsen (Vocals & Debauchery)
Ronnie Bäck (Guitar, Backing Vocals & Sorcery)
Fredrik Leijström (Bass & Adultery)
Nicolas Van Meirhaeghe (Percussions & Liberty)
Website

http://www.ordo-rosarius-equilibrio.net
/
https://www.facebook.com/ordorosariusequilibrio
Cover Picture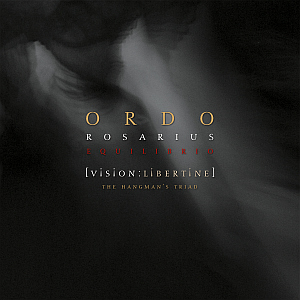 Rating

Music: 10
Sound: 10
Total: 10 / 10