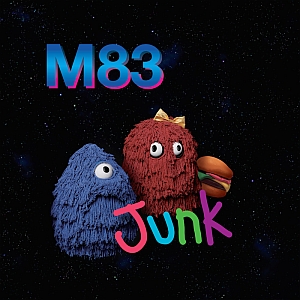 Artist: M83
Title: Junk
Genre: Electronic alt-pop
Release Date: 8th April 2016
Label: Naive
Album Review

Frenchman Anthony Gonzales is essentially M83, despite a career littered with collaborators, co-conspirators and special guests. And seven albums in, he's still revelling in the distinctly quirky, summery alt-pop that is the M83 trademark. Released in April, 'Junk' is definitely an album for the summer, all breezy melodies and optimistic atmospherics. Kicking off with 'Do It, Try It', we're immediately in MOBY's 'Play'-era territory, which is not necessarily a bad thing if you like your retro from not too far back in time. It sounds dated however, the bouncing piano and late-night rave beat taking you to a beach party where everyone is now too old or fat to dance like they used to, and instead of pills and thrills, it's probably Viagra or an early night.
Cheesy smoothness oozes all over 'Walkaway Blues', there's a good vocal and a big chorus, and you're left with the feeling that GEORGE MICHAEL has just dipped into his early career to lend a hand. On 'For The Kids' the gorgeous vocals of Susanne Sundfor make this big dreamy ballad into something truly special, it's the ultimate come-down song, a lazy saxophone lulling you into calmness. Strings festoon 'Solitude' but it's just all a bit too easy on the ear, not doing enough or going anywhere interesting, and it's back to that infuriating 90's piano hammering again on 'Laser Gun'. There's pop-perfection in places though. 'Road Blaster' seems far more of the moment, has a great beat and genuinely feels loved. But the big problem with 'Junk' is it's wildly inconsistent, far too long, and at times simply boring. There are sit up moments, like on the beautiful French-language sung 'Atlantique Sud', but in between there's far too much filler, and the feel of a half-arsed studio project by someone who believes they can do no wrong.
'Junk' is not junk, but it isn't the pop gold it at times promises to be. Probably good background music for the car on the way to one of those rave-reunion parties. Early night anyone?
Tracklist

01. Do It, Try It
02. Go!
03. Walkaway Blues
04. Bibi The Dog
05. Moon Crystal
06. For The Kids
07. Solitude
08. The Wizard
09. Laser Gun
10. Road Blaster
11. Tension
12. Atlantique Sud
13. Time Wind
14. Luduvine
15. Sunday Night 1987
Line-up

Anthony Gonzales
Website

http://ilovem83.com
/
https://www.facebook.com/m83
Cover Picture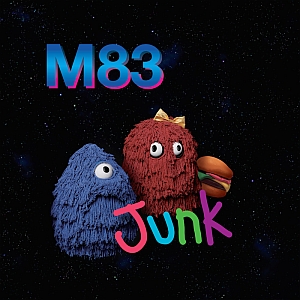 Rating

Music: 5
Sound: 6
Total: 5.5 / 10