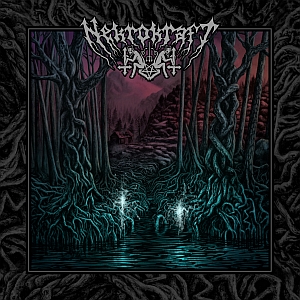 Artist: Nekrokraft
Title: Will o' Wisp
Genre: Melodic Blackened Thrash Metal
Release Date: 4th November 2016
Label: The Sign Records
Album Review

"We harvest their pathetic souls," is what we are greeted with as soon as we play 'Ov Hell', the first track of 'Will o' Wisp', debut album from blackened thrashers NEKROKRAFT. Is this an invitation or a threat? It clearly depends on which path we have chosen to follow.
Vocalist Angst and guitarist Doc have founded NEKROKRAFT in Sweden in 2012. Somewhere between blast beats and beer, the band has created a raging mix of melodic thrash and black metal that comes across hard and relentless. Two EPs ('666 Ways to Torture' and 'Witches Funeral (Reborn in Fire)') have paved the road to their debut album 'Will o' Wisp'. The album consists of seven songs unfolding like a horror story told with a smirk. Right after the brutal opening, we are literally led from the path of virtue and whipped to Hell by the title track. Melodic yet harsh, with grinding guitars, it is an open threat to those who turn away from safety and get lost in the (presumably Swedish) woods. And if this song doesn't yet seem hard enough, fast enough, there comes 'Worship', roaring from the speakers with driving drums and thrashing us around like falling leaves in an ice-cold winter storm.
After being stomped upon, we are led deeper, into 'Hellfire', a rather melodic mid-tempo track that does not exactly give us a break. Next comes 'Forestlurker', the by far darkest and longest piece NEKROKRAFT have recorded for their debut. It starts slowly and then pulls us into one hell of a ride - complete with choir and organ elements and a sense of doom and death that lingers. If we survive the demons hidden in the dark, we get our behinds kicked again by 'Armageddon Unleashed' that is meant to shatter the last bits of our resistance to make room for the 'Succubus', yet another cruel demonic hymn that hits us with brutality woven into strangely beautiful melodies.
This hellish journey ends after only twenty-three minutes when the strain fades into nothingness and NEKROKRAFT leave us to ourselves. What do we do with this short album? We simply listen to 'Will o' Wisp' again. NEKROKRAFT have done a more than solid job on their debut. The album presents itself dark, angry, and energetic and is marked by only minor flaws. Black metal bands like Dark Funeral or even Iskald come to mind, while some of the slower and lower passages, topped off with menacing growls, sound like vicious death metal. Conclusively, "your brain is withering away into the state of oblivion". If we get over the short runtime and bang our heads to the NEKROKRAFT debut instead, that is.
Tracklist

01. Ov Hell
02. Will o' Wisp
03. Worship
04. Hellfire
05. Forestlurker
06. Armageddon Unleashed
07. Succubus
Line-up

Angus (Angst) – Vocals
Timmy (Doc) – Guitar
Dennis (Iron) – Guitar
Andreas (Ghol) – Bass
Simon (Moloch) – Drums
Websites

http://www.nekrokraft.com/
/
https://www.facebook.com/nekrokraft/
Cover Picture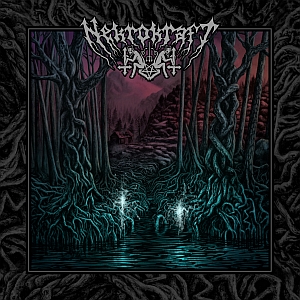 Rating

Music: 8
Sound: 8
Total: 8 / 10