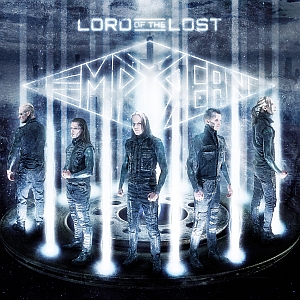 Artist: Lord Of The Lost
Title: Empyrean (Deluxe Edition)
Genre: Dark Rock / Dark Metal
Release Date: 29th July 2016
Label: Out Of Line Music
Album Review

We've previously reviewed 'The Love Of God', LORD OF THE LOST's last EP, and now we're seamlessly tying in with 'Empyrean', the "dystopian Future-Metal-Epos", released on July 29th 2016. Interesting description for an album, and definitely not failing to make the listener curious. What the heck is dystopian Future-Metal?! We'll find out.
Starting off with 'Miss Machine', the first track on the first CD, we've got nothing too strange so far. A typical LOTL opener? Yes. A catchy guitar riff and the well-known vocals of Harms wrapped in light electronic sounds. Nothing special, nothing ground-breaking. But solid. Let's continue with 'Drag Me To Hell'. This song is once again LOTL in your face. Harder than the opener though and with that pinch of DEATHSTARS that we all know. The refrain makes this one a lot catchier than 'Miss Machine' and the synths in the back give it a really nice atmosphere. I've added my two cents about 'The Love Of God' - the third track on CD1 - in the EP review already, so let's continue with the following track 'Raining Stars'. Uh, what? I was not expecting that much Gothic to be honest. Let's do some two-step-dancing, people! The electronic part is rather dominant while the vocals take a back seat here. Which is impressive, because Harms' voice is usually hard to suppress. Unexpected and very cool track! With 'In Silence' we're getting the first ballad on this album… and to be honest, I find this track pretty boring. Harms' vocals seem too uninflected for my taste and the whole song just ambles along.
'Black Oxide (feat. Scarlet Dorn)' is the sixth one - a duet, as you could've guessed. Another thing we know very well from LOTL. This song is full of contrasts! We have the contrasting vocals of Harms and Dorn and the very, very interesting - I don't want to call it weird, but it kind of is - interplay of the instruments. Harsh guitars and drums and then this almost happy sounding melody… it's not my cup of tea, but it's fascinating! More electronic sounds? Okay! 'Interstellar Wars' with the promising title gives us exactly that. But sadly it's not as exciting as it sounds… rather quite trivial. I miss the special something in this one, something that makes it stand out. 'Doomsday Disco' actually has this special something. It is very "clubby", very electronic, very heavy on Industrial and EBM. This is the one to go back to your 2007 self and definitely a very good one to switch off your head for a few minutes and just dance. 'Death Penalty', track nine, is again very LOTL. It reminds me of 'Pretty Dead Dead Boy" (released on 'Full Metal Whore') - which isn't too bad, because I really like that song. In this track the band has remained true to their principles: clean guitar riffs and fulminating vocals take the listener on a hard ride. Nothing to complain about - maybe that it's more standard, but nah, I've been harsh enough already. Cool song!
Song ten on this CD is called 'No Gods No War'. The guitars and electronic sounds are in a good balance, the beats are booming from the boxes while the riffs thunder along. Harms' vocals reach from deep growling to high-pitched screaming and make it even more interesting. A good one, definitely! 'The Interplay of Life and Death' is again a ballad and with that a lot slower. I'm not a big fan of LOTL-ballads to be honest, but this one is very good after all. The melody is pleasant to listen to and has a nice turn towards the end of every refrain's line, and Harms' vocals - maybe the thing that normally bothers me in LOTL ballads - fit in very well. One of my favourite tracks on this album, and that's a statement! We're reaching 'Utopya', the next to last track on the first CD. It gets a little old to say, but - LOTL through and through. The good thing - everyone can decide if it's good or bad, because that typical LOTL style isn't everyone's cup of tea. You hate it, you love it - or you're indifferent to it. The final one! 'Where Is All The Love' is the question, and it occasionally you hear delicate and glass-like bells which I really like. The electronic elements are very dominant once again, but in the refrain the so-loved guitar riffs are back. Although the refrain isn't very creative ("Where is all the love, where are you?") it's a well-done conclusion of this concept album.
The songs on CD2 are a special delicacy. Right at the beginning we've got nine minutes of instrumental pleasure with 'Adonai' that connects classic with metal in the most epic way. A charming cello and strings accompanied by bashing drums, an eerie choir heralding the last third. Threatening, majestic… a masterpiece. I can't really say anything else about it. A masterpiece. Number two, 'Lament For The Condemned', greets the listener with distorted scratching sounds and Harms' well-known powerful vocals. After the incredible introduction to this CD, this one's not exactly a powerhouse though. It's too slow for my taste, too common to keep up with the power of 'Adonai'. But hey, it's a ballad! Maybe this is the problem, as you now know that LOTL-ballads aren't for me! Joke aside - I think after the massive opener, 'Lament For The Condemned' just lacks the vigour to stand out. Probably the band had an intention to place the song here, but I think we would've needed something more powerful to keep the atmosphere.
'Now We Are The Aliens' could be described as a mixture of electronic and symphonic dark rock. Not too creative, but not standard either. Sadly also not powerful enough to go back to "Adonai", but building it up again, until the fourth song, 'Lost in Oblivion', makes a statement with its bashing drums, fancy electronic elements and dramatic guitar riffs. The coolest thing about this song is probably the piano-interlude that reminds of a 1920's circus. It's a freaky cut into the hard pace of the rest of this track and rounds it off in style! 'Traveler's Wounds'. I'd call it musical chaos, but in a cool way. It is really hard to describe this one, because it's just damn freaky. Outer space like electronic sounds, Harms' vocals in a very melodic way while weird noises accompany vigorous guitar riffs. And we even have a drum solo! With 'Wishing On A Scar' we're reaching the grand final of the CD and thus also the end of the Deluxe Edition. Delicate piano sounds meet catchy guitar riffs, we even have (electronic?) strings. A certain gloom runs through the song like a golden thread and has this certain sad heaviness to it that I really like. Harms' vocals are atmospheric like in no song before, and I'm also very much into the epic instrumental parts in the beginning and end - this one is my personal favourite of both CDs, no doubt.
Conclusion: Dystopian Future-Metal-Epos. Well, well… it's hard to say if this is what a "dystopian Future-Metal-Epos" should sound like because let's be honest, no one would know what to expect when reading this description of an album. Let me put it like that: the mix of well-known guitar riffs, spacey electronic sounds, club-like Industrial beats and Harms' distinctive voice makes this album special in its own way. LORD OF THE LOST have managed to surprise with unexpected new sounds but still remain true to their style. Recognition value with a pinch of freakiness - check. It's probably still more for those who are familiar with LOTL already due to said style mix - for someone who has never listened to the band before I estimate it to be too heavy on different impressions to comprehend. And to stay in mind as "THAT album of THAT band". You know what I mean. If you're completely new to the band, I recommend to listen to 'Empyrean' AFTER you've listened to some older LORD OF THE LOST songs before - just to get the right first impression of the band before you take a walk on this wild side.
Tracklist

CD1 'Empyrean'

01. Miss Machine
02. Drag Me To Hell
03. The Love Of God
04. Raining Stars
05. In Silence
06. Black Oxide (feat. Scarlet Dorn)
07. Interstellar Wars
08. Doomsday Disco
09. Death Penalty
10. No Gods, No War
11. The Interplay Of Life And Death
12. Utopya
13. Where Is All The Love
CD2 'The Final Chapter Of Mankind

01. Adonai
02. Lament For The Condemned
03. Now We Are The Aliens
04. Lost In Oblivion
05. Traveller's Wounds
06. Wishing On A Scar
CD3 (Box Set only)

01. Miss Machine(Headphone 3D Mix)
02. Drag Me To Hell (Headphone 3D Mix)
03. The Love Of God (Headphone 3D Mix)
04. Raining Stars (Headphone 3D Mix)
05. In Silence (Headphone 3D Mix)
06. Black Oxide (feat. Scarlet Dorn) (Headphone 3D Mix)
07. Interstellar Wars (Headphone 3D Mix)
08. Doomsday Disco (Headphone 3D Mix)
09. Death Penalty (Headphone 3D Mix)
10. No Gods, No War (Headphone 3D Mix)
11. The Interplay Of Life And Death (Headphone 3D Mix)
12. Utopya (Headphone 3D Mix)
13. Where Is All The Love (Headphone 3D Mix)
DVD 'The Videos'

01. Dry the Rain
02. Last Words
03. Sex on Legs
04. Prison
05. Die Tomorrow
06. Credo
07. Afterlife
08. La Bomba
09. Six Feet Underground
10. Kingdom Come
11. Lost In A Heartbeat
12. Full Metal Whore
13. The Love of God
14. Making Of 'Dry The Rain'
15. Making Of 'Last Words'
16. Making Of 'Die Tomorrow'
Line-up

Chris Harms - Vocals, Guitar, Cello
π - Guitar
Class Grenayde - Bass
Gared Dirge - Piano, Synthesizer, Percussion, Guitar
Tobias Mertens - Drums, Guitar
Website
http://www.lordofthelost.de
/
https://www.facebook.com/lordofthelost
Cover Picture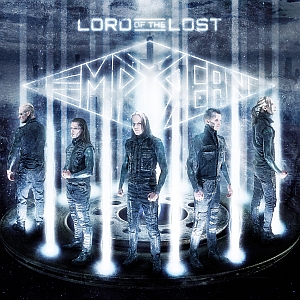 Rating

Music: 7
Sound: 8
Total: 7.5 / 10