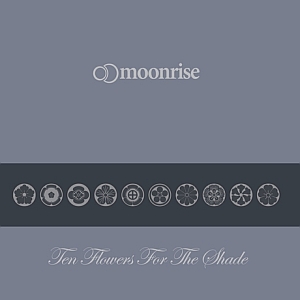 Artist: Moonrise
Title: Ten Flowers For The Shade
Genre: Alternative Wave Rock
Release Date: 5th October 2012
Label: echozone
Album Review

Sometimes, we're digging in the past and the outcome is a review of an album we find interesting…
"A moonbeam echoes in our heart." That's how the alternative wave rockers MOONRISE from Hamburg, Germany, describe themselves and their sound. There is a dark romantic aspect to the band as their album title 'Ten Flowers For The Shades' also implies. This second record, released back in 2012, follows their debut 'Blackest Blue' from 2008. On 'Ten Flowers…', bloom and gloom are going hand in hand and the ten songs plus two bonus tracks, that are all wonderfully arranged and present emotional vocals, are like comforting rays of light amidst all the shadows.
The first thing grabbing ones attention when listening to MOONRISE is their clear sound and amazingly strong and very prominent rhythm section. WojZen's bass playing and nik's drums that are straight to the point make it a sonic delight listening to MOONRISE; and all that goes perfectly hand in hand with their melancholic facet. The grooving bass and drive of the Goth Rock tune 'Ribbons' is simply unbelievable. The same is true of 'Kite' which presents a perfect union of Wave and Post Punk. The latter also reminds one of THE CURE at times, who are just one of the many musical influences that the band lists. On the rocking 'Rhododendron', which is the national flower of Athens and symbolizes danger according to floriography (the language of flowers), there are more synths enriching the tune.
The mid-tempo song about 'Miss Havisham' develops and grows louder climaxing in a guitar and synth outburst. The track ends with a riff that even BLACK SABBATH disciples will find very enjoyable. Thumbs and horns up! 'Purgatory' is more upbeat and shows once again that this band has found its sound and knows exactly how to execute it! The soothing ballads, though at times growing, 'Don't Look Back', 'Autumn Leaves' and 'Ready to Leave' provide calmer moments on the record. Vocalist Timo Peter sings his heart out and it's just wonderful and interesting what keyboardist and programmer taikonaut is doing in the background on these three.
In general, I personally prefer MOONRISE to sing in English as it contributes to their "British 90s Wave Goth" sound. Nevertheless, the two German songs, the wavy mid-tempo opener 'In die Ferne' and the poppy and pulsating 'Bataillon', give variety to the album, which is a good thing. Another shining extra gem on the record is an insanely up-beat remix of 'Bataillon' by Sven Friedrich, mastermind behind the electro act SOLAR FAKE. It made so much sense picking exactly this track to electrify and make it even more danceable. The unmistakable SOLAR sound and this MOON-y track are indeed a perfect match. The other bonus song is a new version of the older track 'The Curse', another great song that combines some soft quiet in its verses and some boisterous power in the chorus.
Digging out older releases and rediscovering bands is of course always worth it. To all dark rockers and wavers and "moon children" beyond the mainstream, 'Ten Flowers For The Shade' is clearly one of those timeless and diverse records that will, once you get to hear it, accompany you for a quite a while without getting old. This release is like the moon: rising in the dark, coming out from behind the clouds, and shining bright but without blinding you. I admit, I was immediately moonstruck by MOONRISE from my very first listening of 'Ten Flowers' and, thus, I hope that the "Moonies" will bring out new Alternative Wave Rock material sometime soon. It's about time for another moonbeam to light our way and guide us through the night!
Tracklist

01. In die Ferne
02. Ribbons
03. Rhododendron
04. Don't Look Back
05. Kite
06. Bataillon
07. Autumn Leaves
08. Miss Havisham
09. Purgatory
10. Ready to Leave
11. The Curse 2012
12. Bataillon (Solar Fake Remix)
Line-up

Timo Peter – vocals, guitar
De.Bow (Stefan Herold) – guitar, mixing, pre-production
WojZen (Wojciech Laka) – bass
nik (Nikolai Friedrichsen) – drums
taikonaut (Alex Woitalla) – keys, programming
Website

http://www.moonrise.de
/
https://www.facebook.com/moonrise.music
Cover Picture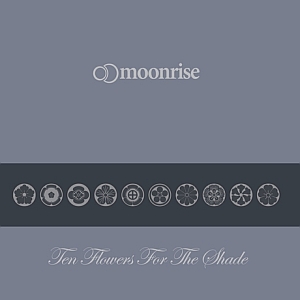 Rating

Music: 9
Sound: 9
Total: 9 / 10