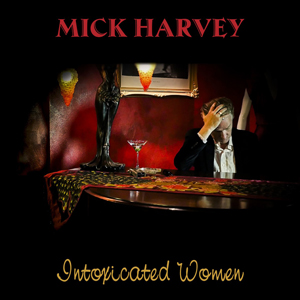 Artist: Mick Harvey
Title: Intoxicated Women
Genre: Dark sensual pop
Release Date: 20th January 2017
Label: Mute Records
Album Review

Mick Harvey is probably best known for his work with THE BIRTHDAY PARTY and NIK CAVE AND THE BAD SEEDS, but he's also prolific as a restless solo artist. A number of soundtrack releases have peppered his career, and he's produced some big names and big albums, most noticeably PJ HARVEY's 'Stories From The City, Stories From The Sea' and 'Let England Shake'. New album 'Intoxicated Women' perhaps represents his most eccentric project, being part four of an extensive and lovingly detailed re-interpretation of the songs of SERGE GAINSBOURG, everyone's favourite dirty Frenchman who lit up the sixties with a series of explicit and not so explicit songs.
It doesn't get much more seductive and sleazy than the whispered, breathy duet opener 'Ich Liebe Dich (Ich Dich Auch Nicht) complete with what can only be tastefully described as "bed noises". Pretty melodies and simple arrangements mask the eroticism and innuendo that runs throughout most of the songs here – see 'All Day Suckers' as a classic example. There's also an extra layer of playfulness and something dark lurking in the peripheries, something Harvey has always excelled at. 'Contact' for example is both bizarre, surreal and slightly sinister, its hypnotic repetitions making it instantly memorable. There are simmering guitars and military drumming on the impossibly pretty-sounding 'Puppet Of Wax Puppet Of Song', Harvey's trademark twanging riff and gnarled vocals all over 'Baby Teeth Wolfy Teeth' (clocking in at a mere minute and a half), and more breathy vocals weaving lazily around 'Sensuelle Et Sans Suite'. It starts getting slightly tiresome – as indeed does everything connected with Mr Gainsbourg after a while – when you feel a sort of numbness to the never-ending voyeurism and pervy lyrics. On 'Striptease' there's a need to shout "Oh just get on with it", and make a pot of tea.
'Cargo Cult' rounds things off, a spirited and clever version of the classic that Harvey absolutely makes his own. The production is crisp and clear throughout yet faithful to the era that gave birth to the songs and there's certainly a real sense of love and almost reverence brought to the project as a whole. How much enjoyment you get from these 15 songs will depend almost entirely on how much of SERGE GAINSBOURG you can stomach in the first place, but you can't knock the enthusiasm and dynamism on show here if nothing else.
Tracklist

01. Ich Liebe Dich (Ich Dich Auch Nicht)
02. All Day Suckers
03. Contact
04. Preverts Song
05. The Eyes To Cry
06. Puppet Of Wax Puppet Of Song
07. Baby Teeth Wolfy Teeth
08. God Smokes Havannas
09. While Rereading Your Letter
10. Sensuelle Et Sans Suite
11. The Homely Ones
12. Lost Loves
13. Striptease
14. The Drowned One
15. Cargo Cult
Website

https://www.facebook.com/mickharvey4ever
/
http://mickharvey.com/
Cover Picture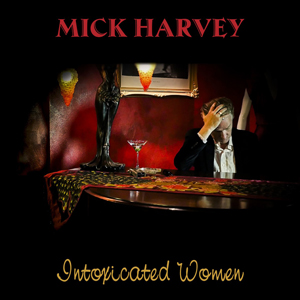 Rating

Music: 7
Sound: 8
Total: 7.5 / 10