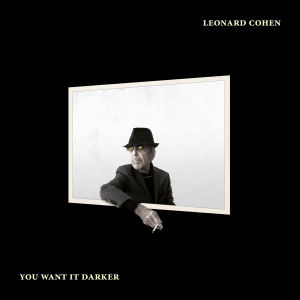 Artist: Leonard Cohen
Title: You Want It darker
Genre: Pop
Release Date: 21 October 2016
Label: Sony Music
Album Review


2006 was a year of shock and dismay for most music fans as the seemingly random scythe of Old Father Time felled one much loved and influential musician after another in a cruel onslaught that began to feel personal the longer it went on. And the sense of grief was only increased by the feeling that so many were taken way before their time. Not so Leonard Cohen. Sad, of course, as any death is, but at 82 you couldn't help escape the feeling that at least here was a man who actually ignored the 2016 curse and died when he was good and ready. And after a lifetime as a poet, singer, songwriter, icon and influential figure spanning every generation he lived through, there is something defiant and almost triumphant about the release of his final album 'You Want It Darker' which appeared just three weeks before he died.
Never the strongest of vocalists, his voice, like that of BOB DYLAN, was nevertheless distinctive. And his songs ranged from deeply moving and melancholic, to romantic and playful, a restlessness of style always underpinned with such wonderful lyrics sung in that strangely comforting, deep voice that was instantly recognisable. What was left of that voice, a dark, gravelly boom and rasp fills every corner of 'You Want It Darker' and exudes old age, wisdom, but also sadness and regret. On the title track, the beginning is so slight you can imagine it blowing away, before the impossibly sombre voice starts to weave a magic spell and the gentle fragile background shifts and swells around it. "I'm ready, my Lord" he grumbles, and it`s an especially poignant moment in a wonderfully dignified song. On 'Treaty' he's "angry and tired all the time" and he sounds it, not with the passion of youth or the fire of inexperience but with resignation and a shrug. There are wonderful backing vocals on 'On The Level' and a gentle build up and beautifully twangy guitar on the graceful glide of 'Leaving The Table'.
The centrepiece is undoubtedly 'Travelling Light' with its mournful violin and flamenco guitar intro. The female voices La-la-la'ing are the perfect compliment to Mr Cohen's growling story-telling, and it's a real ear-worm, creeping seductively under your skin and leaving you with goose-bumps. The violin returns on 'It Seemed The Better Way' with just voice and whispering percussion for companionship, and there's a Parisian feel to the decidedly upbeat - by comparison – 'Steer Your Way'. And for a real weepy goodbye, how better to close what will be the last album of your life with a beautifully measured classical reprise of 'Treaty'. Try keeping your eyes dry here. It's a wonderful end to a truly special set of songs.
There's something simply magical about a performer managing to still write some of the best material of a long and fascinating career right at the very end. There is nothing on 'You Want It Darker' that shouldn't be there, and as a way to remember the brilliance of Leonard Cohen, there could be no better introduction, and conclusion. Goodnight, sleep well, good, good sir.
Tracklist

01. You Want It Darker
02. Treaty
03. On The Level
04. Leaving The Table
05. If I Didn't Have Your Love
06. Traveling Light
07. It Seemed The Better Way
08. Steer Your Way
09. String Reprise / Treaty
Line-up


Leonard Cohen


Website
http://www.leonardcohen.com
/
https://www.facebook.com/leonardcohen
Cover Picture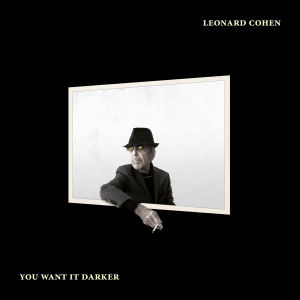 Rating

Music: 9
Sound: 9
Total: 9 / 10