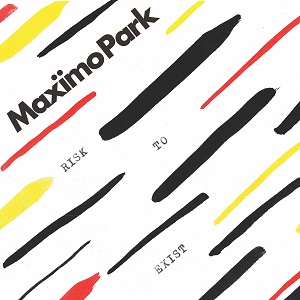 Artist: Maximo Park
Title: Risk To Exist
Genre: Pop Rock
Release Date: 21st April 2017
Label: Cooking Vinyl
Album Review

MAXIMO PARK from Newcastle, England, have been releasing albums steadily throughout the 2000's, and building up a feverishly loyal fan-base. Live, their frantically energetic performances led by permanently be-hatted singer Paul Smith are infectious, and on record their increasingly politicised songs show a mastery of melody and quirky, post-punk pop hooks and eccentricities. Yet the band seem to inhabit a space all their own, never fully immersed in any genre or camp, a position you sense they relish, as there's always been a playfulness and happy outsider stance to everything they do. With 'Risk To Exist' – a truly prophetic title it turns out – MAXIMO PARK release a bold and experimental take on their more familiar style.
And so we have 'What Did We Do To You To Deserve This?' strutting out of the starting blocks like it's the funky late Seventies, or the bass slinky 'Get High (No I Don't)' leading into an irresistible chorus that knows just how good it is. Lighter on the angular stabs of guitar that pepper most previous albums, there's brass decorating 'What Equals Love?' – it's unashamedly pop, and risks alienating die-hard fans, but it's all so charming, and with Mr Smith's North-eastern accent always in the foreground, it feels intimate and inclusive. The title track stutters into life sounding like THE JAM before easing effortlessly into a gorgeously simple melody, and 'I'll Be Around' jumps from decade to decade trying to decide what it wants to be without really stressing about it too much. Too quirky? Possibly, but it really is difficult to not like. And on stand-out song 'Work And Then Wait' there's a short, sharp masterclass in perfect, intelligent pop-rock. Perhaps the funkiness is becoming slightly overcooked by the time we get to 'The Hero' and 'Respond To The Feeling', but there are laudible sentiments and highly topical lyrics pinning 'The Reason I Am Here' onto the current political landscape in the UK.
'Risk To Exist' rounds off its concise life with the somewhat underwhelming but busy and bustling 'Alchemy', which is easily the most MAXIMO PARK sounding song here. As a whole, the album is bold and interesting, confidently and maturely trying new sounds and directions while retaining much of the charm of previous releases. Things are kept just on the right side of cheesy at times, and it could have been a disaster had that line been fully crossed. But as it stands, this is a lyrically relevant and disarmingly likeable addition to the MAXIMO PARK family.
Tracklist

01. What Did We Do To You To Deserve This?
02. Get High (No I Don't)
03. What Equals Love?
04. Risk To Exist
05. I'll Be Around
06. Work And Then Wait
07. The Hero
08. The Reason I Am Here
09. Make What You Can
10. Respond To The Feeling
11. Alchemy
Line-up

Paul Smith
Duncan Lloyd
Lukas Wooller
Tom English
Website

http://maximopark.com / https://www.facebook.com/maximopark
Cover Picture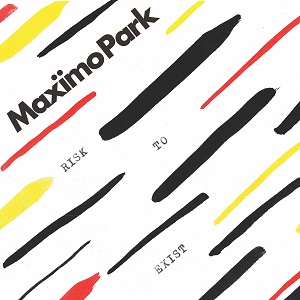 Rating

Music: 7.5
Sound: 7.5
Total: 7.5 / 10