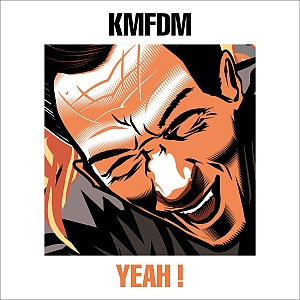 Title: Yeah!
Artist: KMFDM
Genre: Industrial Rock / EBM
Release Date: 23rd June 2017
Label: earMusic / Edel
Single Review

KMFDM are doin' it again! The five-track EP 'Yeah!' is the harbinger for the new album titled 'Hell Yeah', to be released in August. 'Hell Yeah', available in three versions here, is classic KMFDM stuff although a little tamer than a few earlier singles by the American-German Industrial Metal trailblazers. So it's no relentless sonic attack such as 'A Drug Against War' or 'Krank', for example. 'Hell Yeah' boasts with a compelling electronic groove KMFDM are so good at, and of course there also the raunchy and chunky guitars which have been a key element in KMFDM's music for decades now. However, 'Hell Yeah' is more of a Dance track than a Metal-Crossover song, perfectly suited for the dancefloor of your favourite underground club. The other new song, 'Freak Flag', sees Lucia Cifarelli, Sascha Konietzko's partner in crime and in real life, taking over the vocal duties to do a proud anthem for all misfits, mavericks and, well, freaks. Certainly good stuff, too!
German Goth Metal band LORD OF THE LOST also got their hands on 'Hell Yeah' and delivered a more conventional sounding version of the song with an emphasis of the Rock side of the song. As a little extra there's also a new version of the classic KMFDM song 'Attak' on the EP, which is pretty hyperactive and tempestuous compared to its original version from 2002. The cover artwork was once again created by Aidan Hughes aka BRUTE, making the EP a perfectly classic KMFDM release.
Tracklist

01. Hell Yeah (Album Version)
02. Freak Flag (Edit)
03. Hell Yeah (Lord Of The Lost Version)
04. Attak 2017 (KMFDM Remix)
05. Hell Yeah (Edit)
Line-up

Sascha Konietzko
Lucia Cifarelli
Jules Hodgson
Andy Selway
Steve White
Website

https://kmfdm.net / https://www.facebook.com/officialkmfdm
Cover Picture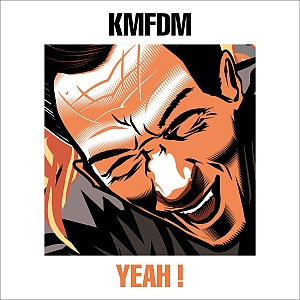 Rating

Music: 8
Sound: 9
Extras: -
Total: 8.5 / 10