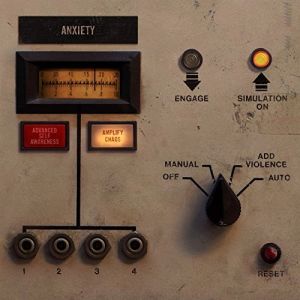 Title: Add Violence EP
Artist: Nine Inch Nails
Genre: Some might call it Industrial Rock
Release Date: 21st July 2017
Label: The Null Corporation
Album Review
NINE INCH NAILS are now a duo! This might seem to be a small detail but it is quite significant. NIN equals Trent Reznor, plus a few guest musicians for the live shows, but Reznor has been in total control over his brain child NINE INCH NAILS. Last year's EP 'Not the Actual Events' credited songwriting duties to both Reznor and Ross, with the new EP 'Add Violence', Atticus Ross seems to be now an emancipated full time member. That's a first in NIN history!
'Add Violence', the second part of an EP trilogy, kicks off with 'Less Than', a song you might have heard already or watched on YouTube. The song is an adequate lead track and wastes no time, starting with a drum machine beat and a synth hook which sounds refreshingly retro. In fact it sees that Reznor and Ross pick up the recent of Synth Wave and 80s nostalgia and pour a good dose of classic NIN over it. 'Less Than' is very likely the song that you will hear at your next visit to a Rock or Goth club, and the dancefloor might be rather packed. Up there with classic NIN singles like 'The Hand That Feeds', 'Only' or perhaps even 'Head Like A Hole' in terms of club friendliness.
The rest of the EP is reserved for more experimental and more introvert songs like the ethereal 'The Lovers' which features murmured words in the verses and a yearning, melancholic two-liner chorus over pulsating but gentle beats and synth sounds. Ross and Reznor go darker with the ominous 'This Isn't The Place' just to bang a bit more again with 'Not Anymore'. It is one of those slowly upbuilding Rock songs full of breaks, noises, weird turns and a wild climax which is trademark NIN since the early 1990s. The 5-track EP ends with 'The Background World' which is split into two halves. The first one is a sleazy, funky mid-tempo track which has almost the same BPM and rhythm as the NIN uber-hit 'Closer' - strong hint for all the DJs out there! After four and a half minutes the song starts to fall apart, it sounds as if it was awkwardly looped and repeats the same few bars, which sounds odd. Slowly some filters come in, a few noises are added and the song slowly fades away.
'Add Violence' surely doesn't offer a revolution in the NIN universe, despite Ross being on board as a full time member, but it is classic NIN stuff that wouldn't feel out of place on their last few albums. So far it's a digital only release with the promise of a CD and a 12" being released in September.
Tracklist
01. Less Than
02. The Lovers
03. This Isn't The Place
04. Not Anymore
05. The Background World
Line-up

Trent Reznor
Atticus Ross
Website
http://www.nin.com / https://www.facebook.com/ninofficial
Cover Picture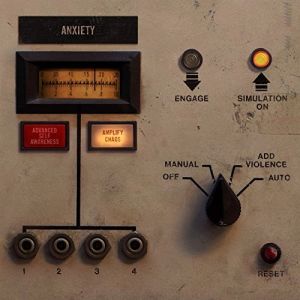 Rating
Music: 9
Sound: 9
Total: 9 / 10