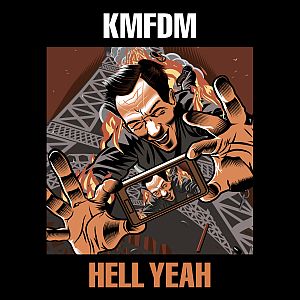 Artist: KMFDM
Title: Hell Yeah
Genre: Industrial / Rock
Release Date: 18th August 2017
Label: EarMUSIC
Album Review

KMFDM, Industrial mastodons, are working hard since that time when the band was founded in Paris in 1984 by its leader Sascha К. This project manages to combine the power of electronic music with the lightness of sounding amazingly. The new album of KMFDM is called 'Hell Yeah' and was released on 18th of August. 'Hell Yeah' is the twentieth album in the band's discography. For all their fans it means the beginning of new era of KMFDM music: stylish and renewed sound, quirky music grunts and undying charisma. Furthermore, the current album is a collaboration with Chris "The Lord" Harms (LORD OF THE LOST), who played guitars and was engaged in the shaping of all audio material. So, it really means the band found its second wind. Are you ready to learn more about it?
The album opens with the title track 'Hell Yeah'. The band made already a lyric video for this single which came out in May. The 'Hell Yeah' single shows us that the new album is crazy and catchy. Strong melodies with hard guitar riffs grab your attention from the very first note. Next track, 'Freak Flag', starts a kind of new chapter of the previous song; it has multi-layered sound with interesting passages in the melody. Just absolutely surprising looks 'Oppression ½' which is a little slow discourse about hate: "They hate you. They hate you when you questioning..."
In general, 'Hell Yeah' might be called a protest, a revolution against everything that tries to break the spirit, to crush individuality. But you stand your ground and continue bending the rules: the force of music resistance is shown in 'Total State Machine' and 'Murder My Heart'. The rhythm of the first one reminds of the noise of big working machines which destroy everything that can stop it. The second, 'Murder My Heart', is sexy and provocatively beautiful, like red lips for the Puritan society.
Next track, 'RIP the System v2.0', has quite a dancing melody what makes you listen to the lyrics more attentively, here the emphasis is mostly placed on the voice of the front man. 'Shock' is stylish and alluring: maybe it's the siren song from Hamburg's port? 'Rx 4 the Damned' and 'Burning Brain' show the aggressive yelling, evil guitars to defy the enemy and warn better don't mess with KMFDM. Last two songs are touching and melodic. 'Only Lovers' tells about love in spite of everything: "If we are damned, it's nothing to lose." The last one, 'Glam Glitz Guts & Gore' draw a line under all that was said in the album.
The material of 'Hell Yeah' has a rich sound and interesting lyrics, it's full of energy. There are the best skills of KMFDM shown, all the professionalism they have after all those years and albums.
Tracklist

01. Hell Yeah
02. Freak Flag
03. Oppression 1/2
04. Total State Machine
05. Oppression 2/2
06. Murder My Heart
07. Rip The System V. 2.0
08. Shock
09. Fake News
10. Rx 4 The Damned
11. Burning Brain
12. Only Lovers
13. Glam Glitz Guts & Gore
Line-up

Sascha Konietzko – vocals, bass
Lucia Cifarelli – vocals
Chris Harms – guitars
Andy Selway – drums
Guest musicians
Gared Dirge
Anabella Asia
Doug Wimbish
Mika Harms
Jules Hodgson
Website

https://kmfdm.net / https://www.facebook.com/officialkmfdm
Cover Picture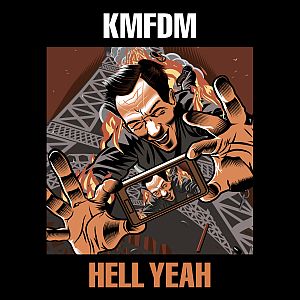 Rating

Music: 10
Sound: 10
Total: 10 / 10