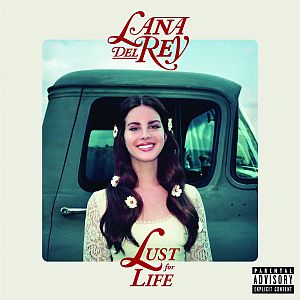 Artist: Lana Del Rey
Title: Lust for Life
Genre: Indie Pop
Release Date: 21st July 2017
Label: Universal Music
Album Review

LANA DEL REY is an indisputable pop icon. Her fourth studio album, just like the previous ones, is the absolute success. Her songs suggest the cruellest reality, dressed with the sweetest sauce and wrapped in the nostalgic cover. She manages to mix the quotes of the greatest American poet Walt Whitman with references to Charles Manson, love and dirt, witchcraft and explicit lyrics make this elixir unavoidable. So if you still have no opinion about DEL REY, 'Lust for Life' is a great reason to get familiar with her music.
The 'Lust for Life' disarms from the very first seconds, it is so difficult not to give in with every note. The listener dives into the flow of these amazing combinations of retro melodies, the magical reverbs and the lulling beautiful vocals of LANA DEL REY. Every sentence is a spell, keeping your attention... asleep. It is difficult to say what's so special about this album, because this feeling of listening to something magical is hiding behind every pitch, every tiny detail. The atmosphere of Twin Peaks exaggerated to the sizes of the universe swallows the listener. While 'Lust for Life' plays, you start to perceive the reality on a complete different level. LANA DEL REY isn't really anything extra-terrestrial and she sings about quite everyday things, and yet her music is like a looking glass.
She also proves the formula perfection through imperfections. Sometimes even not trained ear might hear some strange decisions in mixing or arrangements, but exactly these little things make the album breathe and live and keep the listener curious. The collaborations with THE WEEKND and A$AP ROCKY make this record even more interesting. For those, who don't know, what to expect, don't be discouraged if in the middle of the album you feel frustrated or bored. Give it another try some other time. It might be some kind of the Stendhal Syndrome, when exposed to something larger and greater than anything you've ever seen, heard in this case. 'Lust for Life' is huge, and it is one of the records our generation will be remembered for. It is saturated with the frustration, fears and longings of our age.
Tracklist

01. Love
02. Lust for Life (featuring The Weeknd)
03. 13 Beaches
04. Cherry
05. White Mustang
06. Summer Bummer (featuring ASAP Rocky and Playboi Carti)
07. Groupie Love (featuring ASAP Rocky)
08. In My Feelings
09. Coachella – Woodstock in My Mind
10. God Bless America – and All the Beautiful Women in It
11. When the World Was at War We Kept Dancing
12. Beautiful People Beautiful Problems" (featuring Stevie Nicks)
13. Tomorrow Never Came (featuring Sean Ono Lennon)
14. Heroin
15. Change
16. Get Free
Website

http://www.lanadelrey.com / http://www.facebook.com/lanadelrey
Cover Picture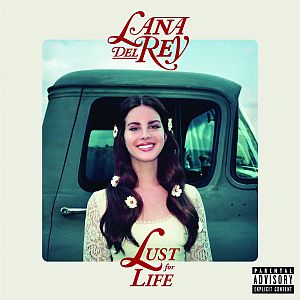 Rating

Music: 10
Sound: 10
Total: 10 / 10