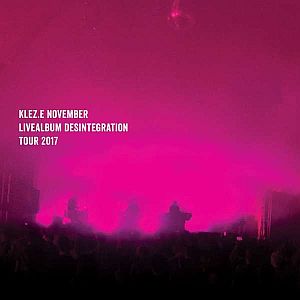 Artist: Klez.e
Title: November
Genre: Cold Wave / Gothic
Release Date: 10th November 2017
Label: Staatsakt / Caroline International
Album Review

Hmmmm. Let's start with the bad stuff. As a live album, the muffled and polite applause gives it the impression, not of intimacy, but of not enough tickets sold. And there's no escaping the glaringly obvious aping of 'Pornography' era THE CURE - watch the video to 'Flammen' and everything from the hair, voice and guitar posture is text-book Robert Smith and co. But, to be fair, if you're going to do it, do it well, and as this album unfolds itself like a particularly miserable but beautiful wet morning, there's a lot more going on than simple mimicry.
It's a bold start, the funereal seven minutes plus of 'Drohen', complete with rolling thunder and hissing rain, not an obvious opener. You can almost smell the hairspray. And the pace and complexity starts to build on 'Mauern' and 'Flammen' - there's a lot of passion in there, and the feeling that this is not Goth-by-numbers a genuine relief. The title track is, despite some wobbly singing at times, achingly moving and beautiful, and it's easy to imagine the audience here, eyes closed, swaying gently. Unfortunately this rapturous mood is let down by the horrible guitars that splutter about on 'Am Grund der tiefgrünen See', yet the fairground organ that fleshes out the rather weak 'Nachtfart' actually saves it rather than hinders. The real problem with 'November' is there simply isn't enough variation, and by the mid-section songs are sounding ploddy (the dreadful 'Lobbyist') or just bored and boring (the tired '17 Seconds' sound-alike 'Strandlied'). There are plenty of moments that grab your attention still - 'Raupe' is a raucous, psychedelic whirlwind, a nightmare trapped in a snow-globe, and on 'Der Garten', an infectious pop beat drives this to an almost sing-along chorus. Steady now, the last thing we want is happiness and optimism creeping through the cracks and spoiling the gloom.
Elsewhere there's the rather bizarre 'Madonna', the least generic track here, the quickening pulse of the almost epic 'Im Raum mit Totem', the messy and irritating stomp and wail of 'Wir ziehen die Zeit', and finally 'Requiem'. This does exactly what it says on the tin. It's dark, miserable, yet bizarrely uplifting, and the crowd seem to be lapping it up, whooping and whistling like they're at some American Rodeo, and not a dank club in Munich. It's a curious album on the whole. The live format gives nothing extra really in terms of anticipation, excitement or atmosphere, like adding canned laughter to a comedy show. The comparisons to THE CURE really can't be avoided, and at times this is distracting as you go bass-line spotting, or singing 'Fatherhead' when you should be listening. But, there are some wonderful mood pieces dotted throughout on 'November', and there is passion and anguish and real emotion – never overwrought – which raises it way above a lot of genre bands, jostling for medals in the most-miserable finals. With some trimming, and muting of the crowd, this would make a fine album, and as a whole it does leave a lasting, if flawed, impression. A rare thing these days where everything has to be perfect, and all the better for it.
Tracklist

01. Drohnen
02. Mauern
03. Flammen
04. November
05. Am Grund der tiefgrünen See
06. Nachtfahrt
07. Lobbyist
08. Raupe
09. Strandlied
10. Der Garten
11. Schwarz
12. Madonna
13. Im Raum mit Totem
14. Wir ziehen die Zeit
15. Requiem
Line-up

Filip Pampuch
Daniel Moheit
Tobias Siebert
Website

https://www.facebook.com/Klez.e/
Cover Picture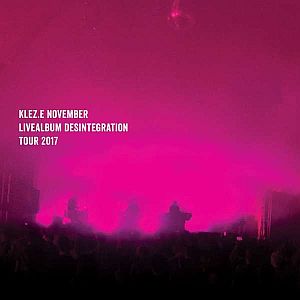 Rating

Music: 7
Sound: 7
Total: 7 / 10