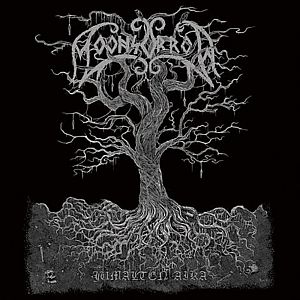 Artist: Moonsorrow
Title: Jumalten Aika
Genre: Pagan Metal / Black Metal
Release Date: 1st April 2016
Label: Century Media Records
Album Review

Today I am writing about an album I have been constantly listening to since its release in 2016. It is 'Jumalten Aika', the seventh studio album by MOONSORROW. Fans of the Finnish Pagan Metal band formed in 1995 around cousins Ville and Henri Sorvali had to wait five years since their last studio album 'Varjoina kuljemme kuolleiden maassa' but it was worth it. So, what is it MOONSORROW have done so well with album number seven?
'Jumalten Aika' is still one of my favourite winter albums although my Finnish-skills are extremely basic. But sometimes, maybe you don't have to understand the lyrics. Or you read the translation and get lost in "stories of gods, of men and their fickle fates, of fire and death, of creation itself and most importantly, the runes", as Ville Sorvali properly puts it. The album does have a grand opening with the 13-minute title track 'Jumalten Aika'. It builds up slowly, feels epic, and Folk influences are clearly audible. At the same time, blast beats and harsh vocals distinguish the song notably from catchier Folk or Pagan Metal compositions and turn it into one of MOONSOORW's impressive songs.
We move deeper into the dark tale with 'Ruttolehto sis. Päivättömän Päivän Kansa' which can be translated with 'Plague Grove'. The song starts with twang and buzz, driving riffs and relentless snarls. As the story unfolds, organs, choirs, and further folk elements add drama and depth to a fantastic piece of music that lasts for fifteen minutes. After that, the shortest song of the album, 'Suden Tunti' lures me in with crackling guitars and a groovy bass only to make me fear the dark as the saga unfolds. I am already consumed by MOONSORROW but 'Suden Tunti' is a true beast. 'Mimisbrunn' feels just as epic as the first two tracks and it is as versatile as it can get, complete with a progressive feeling. I keep going back to the break-down at the end when Ville Sorvali spins a beautiful melody with his bass until the guitars join in and the vocals return only to add more desperation and beauty to a song that culminates in a fast and gnawingly harsh finale.
Think of BATHORY or classic Norwegian Black Metal with all its darkness and despair and you get the picture. This tone, though heavier and with a hint of twang, is carried into the last song of the album, 'Ihmisen Aika (Kumarrus Pimeyteen)' or: 'The Age of Man'. Here, man's fate is sealed, and doom seems inevitable. MOONSORROW end their tales after 67 minutes and leave me astonished and torn, plagued and fascinated. 'Jumalten Aika' is a perfect album for cold winter nights. And for every other night as well.
Tracklist

01. Jumalten Aika
02. Ruttolehto sis. Päivättömän Päivän Kansa
03. Suden Tunti
04. Mimisbrunn
05. Ihmisen Aika (Kumarrus Pimeyteen)
Line-up

Ville Sorvali – Bass & lead vocals
Henri Sorvali – Guitars, keyboards & vocals
Mitja Harvilahti – Guitars & vocals
Markus Eurén – Keyboards
Marko Tarvonen – Drums & vocals
Janne Perttilä – Guitars & vocals (live)
Websites

http://moonsorrow.com / https://www.facebook.com/moonsorrowofficial
Cover Picture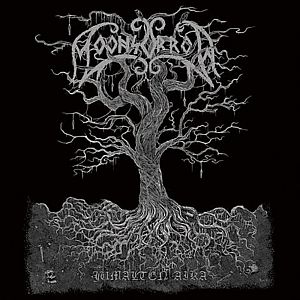 Rating

Sound: 8
Music: 9
Total: 8.5 / 10