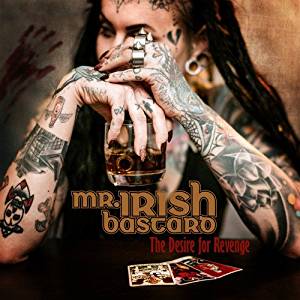 Artist: Mr Irish Bastard
Title: The Desire For Revenge
Genre: Irish Folk Punk
Release Date: 2nd March 2018
Label: Reedo Records
Album Review

If the idea of a German band playing Irish Folk-Punk drinking songs leaves you cold, then it's best to keep on your way and leave this kind of thing to those who revel in it. Because there are a few basic questions that, upon answering, will very easily determine if MR IRISH BASTARD is the band for you. For example, are you a Guinness, or a smoothie kind of person? Quinoa, or burger and chips? Do you swoon over lovingly-crafted lyrics? Or laugh at fart jokes and like a big shouty chorus? Do you find the tin whistle infinitely more intricate that the synth? I suspect I need go no further.
Things kick-off with a slow beat, sense of melancholic introversion and a stir of classical strings… yeah right. It starts just exactly as you'd expect, with fiddle and a skipping drum, and a typically raucous vocal, all heading towards a chorus that just dares you to not join in. It's oddly reminiscent of THE LEVELLERS. As is 'Oliver Cromwell's Head', which at least has the decency to tackle a subject matter that is devoid of alcohol. But fear not, the precious subject matter raises a leery head on 'We Are The Drunks', staggering and spilling warm festival lager over everyone and thinking it's clever. Maybe it's me, but really. Singing endlessly about being pissed and how awesome it is sounds as tedious as a bunch of guys telling you how many sexual conquests they have imagined. 'I Only Like You When I'm Drunk' for example, is probably true, as realised by most people who listen to the band outside of a bar/venue/festival scenario. Great to sing-along to of course, in a party environment, but you'd feel pretty stupid doing it alone.
Elsewhere, there's the arms-aloft sway of 'Poor Irish Billy', manic duck and weave of 'Pirates Of The Irish Sea' and a furiously strummed 'Mike Malloy'. And in true MR IRISH BASTARD tradition, a cover song that could only have been decided on after a serious amount of boozing, on this occasion CYNDI LAUPEP'S 'Time After Time'. It's ghastly. 'The Soundtrack Of My Life' rounds things off with spirit, a middle-finger kiss-off of sorts, and it's the best song on 'The Desire For Revenge'.
On the whole, this is a standard romp through a tired genre. The unholy racket produced by MR IRISH BASTARD, it could be argued, is surplus to requirements - how many other bands have been banging this kind of nonsense out over the decades? But then, it's like saying there is only a need for 8 pubs in a city centre, and a ninth and tenth would somehow ruin everything. And nobody was ever heard to say that, now were they?
Tracklist

01. Black Eye Friday
02. Oliver Cromwell's Head
03. Darlinka
04. Poor Irish Billy
05. Pirates Of The Irish Sea
06. Phoenix
07. We Are The Drunks
08. Mike Malloy
09. I Only Like You When I'm Drunk
10. Time After Time
11. …Before The Devil Knows…
12. The Soundtrack Of My Life
Line-up

Mr. Irish Bastard - Vocals, Guitar
Boeuf Strongenuff - Bass
Ivo K´Nivo - Drums
Gran E. Smith - Banjo, Mandolin
P - E-Guitar
Moe Leicester - E-Guitar
Hatey Katey - Tin Whistle
B.B. - Accordion, Tin Whistle
Website

http://www.mririshbastard.com / https://www.facebook.com/mririshbastard
Cover Picture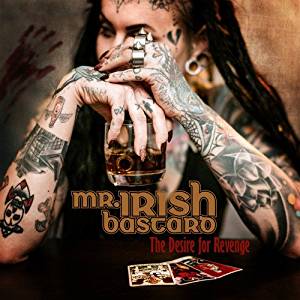 Rating

Music: 6
Sound: 7
Total: 6.5 / 10