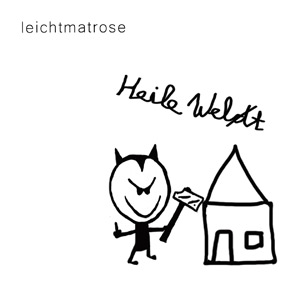 Artist: Leichtmatrose
Title: Heile Welt
Genre: Electro Pop
Release Date: 26th October 2018
Label: I Am Surprised Records
Album Review

Since the release of his last album a little over three years ago, Andreas Stitz, a.k.a. LEICHTMATROSE, has been touring with his discoverer and mentor JOACHIM WITT, played festivals like M'era Luna and Plague Noire, and released four new songs. Now all four can be found on the new album, 'Heile Welt' (Ideal World), being released just in time for the next tour as support for known Witt collaborator PETER HEPPNER.
One of the new songs is 'Jerusalem', the opener of the album and, at the same time, likely the most radio-compatible track with its memorable melody and very accommodating Pop anthem structure. Expecting more of the same, the following 'So schmeckt es frei zu sein' (That's How It Tastes To Be Free) surprises with contrast: heavy, haunted and almost aggressive in its chorus. Neither song prepares for the title track 'Heile Welt', an acoustic Pop Rock parody. 'Bodensee' switches back to a minimalistic and bass-heavy Electro.
Considering the roots of mentor Witt, 'Chill Indianer', 'Jasmin' and 'Das Schicksal kann ein mieses Arschloch sein' (Fate Can Be A Rotten Asshole) are less surprising, all of which borrow, in one form or another, from the Post Punk / New Wave / Neue Deutsche Welle. 'Wenn es Nacht wird in Paris' (When The Night Comes In Paris"), true to its title, summons the classic French chanson. 'Für immer stumm' (Forever Silent) and 'Raumpatrouille' (Space Patrol) start out on piano as quiet and contemplative love songs.
It turns out that 'Heile Welt' is most consistent in its inconsistency: LEICHTMATROSE's "electro-chanson" freely avails itself of whatever works in a given context without being tied down too much by genre borders or establishing a certain style. This frequent switch in style unfortunately makes it harder to appreciate the album as a whole, but it's undeniable that several of the tracks by themselves not only have a catchy quality, but that some are quite danceable as well.
As varied as the music are the lyrics, telling stories of love, breakup, inner turmoil and loss of inhibition, breaking free and its consequences. Occasionally, they utilize a rather plain-spoken style bordering on vulgar. Similarly, the vocals take some getting used to at times, ranging from a Witt-eseque narrative to a yearning and shaky wailing. Still, 'Heile Welt' runs deeper than provocation and mockery, offering uncompromising and unvarnished honesty in its observation of an ideal world that really isn't.
Tracklist

01. Jerusalem
02. So schmeckt es frei zu sein
03. Heile Welt
04. Bodensee
05. Chill Indianer
06. Wenn es Nacht wird in Paris
07. Für immer stumm
08. Jasmin
09. Das Schicksal kann ein mieses Arschloch sein
10. Borderline
11. Raumpatrouille
Line-up

Andreas Stitz - Vocals
Rick J. Jordan - Bass
Thomas Fest - Keyboard
Website

https://leichtmatrose.eu
Cover Picture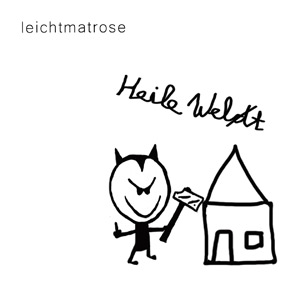 Rating

Music: 7
Sound: 8
Total: 7 / 10