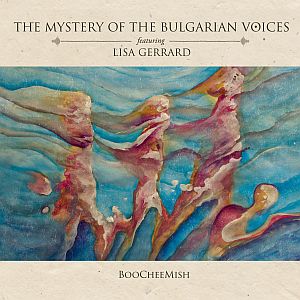 Artist: The Mystery Of The Bulgarian Voices feat. Lisa Gerard
Title: BooCheeMish
Genre: World Music / Folk
Release Date: 25th Mai 2018
Label: Prophecy Productions
Album Review

Performing since the early 1950ies, THE BULGARIAN STATE TELEVISON FEMALE CHOIR has introduced traditional south-eastern European folk music to an international audience and left an indelible mark on popular musicians and culture, already during the cold war. After releasing their first album under the name LE MYSTÈRE DES VOIX BULGARES through Swiss producer and ethnomusicologist Marcel Cellier in 1975, PETER MURPHY of BAUHAUS discovered the choir and induced a rerelease on the label 4AD where it got the attention of former DEAD CAN DANCE singer LISA GERARD. Being a fan of the Bulgarian vocal ensemble since her early years, the choir and its vocal techniques even influenced the Australian singers unique way of singing.
In 2018, finally, after releasing an advanced single ('Pora Sotunda') one year earlier, the new album 'BooCheeMish' is the choir's first release of new material in over 20 years and features a collaboration with Lisa Gerard, who sings on four of the 12 songs ('Pora Sotunda', 'Mani Yanni', 'Unison' and 'Shandai Ya'). Together with Peter Dundakov, Gerard participated in writing an entirely acoustic album between ancient and post-modern, the Middle Ages and the avant-garde, that's transcends both cultural and language barriers.
While some of the songs on 'BooCheeMish' are fully original pieces, others are based on folklore dances with original material added. The arrangements consist of an unique multipart-choral- structure that sometimes is a-cappella and sometimes is accompanied by a range of traditional Bulgarian folk instruments like Gadulka and Kaval as well as by modern instruments like guitar and bass, or even a string quartet. Next to a wide range of international ethno and modern percussion there is even a famous Bulgarian beat-boxer named SkrilleR thats adds some crossover rhythmic vibes to the overall sound of the album, that connects Bulgarian folklore with other traditions and culture.
But nevertheless, the main musical focus is on the voices of the female choir singers whose special traditional singing technique creates a powerful and sacral sound that seems to be out of this world. In four tracks Lisa Gerard's distinctive voice integrates into the rhythmic parts of the choir by singing long phrases with a deep vibrato in her unique style. With 'BooCheeMish' the choir, that now goes under the name of THE MYSTERY OF THE BULGARIAN VOICES, together with LISA GERARD, composer Peter Dundakov and all other participants have created a piece of World Music with a lot of effort put in it. Vivid Folk dances and intense mystic sacral compositions are taking turns, sometimes reminding of a soundtrack for a monumental or a fantasy film, sometimes of sacral music. Even though the harmonies and especially the complex rhythms of south-eastern European folklore can be a bit exhausting for westerners or those hearers being unfamiliar with it but to everyone who is not only into Lisa Gerard and Dead Can Dance but also into folk, world, classical or choir music, I highly recommend experiencing this album.
Tracklist

01. Mome Malenko
02. Pora Sotunda
03. Rano Ranila
04. Mani Yanni
05. Yove
06. Sluntse
07. Unison
08. Zableyalo Agne
09. Tropanitsa
10. Ganka
11. Shandai Ya
12. Stanka
Line-up

The Bulgarian State Television Female Choir – vocals
Lisa Gerard – vocals
Jules Maxwell – vocals
Jeremy Avis – vocals
Alexander Deyanov (SkrilleR) – beat-box
Hristina Beleva – gadulka
Petar Milanov – guitar, tambulir, bass-guitar
Kostadin – kaval
Dimitar Karamfilov – double bass
Yordan Dimitrov – violin
Evgeni Nikolov – violin
Ognyan Konstantinov – viola
Dimitar Tenchev – cello
David Kuckhermann – percussion
Website

https://themysteryofthebulgarianvoices.bandcamp.com/
Cover Picture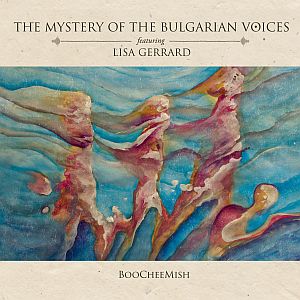 Rating

Music: 9.5
Sound: 10
Total: 9.8 / 10