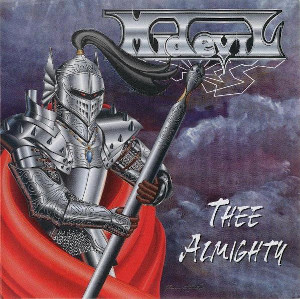 Artist: Midevil
Title: Thee Almighty
Genre: Heavy Metal
Release Date: March 2019
Label: Heaven & Hell Records
Album Review

It was on a rainy day in 2019 and it was a dull, not busy day at work when I read about this band called MIDEVIL. The author of the article, Martin Brandt, interviewed the guys and I got very interested in the band and their sound. At first there was nothing to be found but later on I was able to check out MIDEVIL and that got me hooked even more. As soon as I saw that Heaven & Hell Records would reissue the two full-length outputs 'Thee Almighty' and 'Expiration Date' I had to try and fetch the CDs to get into full on review mode... but I was cut short as they did not reply to my desperate request. That was in 2019 and yes I finally got lucky by getting to know Jon Pamblanco (vocals) over Facebook and after some time went by I asked him if he was interested (Spoiler Alert: he was quite enthusiastic, like me). So now I am finally sitting in my Man Cave ready and willing to do write-ups for both records and maybe convince the unknowing masses to check out MIDEVIL.
MIDEVIL was formed in 1992 by Joe Mitchell and Jon Pamblanco, just like METALLICA they found each other over an advertisement Joe had put in a local Magazine ("Scene Magazine" was the name). MIDEVIL's sound is best described as classic US Metal with a heavy dose of Thrash, carried by hooks galore, great riffs and awesome vocals. Pamblanco and Mitchell just sounded like a well-oiled Rock and Roll machine, on the basis of rhythm and lead guitar sound and the way they works so well together you can make out that these guys were not only bandmates but friends (they still are and that's awesome). So my favourites on this really ripping record are: 'My Sanity' (I feel a METALLICA 'Escape' vibe), 'Life's Casualties' (which is not to long Jon, but what do I know?) and 'Last Breath' (technical Thrash at it's fucking best). So if you people are reading this thinking "Well that's interesting, maybe I'll give it a try", be assured that you won't regret a second and once again I have to say: If you don't dig it we can't be friends!
PS: To be continued with 'Expiration Date'.
Tracklist

01. The Sounds Of Infinity II (Instrumental)
02. My Sanity
03. Thee Almighty
04. Life's Casualties
05. Funky And The Melon
06. Sign Of The Times
07. Sinbound
08. The Red-Purple Didi-Up's
09. Last Breath
Line-up

Scott Vesely – Bass, Keyboards
Eugene Plascak – Drums
Joe Mitchell – Guitars
Jon Pamblanco – Vocals, Guitars
Cover Picture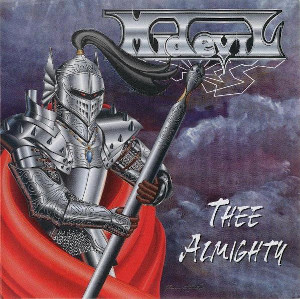 Rating

Music: 9
Sound: 9
Total: 9 / 10