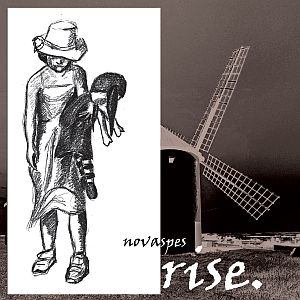 Artist: Nova-Spes
Title: rise
Genre: Electro
Release Date: 3rd March 2023
Label: Danse Macabre Records
Album Review

Some artists stay neutral and have no voice in political or social matters, while others speak out. NOVA -SPES definitely belong to the second category. I've known them for quite a while now as great specialists in Electro music. 'Rise', their brand new release scheduled to be out on 3rd March 2023, confirms their reputation and takes their music to a slightly new level. It is the first release with the new label Danse Macabre Records after the break up with their former one - Moscow-based ScentAir Records. It is also the first album to be released only in digital version. Apart from all the novelties, as always, you may expect political inclinations and some fair dose of bitter yet personal truths presented by the artists. Regarding the sonic content, 'rise' features the well-known dynamic Electro beats, scanning, a bit hoarse, powerful vocals, and some new fresh Oriental, Industrial and Synth Pop seasoning.
Considering the theme of the album, which is the current situation in Europe, it is not surprising that it is dominated by aggressive melodies and vocals expressing anger, frustration, and regret. Still, there are also sublime elements, as well as those of trance, hypnotic, dance and even a bit melancholic quality. Great sonic representation of the complex, challenging, and often impossible choices or decisions one needs to make during current times. Dynamic, intensive, and yet profound melodies ('Alle Gegen Alles', 'The Monster Calls') go next to slow, almost mesmerizing ones ('You Will Hate Us', 'Und Er Lacht') or beautiful, ballad-like songs ('Hundert Jahre' or 'Escape'). Heart-rendering, slow-paced 'Point of Hate', gloomy, heavier, disheartening 'Nothing', dancy, dance-floor killer 'Bitte, Bitte!', catchy 'Nothing But Lies' or the heart rendering 'Brothers In Arms' create a multi-layered, captivating soundscape.
The prevailing motive though, is disquieting subliminal pulsating covered in fine electro that is predominant throughout the entire album. The tracks are consistent; they follow their individual moods with no sudden turns or unexpected changes, giving them a solid substance. Overall, 'rise' is a fine piece of Electro work seasoned nicely with Synth Pop, Rock or Industrial elements. It's not only a sonic experience but also an invitation to participate in social and political discussion. The lyrical content represents the artists' experience or opinions regarding the complex and challenging world we live in. I believe it stands for one of the most personal releases NOVA-SPES has presented so far.
Tracklist

01. Back Home
02. Alle Gegen Alles
03. You Will Hate Us
04. The Fear Sets the Limits
05. Hundert Jahre
06. Und Er Lacht
07. The Monster Calls
08. Point of Hate
09. Nothing
10. Bitte Bitte!
11. Escape (Pennys Song)
12. See Your Smile Again
13. Brothers In Arms
14. Nothing But Lies
15. Nothing But Lies (reprise)
Line-up

Matthias Hübner – vocals, music, production
Guido Mann – keys, live shows
Peter Walter – keys, live shows
Website

https://www.facebook.com/novaspesband
Cover Picture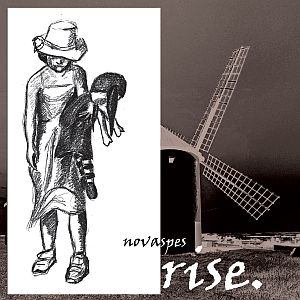 Rating

Music: 8
Sound: 8
Total: 8 /10
See also (all categories):