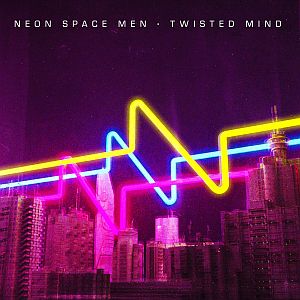 Artist: Neon Space Men
Title: Twisted Mind
Genre: Synth Pop
Release Date: 13th April 2023
Label: self-released
Single Review

The German Synth Pop act NEON SPACE MEN released their second single 'Twisted Mind' from the upcoming debut album 'Neon On My Naked Skin' about three weeks ago. The single worked its way right into the DAC (German Alternative Charts) and into the Klangwald charts. In addition to a classic 80s extended version, there are also remixes by Rob Dust and MERRY CHICKLIT and a cover version of the DEPECHE MODE classic 'Leave In Silence'.
The second single by NEON SPACE MEN is steeped in nostalgia and devotion, not only to the 80s, but above all to the science fiction genre. The cover artwork is already reminiscent of the image of a dystopian giant city that Blade Runner 1982 draws from the city of LA of 2019. And lines like "In this brand new place where I stand / I look for my creator, god and a friend" or "In future worlds where I can't be / I'm waiting for salvation honestly" refer to Scott's 'Replicants' and the plot of the film. "Quite an experience to live in fear, isn't it. That's what it is to be a slave." These words are addressed by Replicant Roy Betty at his pursuer, Rick Deckard, before he saves his life. These words, spoken here by Jochen, fit seamlessly into the lyrics and reinforce the connection to Ridley Scott's work. The melancholy and nostalgia of the movie as well as a certain proximity to VANGELIS' soundtrack can also be felt musically. The melody sounds catchy and modern. Paired with Jochen's soft vocals, this makes the song a very danceable up-tempo number.
The Extended Version, which is two and a half minutes longer, offers a few additional musical gimmicks without appearing fluffy or artificially stretched. Rob Dust's remix seems to focus on the essentials. Olli's backing vocals are more distorted, which creates additional atmosphere and fits the dystopian theme. The same applies to the quote spoken by Jochen that sounds even more like Roy Batty that way. For a moment I can almost see the "steel-blue eyed fallen king" Rutger Hauer standing on the roof in the pouring rain. In addition to the voice of Eva-Janina Haas, the MERRY CHICKLIT Remix adds cheeky dance sounds and a demanding bass line to the song. As a bonus there is the DEPECHE MODE cover 'Leave In Silence'.
'Twisted Mind' is a beautiful, well-arranged Synth Pop song with intelligent lyrics that's going to the legs and is fun.
Tracklist

01. Twisted Mind
02. Twisted Mind Rob Dust Remix
03. Twisted Mind Merry Chicklit Remix
04. Twisted Mind Extended
05. Leave in Silence (DEPECHE MODE cover)
Line-up

Jochen Miller - vocals, production
Oliver Messerschmidt - keyboard, backing vocals
Uwe Trümper - e-drums, backing vocals
Website

https://neonspacemen.com / www.facebook.com/profile.php?id=100085271030821
Cover Picture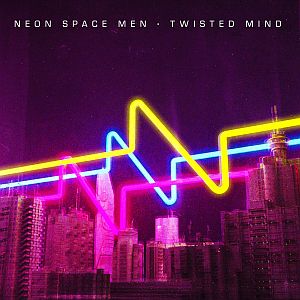 Rating

Music: 8
Sound: 8
Total: 8 / 10