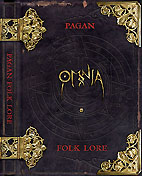 Title: Pagan Folk Lore
Artist: Omnia
Genre: Pagan Neo Folk
Release: August 2008
Label: Pagan Scum
Introduction

Omnia might look as if they have been playing together forever but this is not the case. They started in 1996 as a Gallo Roman theatre group. In 2002 they reformed and since then Omnia has been (one of) the leading bands in the Neo Celtic genre in the Netherlands. They have expanded their band members as well as the instruments they play and never stopped growing. Like a forest, new plants keep growing and new animals make their home in it. So far their growth has done them well (and their fans as well)
Line-up

Jenny – Neo Celtic Harp, Irish Harp, Bodhran, Hurdy Gurdy
Sic - Irish low whistle, Neo-celtic double flutes, Seljefloit, Ney, Bodhran, Darabuka, Davúl, Cajon, Irish bouzouki, and a thousand prehistoric ethnic instruments.
Luka – Didgeridoo and multitone Didgeridoo (slideridoo)
Mich – Drums
Joe - Guitar
Website

www.omnia-neocelt.com
Detailed Review

This DVD is not only for viewing but also for reading. The booklet is an actual book. It tells the story of the origin of Omnia. It is Sic and a pleasure to read. There might even be some truth in it, who knows. Besides the booklet the DVD menu looks great as well.
This concert was a special Fairy Ball, which is connected to the story in the booklet. Each song is announced by Sic. Even though his announcements are fun to listen too it takes you out of the spirit of the concert each time which is a pity. All songs are brought with the usual charm and wit of Omnia. The stage is wonderfully decorated and so are the band members. In the shots where you can see the audience you see nothing but smiling faces and dancing people.
There is also an interview with the band on the DVD where you will hear the answers to questions such as: 'Why does Omnia play acoustic music?', 'How did you join Omnia?' especially the question 'Was there a bond before Omnia?' gives some surprising answers. In-between questions and explanations are comical remarks by the band sitting on their living room couch.
There are three additional performances added to the DVD. Two of them are filmed at castlefest and are a great portrait of the atmosphere there. The performances show Omnia while playing with other bands such as Faun.


Bonus Features


First of all there is the 'Behind the Scenes' part which provides us with a realistic and fun view of the build up to a Omnia show. Then there are the 'Bloopers' which are not incredibly funny but I am sure Omnia fans will be happy to see them. 'Stenny Cam', the camera of Steve and Jenny. This is the 'behind the scene' part of Omnia. Instead of just a show you see them, game, make coffee, figure out how the camera works, relax, discuss, walk, and go on holiday. A nice inside view. In the 'Fuzzy' section all the stuffed animals of Omnia are introduced. They actually all have names, so during the next show go see if you can find them on stage.
Cover Picture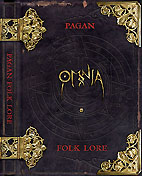 Tracklist

01. Intro/Bealtaine
02. Wytches' Brew
03. Richard Parker's Fancy
04. The Raven
05. Alive!
06. Dil Gaya
07. Entrezomp ni Kelted
08. Fairy Tale
09. Saltatio Vita
Additional Performances:
10. Teutates (featuring Faun, Gor and Transit Poetry)
11. The Morrigan (recorded live at Castlefest 2007)
12. The Bold Fenian Men (recorded unplugged at Dreamharps)
Rating

Audio: 6
Video: 7
Concert: 8
Extras: 7
Total: 7 / 10
{jos_sb_discuss:19}